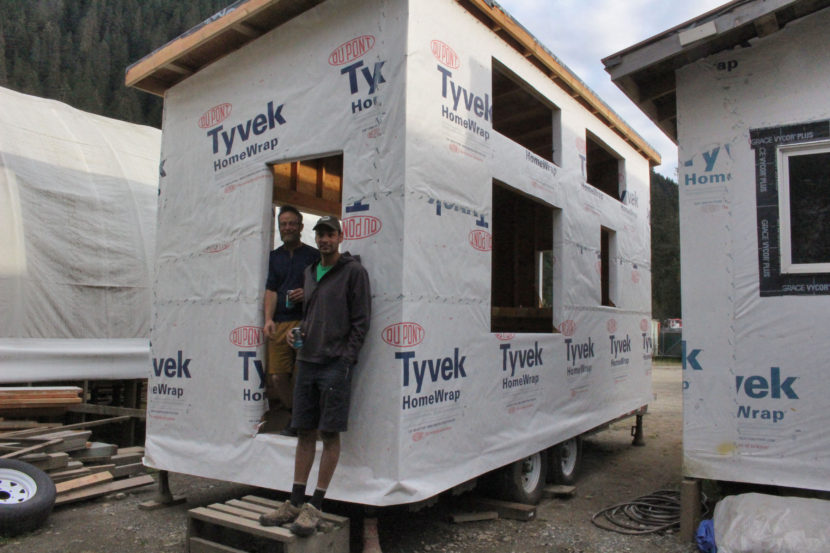 There might be a small solution to the capital city's housing problem but it's not without its roadblocks.
A Juneau company is building its first tiny house on wheels to sell commercially and it intends to make more.
The diminutive dwelling is crafted with reclaimed materials and locally-sourced wood.
But the city's zoning codes haven't caught up with the tiny house craze.
For 160 square feet, this rolling home feels pretty spacious. Step inside and you're greeted with high ceilings and large windows. At this point, it's still a shell which can make identifying the bathroom tricky.
"Right now, I'm in the bathroom?" I ask.
"Nope, you're still in the kitchen," Jason Donig explains.
Donig is the owner of AK Reuse, the company constructing the small home.
It's in an industrial part of town.
For a guy really passionate about recycled materials, it's the perfect spot to draw inspiration.
There are crates of mismatched drawer pulls, old doors, a vintage gym floor.
"We got a bidet. I don't know how cool that is," he says with a laugh.
The bidet isn't going in the tiny house, but Donig says other pieces from the yard are. People drop off the items at AK Reuse, and he sells them to customers looking for unique or inexpensive home materials.
As a carpenter, Donig says he was frustrated by what others throw away.
"This business, I feel good when I come here because it's not taking things apart and putting it in the dump," Donig said. "I feel good because we're reusing what we can. And same with the tiny home."
Donig says he decided to build small because he saw his friends struggling to save up for a mortgage.
This tiny home is on the high-end — it could cost more than $70,000. But he thinks it could be done for less.
If you've watched TV lately, then you're probably familiar with the idea of families willingly downsizing to 200 square feet.
Donig says he hasn't seen any of these.
"Me either. 'Cause I'm afraid," said Beth Mckibben — a planning manager at the City and Borough of Juneau.
McKibben says she's afraid because she knows the tiny house zoning issue hasn't been resolved. Yet, the interest in building small is growing.
Some communities in Alaska are skeptical that this is the solution cities should be looking for when it comes to a tight housing market. Wasilla's city council recently banned tiny houses for a temporary period, due to concerns about landlords building multiple units on a single lot and what it could do to a neighborhood's character.
In Juneau, the real issue is what do you do with a house that rolls? You can build a 120-square foot-home on a permanent structure. But can you park one if it's on wheels in your friend's backyard?
"Depends on where the house might be so it's a big fat maybe," she said.
Maybe because it's not zoned for every location. Tiny houses on wheels can go in mobile home parks — no problem. But it requires a trip to the planning commission before rolling one onto someone's private lot.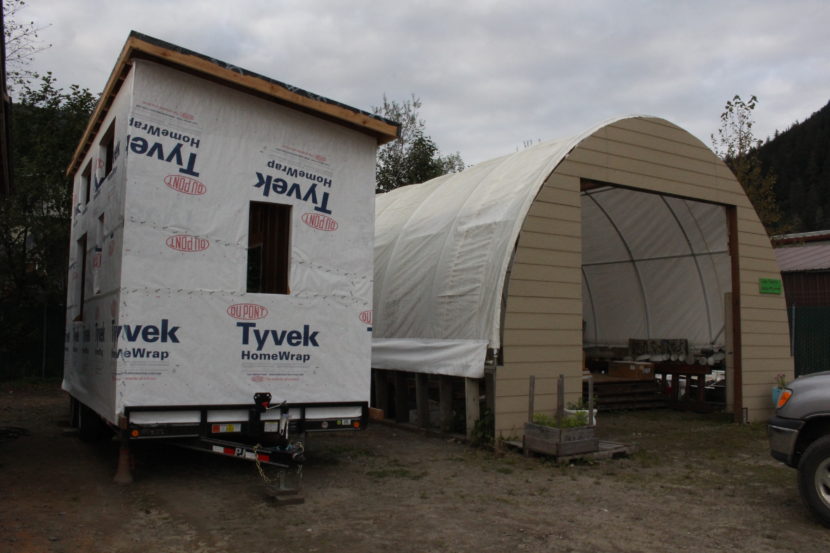 So far, Mckibben says no one has appeared before them to get the ultimate OK. But she thinks it's only a matter of time before more small homes start popping up.
"Well, for me, that's a concern right now. If people are going to buy them, they need to know they can place them somewhere," she said. "They shouldn't be making an investment not knowing what they can do with that."
In Sitka, at least one tiny house on wheels is headed before the planning commission. It would be parked in a residential neighborhood. But nothing's been decided yet.
Mckibben expects the zoning conversation to happen in Juneau later this year.
Back at the building site, Donig is working on what will become the sleeping loft in the tiny house. He's talked to people who work at the city about what's coming down the line. And he thinks they'll be able to work something out that could keep more tiny houses in production.
Still, if he could change one thing — besides the zoning rules — it would be the namesake of the movement.
"The word tiny home makes me think of something really tiny. I don't want to live in something called a tiny home, but I want to live in something called a modest home," Donig said.
He expects this "modest home" to be completed by spring, and he wants to build more after that. Just don't call him that tiny house guy.
Editor's Note: The photo caption has been expanded to explain Jeff Martinson's role in the tiny house build.