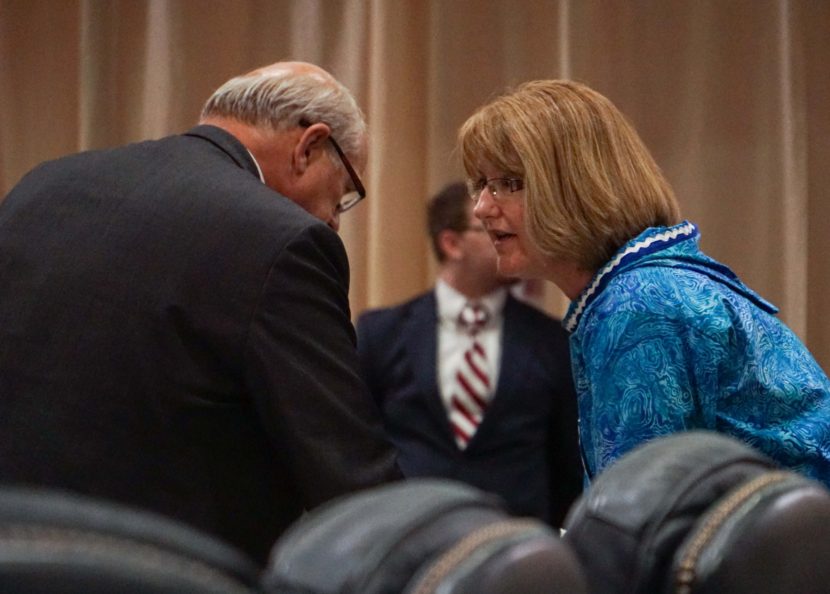 The Alaska Legislature has adjourned, but that doesn't mean lawmakers' work is done for the year. They're considering bringing a small group of legislators together to work on agreements on major unresolved issues, which could set the foundation for another special session or the next regular session.
Eagle River Republican Sen. Anna MacKinnon said she'd like to see members of all legislative caucuses work on solutions on a limited number of issues.
MacKinnon said Gov. Bill Walker presented so many ideas as part of his fiscal plan that legislative progress stalled.
"He keeps putting too many shiny objects in the water – that's my term – on all of the different pieces of legislation and so it creates these factions that are in opposition to one of the pieces," she said. "Whether it's revenue, whether it's reform, whatever it is, there's just too many things to look at, and everyone's trying to leverage everything."
For example, the working group could consider the overall level of state spending and changes to Permanent Fund earnings. MacKinnon said the group could hold public meetings to gauge Alaskans'  priorities. She also would like to reach an agreement that would allow oil and gas tax companies to receive money this year that Walker has delayed.
But MacKinnon expressed concern about the number of tax proposals Walker's made. They include introducing either a personal income tax or a sales tax, as well as increases to the motor fuel, alcohol, mining, commercial fisheries and tobacco taxes.
"You have to respect all views," MacKinnon said. "And so I certainly want someone who's in opposition to what we want to do – or what the governor presented as ideas to go forward. And so I think there needs to be a balance of both those that might want something to happen and those that are opposed to something happening."
Walker's administration supports the idea of a working group. Revenue Commissioner Randall Hoffbeck said members of the governor's team would like to be involved as much as possible.
"We think it's a great idea," Hoffbeck said. "I think the more the legislature is involved in the process from the beginning, I think the more willing they're going to be to move the bills in the end."
Hoffbeck said adding new revenue should be part of the discussion to prevent deep cuts in government services.
"One person's shiny object is another person's treasure," Hoffbeck said. "There are some people that may or may not engage in the conversation if those other items aren't there. And so, it's going to be a balance. And I think it's something that, as they work through the issue, I think they'll find … the balance that they're comfortable with."
The working group concept also got a warm reception from the leaders of the minority caucuses in both chambers.
House Minority Leader Chris Tuck, an Anchorage Democrat, said the idea is similar to two minority-caucus proposals earlier this year – a caucus of the whole and a ways and means committee. He said he's glad that MacKinnon is "coming on board."
Fellow Anchorage Democrat and Senate Minority Leader Berta Gardner also said she's interested.
"I have proposed similar things and I'm very happy to participate, any time, any place," Gardner said. "I look forward to it. I think we need to do this."
House Speaker Mike Chenault, a Nikiski Republican, said it would be important for a working group to consider how each geographic area of the state is affected by any changes.
"I think that's something that the House would want to join in, and try to figure out … is there a way on any of these issues we can move forward?" Chenault said, adding that the goal would be "to try to build some consensus on how you would put that particular plan in place, and what it affects."
MacKinnon said she'll probably approach the leaders of each caucus with a more detailed proposal within a couple weeks.
And she said she doesn't expect the group to start meeting until after the Aug. 16 primary. Its proposals would be considered in either a special session after the November election, or in the regular session in January.