Oil and gas companies would continue to receive tax credits under a bill that both bodies of the legislature passed Monday, but they may not be able to count on receiving much this year.  That's because the next round of credits depends on funding that one key lawmaker is already calling on Governor Bill Walker to veto.
House voted 21-19 and the Senate voted 13-6 to pass an amended version of the Senate's bill. It's the twelfth version of House Bill 247 that the legislature discussed this year.
The bill provides much less in savings to the state government than the version the House passed.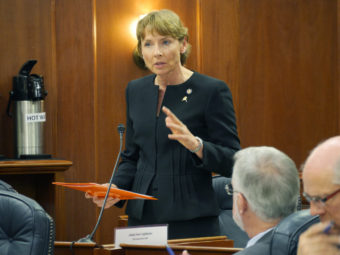 Sen. Cathy Giessel, R-Anchorage, said the bill protects the state's fiscal outlook and sends a message to the state's partners in developing a natural gas pipeline.
"It protects our today as well, in terms of reducing the tax credit outlay, but also keeping in place a stable tax structure which will do what we can to ensure a major gas project in the future."
To provide tax credits this year, the bill depends on drawing on $430 million that would otherwise go into state savings.
Rep. Paul Seaton, R-Homer, opposed the bill. He said Walker should veto the $430 million. That would leave tax credits at a minimum of $32 million, with most of this year's credits pushed off into the future.
"With that bill, it makes it so without any production tax credits coming in, I don't think we can possibly reach a sustainable fiscal plan, because we're limiting one of the only sources of revenue the state has significantly."
Four Republican House members who previously voted for deeper cuts to tax credits supported the bill.
Rep. Jim Colver, R-Palmer, said the bill isn't perfect, but would be an improvement over current law.
"Are we reducing the cash burn to the state treasury? And, yes we are," Colver said. "Is it as fast as some of us would like? No. But it's going to make a substantial impact to the bottom line of our budget."
While both the House and Senate bills reduced tax credits for oil production in Cook Inlet, the House version would have also eliminated the ability of North Slope oil producers to use operating losses to reduce future tax liability.
The bill disappointed members of the Democratic-led House Minority caucus. Caucus members originally hoped that cuts in oil and gas tax credits would be part of a budget compromise. But they voted for the budget last week to avoid layoff notices to state workers.
Rep. Geran Tarr, D-Anchorage, unsuccessfully sought to amend the bill to make it more similar to the House version. As the only minority member of the bill conference committee, she was outvoted 5-1.
"I don't think we could say that this is going to provide stability, because we have not dealt with a couple of the problem areas that if the prices dip low again, we'll have to come back and address," she said.