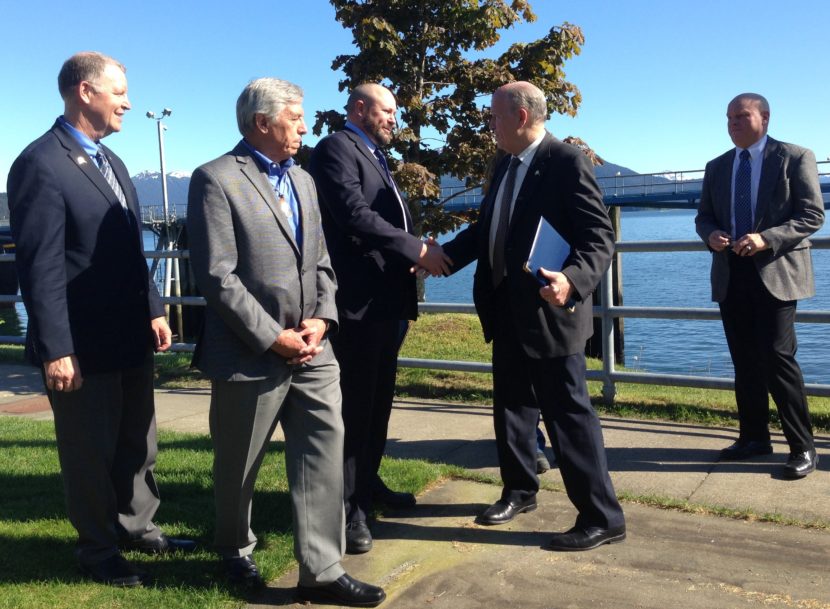 The state and a regional development group are combining forces to come up with a new business and management plan for the Alaska Marine Highway System.
Gov. Bill Walker and Southeast Conference President Gary White signed a memorandum of understanding Thursday to begin the process.
Speaking at a ceremony at Juneau's Auke Bay Ferry Terminal, Walker said he hoped the effort would stabilize ferry funding.
"Every year you sort of wonder what's the budget going to be. How much money's going to be there? You don't do that on the Seward Highway or the Richardson Highway because it's always going to be there."
"That's why we want to have a stable level of funding that we're talking about that we'll have available to us if we'll just sort of replumb our revenues a bit, so we can look out and say we know what the budget will be five years from now."
The Southeast Conference, which includes regional municipal, business and tribal officials, was the main force behind creating the ferry system more than 50 years ago.
White said the conference wants to create a new governance structure for the ferry system.
"We're really looking forward to working with our statewide partners to collaborate and move forward in this new direction to find sustainable solutions and reliable ferry systems for all of our state communities."
The state already has a Marine Transportation Advisory Board made up of port city leaders, ferry customers and the travel industry. But it has no real authority and is often ignored when important decisions are made.
The memorandum of understanding commits the state to contracting with the conference to develop a new strategic plan.
Conference Executive Director Shelly Wright said members are ready to start.
"We'll find a contractor, evaluate all the plans that are out there, go far and wide and then come up with three or four alternatives. Take those alternatives out to the people of the state of Alaska, have a discussion, take it on the road, get the input and eventually come up with one option for governance and in January, take it to the Legislature," Wright said.
The conference has been pushing for a planning effort for years.
During a meeting this spring, members heard from a Seattle consultant who described how ferries are managed in a half-dozen other parts of the country.