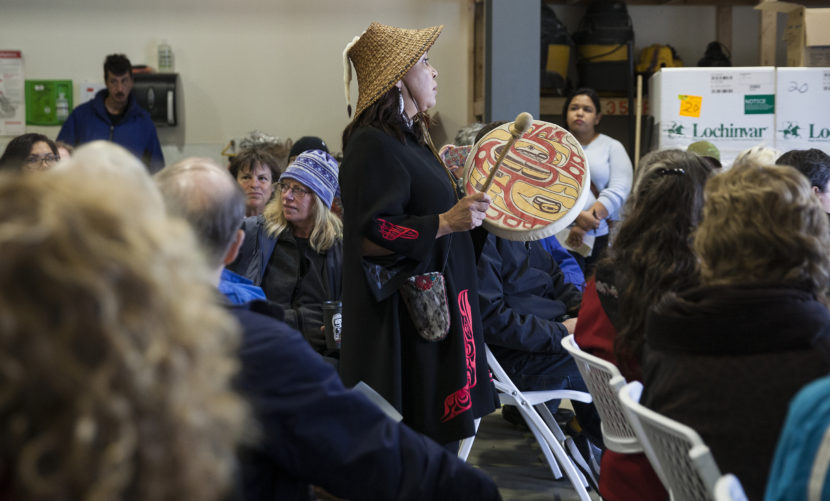 In 2012, the Juneau Homeless Coalition identified 55 of the most vulnerable homeless people living in the community. Since then, nine have died.
Now, a project designed to give permanent shelter to that population is breaking ground.
Technically, the dirt is already moving on Juneau's Housing First project. Still more than 100 people crowded into a warehouse in Juneau to celebrate the groundbreaking of a facility that is designed to get the area's most chronically homeless off the streets.
On a lot donated by the Tlingit-Haida Regional Housing Authority in an industrial area of Lemon Creek, the first support pilings have been drilled into the ground and contractors are working to install the foundation of the 32-bed facility.
On Monday, there was food, music and celebration of several years of effort and interagency cooperation to get Juneau's Housing First project into the ground. But organizers have not yet reached the finish line.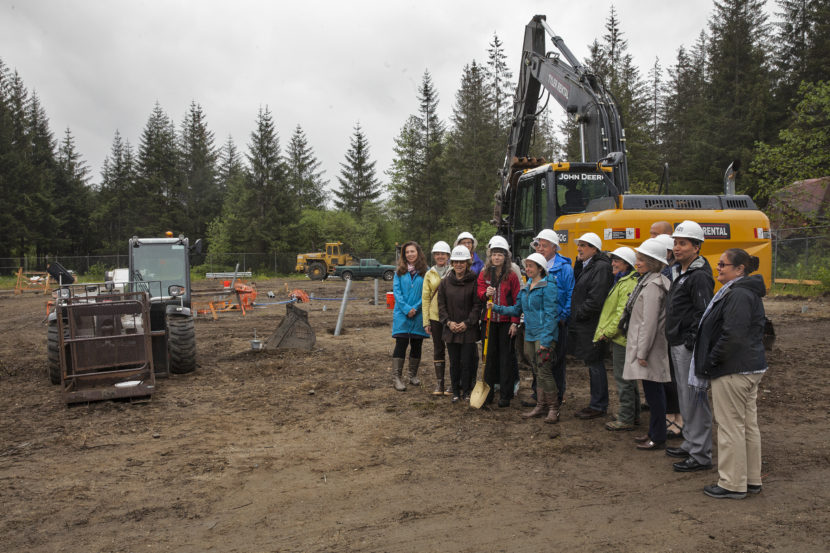 The project is not fully funded. Mariya Lovishchuk, executive director of Juneau's homeless shelter, The Glory Hole said organizers at Juneau's Housing First Collaborative are still about $1.7 million short of their goal.
"So we're kind of going on faith here," she said.
Lovishchuk said the coalition is waiting to hear back on three grant applications. Meanwhile, they are still taking donations through the Juneau Community Foundation.
Proponents of the project say the new shelter has the potential to save lives.
In 2012,  the Juneau Homeless Coalition surveyed 55 of the most vulnerable homeless people living on the streets, in cars, under bridges or in the forest. More than half identified as mentally ill, while 96 percent of them had substance abuse issues, according to the coalition.
Since then, Lovishchuk said, nine of the people who were surveyed have died.
Supporters of the Housing First model say that if a homeless person is given a permanent, stable place to live, it's easier to address issues like a lack of income, substance abuse or mental health issues.
But as the two other Housing First facilities in the state have learned, it isn't always easy to get someone into a home.
"For many of them, it was a huge adjustment," says Colleen Ackerman, program manager at the Karluk Manor Housing First facility in Anchorage. "Many of our folks were used to shelters, camping or Homeward Bound, which is transitional. Many had not had an apartment or had many apartments over the years but had been in the streets. So it was kind of like the Wild West in the beginning."
Everything you would imagine would happen when you would have, we have 46 people, many of them drinking. People passing out in the hallways and inappropriate behaviors and all of that.  So, in the beginning was probably the toughest because it was very new to the staff, new to even our division even though we had been working with the homeless folks for a while. But we've learned a lot of lessons."
Among those lessons, Ackerman said, is that Anchorage's Housing First program is a bit more restrictive than others in the country.
"We learned early on that when we brought in too many visitors, many of them were intoxicated along with the tenants, it got pretty crazy. Visitors became even more of a problem and it just is too much safety risk. So immediately, we did not allow more than 10 visitors in the building at a time. We had visiting hours."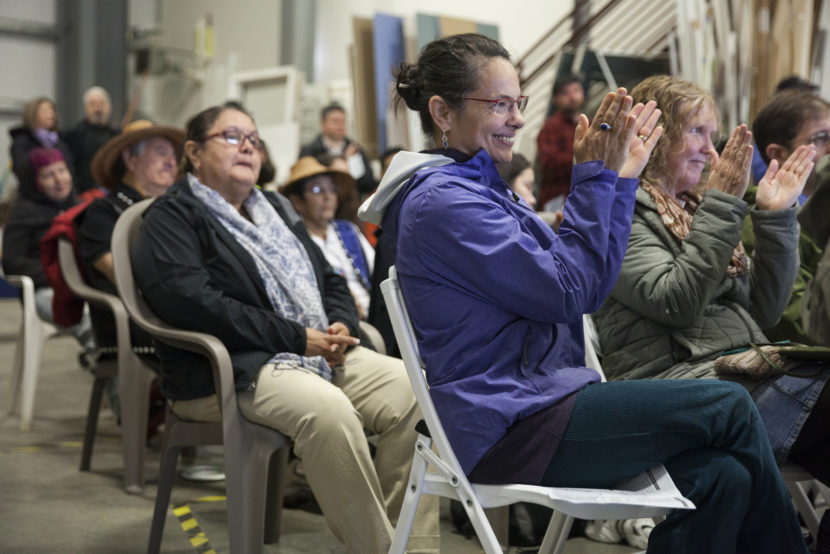 The staff at the Karluk Manor also don't allow residents to bring in more than a fifth of hard liquor at a time.
"They can bring beer until the cows come home. They can't really carry that much anyway,"
Ackerman said staff at Karluk Manor will also try to confiscate alcohol if residents are extremely intoxicated or aggressive.
Other challenges include tracking down homeless people on the waiting list to get into the facility. Once found, Ackerman said getting paperwork, like Social Security cards or drivers' licenses, can be a problem.
Still, she believes the Anchorage Housing First program is working.
"Once they can get into permanent housing and places like Karluk and the Juneau program, then they can begin to have a better quality of life. It looks different for all of them. Some of them, it may just be that they're off the streets and they're surviving, but they're getting meals and we take them to appointments and others it may mean that they do some employment."
Back in Juneau, project contractor Jim Triplette said the building should be finished in about a year.
Once open, the facility is expected to cost more than $800,000 a year to operate. But, more than half of the projected operating costs would come from Alaska Housing Finance Corporation vouchers, rental income and the Juneau Community Foundation.