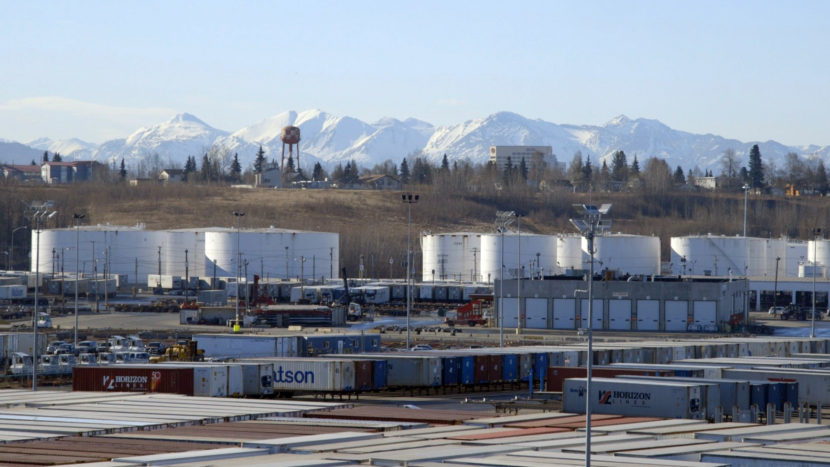 An enormous share of Alaska's food, fuel, and supplies come into the state through just a single access point: the Port of Anchorage. Even small communities in distant parts of the state rely on the steady flow of goods over the port's docks. It's a critical supply-chain that connects hundreds of communities, and is under threat from deteriorating infrastructure.
On a recent crystal clear morning, semi-trucks barreled up and down long drawbridges connecting the asphalt docks of the port to the belly of a massive container ship. Tractor-trailers hauled full 40-foot metal containers out from within.

Twice a week, two cargo ships travel 66 hours from Tacoma, Washington, to dock at the port. This one is run by Tote Maritime, and for hours a frenzy of heavy equipment moves 485 containers onto shore. According to officials with the the city, the port, and the shipping companies, the unloading process here is fundamental for Alaska's main supply chain.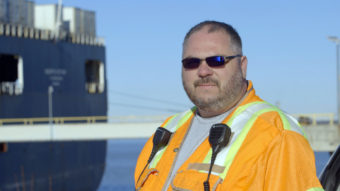 "Everything you see in the store comes up either on this ship, or the ship next door over there at Matson," said Billy Godwin, operations supervisor for Tote. "Small amounts of stuff come up over the road, but pretty much everything that comes to Alaska comes in one of these two ships."
For the Railbelt and Western Alaska, it's these ships that haul up a vast spectrum of goods. As Godwin is talking we see trucks leaving the ship carrying pipes, heavy equipment, and a 20-foot v-hulled boat. In the parking-lot are about a dozen single-story modular houses.
"I believe we only had four today," Godwin said, referring to the number off-loaded by longshoremen starting at 7 a.m.
Godwin drove up onto one of the ship's five decks, filled with a chaotic ballet of trucks negotiating tight bends and somehow avoiding collisions. Containers were squeezed like Pez candies into every available corner of the vessel.
"It's just a big parking garage in here for trailers," he said calmly.
After parking, we walk up a few spiraling staircases to the bridge of the ship, which looks out over the port's enormous staging area, packed with elaborate grids of containers arranged according to what has to be moved where at what time.
"No one ever sees what happens here," Godwin said. He pointed out a row of refrigerated trailers beyond a knot of freshly disembarked new cars. The cooled containers are packed with perishables, and get priority heading to nearby stores, where they might be stocked by day's end. Godwin ticks off other freight classes spread across the main cargo lot.
On average, a full-length Conex container loaded up with what's called FAK: Freight of All Kinds, weighs 30,000 pounds. The volume of goods pouring off this one ship on a single morning is staggering.
"If you eat it, wear it, use it, or drive it, it's on the ship," said Grace Greene, vice president and general manager for Tote in Alaska, sitting in her office overlooking the company's ship as it unloads.
Tote rents one of the three terminals that stands to be improved if funding moves forward for the port's modernization project. Greene thinks Alaskans don't always understand the Port's role as a critical piece of infrastructure not just for Anchorage or Southcentral, but the whole state.
"85 to 90 percent of the freight that comes to the state comes here through the Port of Anchorage, comes on one of these ships, and then it gets distributed out either on trucks, on rail, or via air to nearly every single community in the state," Greene said.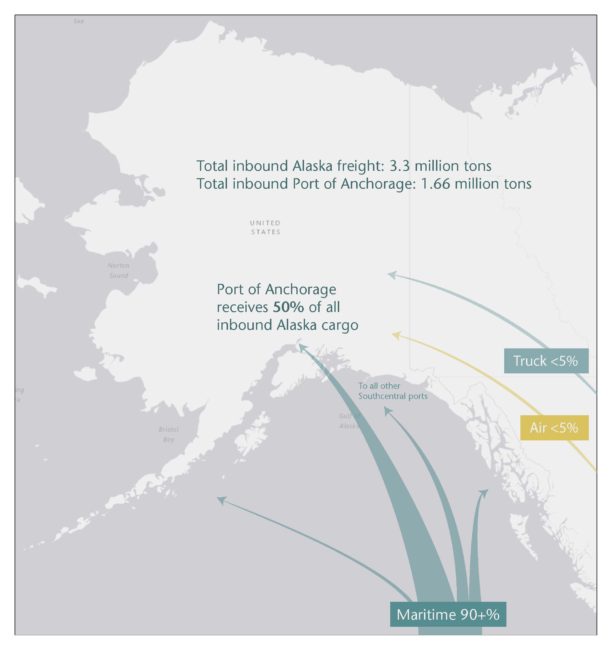 That 85 percent figure doesn't include certain construction materials, or account for goods barged directly to communities off the road system. Southeast Alaska, for example, received 90 to 95 percent of its freight by barge directly from the Lower 48, according to 2012 figures from the Southeast Conference.
When you look at the total amount of cargo coming into the state by air, road and over water, the port handles half of everything coming in, according to a 2016 analysis from the McDowell Group.
And while 32 percent of all the refined fuel consumed in Alaska moves through the facility, the McDowell report notes, "All aviation gas consumed within Southcentral and the Railbelt first enters the state through POA docks." Though a small fraction of aviation fuel heads directly to communities beyond Anchorage, the port handles a "substantial majority" of it.
As if to stress that particular point, Greene is interrupted midsentence by a fighter plane flying overhead on a training run out of Joint-Base Elmendorf-Richardson.
"That's fuel," said Michael Thrasher, Greene's senior operations manager.
What he means is that fuel for the jet planes out of Alaska's two main military bases came through the port. That's also true of the commercial jet fuel that supplies large airports like nearby Ted Stevens International, as well as the armada of small planes knitting together communities off the road system.
A few miles down the road is a breakdown center, which is something like a big sorting room filled with forklifts. The cross-dock facility is managed by Carlile, a trucking company owned by Saltchuk Resources Inc., the same parent corporation that oversees Tote. As trailers are backed up to the cargo bays, Operations Manager Tom Hubbard opens one of the containers from that day's ship, and points out labels for where the products are bound.
"Fish House in Seward," he said of a box sitting atop several piles of paper headed to an Office Max.
Of all the material shipped on a delivery like this one, 45 to 50 percent of it moves on to communities beyond Anchorage. Exact data on where freight moves is treated by companies as a trade secret. But estimates from the McDowell report suggest 15 percent of the cargo moving beyond Anchorage goes to the Interior, 10 percent goes to the Kenai Peninsula, 20 percent goes to the Mat-Su Valley, with the remaining quantities bound for Kodiak, the Aleutians and Western Alaska.
Regardless of whether shipments are headed next, Hubbard and his crew unpack the containers and re-organize them for delivery.
"We'll do the same thing and then backfill these trailers to send them on to where they're going next," Hubbard said.
The whole operation hinges on ships being able to dock and unload at the port. And in part two of this series, we'll look at why that key step is threatened as the port's basic infrastructure erodes into the sea.