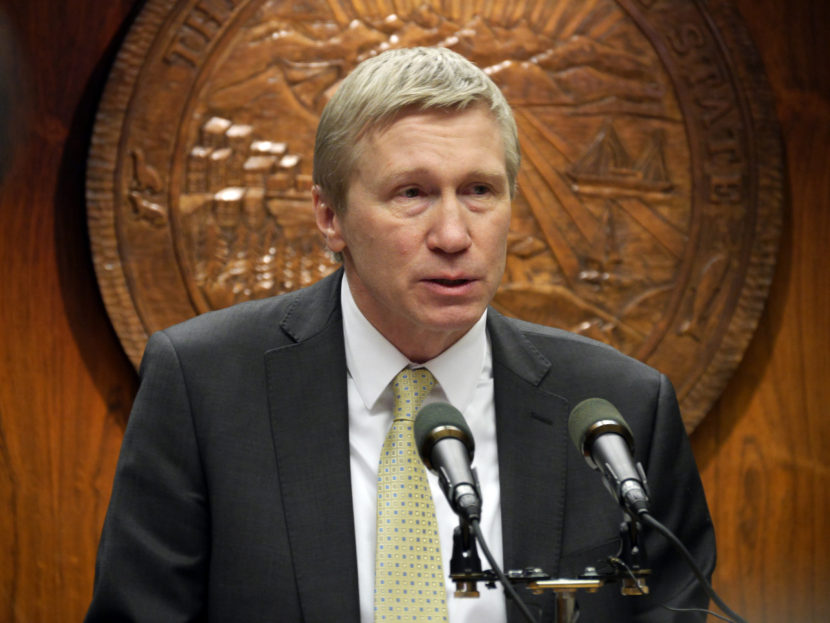 The state corrections officers union wants Gov. Bill Walker to retract key sections of a report released last year that criticized Department of Corrections policies and some officers' actions.
But Acting Corrections Commissioner Dean Williams says he's moving forward, to address what he sees as needed changes to the department.
Brad Wilson, business manager for the Alaska Correctional Officers Association, says Williams defamed and slandered officers in an administrative review that Williams co-wrote in November.
"They're innocent. They should never have been vilified in the press and in that report. They did not do the things that he said they did," Wilson said, adding that officers' and inmates' safety is also at stake. "That report is basically saying that they did things wrong, but right now – today – they're being ordered to do those exact same things."
In the review, Williams and co-author retired FBI agent Joe Hanlon looked into deaths in jails and prisons. They found what Williams called a broken system, with numerous problems that contributed to four deaths they specifically examined. They also called for external reviews of deaths in corrections facilities. They said many policies were outdated, and solitary confinement was used too widely.
Wilson sent a letter to the governor Monday asking him to retract criticism of officers included in the review. He also released a 51-page rebuttal of the review that said that the officers correctly followed procedures.
"You can't take one piece of information and twist and turn it," Wilson said. "He was looking to make a name for himself. He was looking to do it on the backs of corrections officers that did nothing wrong. Nothing … It wasn't close to what he said in the report. And now he's the commissioner."
For his part, Williams said he's looking forward. He declined to defend details of the review.
"I could go point by point and say I just disagree," Williams said. "I don't think they are the facts. But the most important thing for me is to understand that wherever we were, we don't have to stay there."
Williams said he's willing to work with anyone who wants to improve the department, including his critics. But he says they need to recognize that changes must be made. While he says the review wasn't perfect, it's time to move on.
"The review's the review and we're not – I'm not going back to do a second or third or fourth revision of it. That's not the goal of it," Williams said. "The goal now is going forward, for me."
Wilson said it remains important for the union to have Walker retract the review findings. He says the union wants to clear the officers' reputations. He says they've been criticized by family members of people who died in jails and have received threats.
"I am going to take any action that is necessary to make sure that the public knows that those officers did not commit a crime and they did nothing wrong and that they followed policy, as they were supposed to," Wilson said.
The Legislature is considering whether to confirm Williams' appointment. Wilson says he'll probably ask lawmakers to vote against Williams, after hearing Williams defend himself in a House State Affairs Committee hearing this week.
Williams said it's awkward for him to tell legislators how to work, but he said he wants to complete changes to the department.
"I think people have to vote their conscience, and understand where I'm going, or not," Williams said, adding: "Anyone who's spent five minutes with me, who can look into my face and see where I am at, knows I am going somewhere because I think that something needs to be done."
The House State Affairs Committee sent Williams' name to the entire Legislature for a confirmation vote.