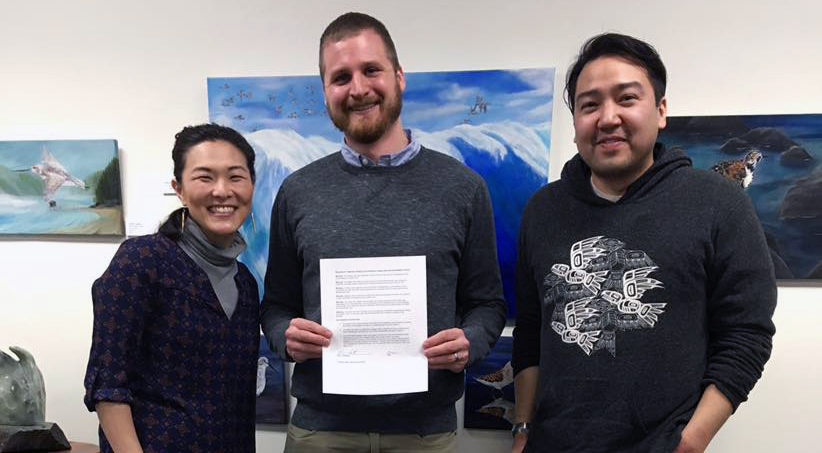 Juneau's arts council is sending a "diversity Bat-Signal" to the community, said artist Christy NaMee Eriksen. She's a local business owner and member of the Juneau Arts and Humanities Council board.
"We're hoping that some people who we've never spoken to before, who've never maybe even set foot in the (Juneau Arts and Culture Center) before will hear it and will hear this call for us to want to listen to them — listen to their stories, listen to their experiences — and will reach out to us so we can involve them in some of these community conversations," Eriksen said.
The Juneau Arts and Humanities Council board recently formalized its commitment to diversity with a resolution, which commits the organization to three things:
to serve the diverse communities of Juneau in a progressive and inclusive manner,
to incorporate different facets of diversity in selections for board membership, staff positions, committee memberships and grant programs, and
to establish a task force to recommend policies, procedures and programs "with the goal of establishing a culturally inclusive arts council.
The resolution isn't an action plan, but Eriksen said the very first thing to do, and the easiest, is to look at the numbers. One way they've used their data in the past, she said, was to simply understand how many people attended an event and how much money it brought in. Now Eriksen says the council should look at that same data with a new lens.
"Let's look at those participants. How did they find out about us? Are they new or are they returning? Are they representative of our diverse communities in Juneau? How many are low-income? How many bought low-income tickets or student tickets or people who asked for discounted tickets? And really analyze it with that in mind of really trying to determine, are we inclusive right now? Are we really reaching out and serving the communities that we say we are?"
Offering a more diverse selection of performances and programs is something another Juneau arts organization said it's also focused on. Art Rotch, artistic director for Perseverance Theatre, says the council's resolution is a step in the right direction. He said there is a need for decision-makers to be intentional about presenting art that imitates life.
He cited Perseverance's recent production of "Our Voices Will Be Heard," a play about childhood sexual abuse in a Southeast Alaska village, as an example. Rotch said Perseverance decided to hire Larissa Fasthorse, who is Lakota, to direct the play not because she was the most technically experienced candidate, but because she could bring authenticity to the production better than a non-Native director.
"We could pick apart the production and say, 'Hey, you know if you found someone more experienced for this or more qualified for that it would have been better in certain ways.' I think it was really good anyway, but what we got out of the team we had was something really true and that's really important. And that's a valid objective as well as aesthetics and quality, and that's also with the caveat that judging quality is impossible to do without understanding where your feet are, what your lenses are," Rotch said.
Juneau Arts and Humanities Council Executive Director Nancy DeCherney said diversity has always been a goal of the council, but they haven't made enough progress.
"It's a very difficult and very complicated subject and one which we all need to be thinking about," DeCherney said. "I think in everyone's life there's progress to be made so I'm happy that this is out there and I really, really hope that people will take this opportunity to speak up."
This renewed commitment to diversity comes as the Juneau Arts and Humanities Council is trying to move forward with plans to create the Willoughby Arts Complex.