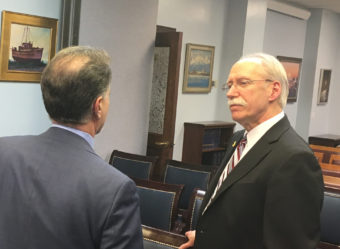 Former Fairbanks North Star Borough Mayor Luke Hopkins' appointment to the Alaska Gasline Development Corporation board of trustees was met with skepticism Monday.
The Senate Resources Committee questioned whether Hopkins and other board members have the experience needed to make important decisions about the proposed AKLNG pipeline.
Soldotna Republican Sen. Peter Micciche praised Hopkins' devotion to the state. But he expressed concern that Hopkins and other board members would make pipeline decisions that weren't in the state's best interest.
"At some point, there has to be someone on the board that can call – I'll try to think of a nice way for the word I would use – but I would say, could just call hogwash on something, when it comes to operational, marketing and direct natural gas and LNG experience," Micciche said. "And I worry about that."
Committee members noted that Hopkins was involved with Alaska Gasline Port Authority, which wasn't successful in completing some of the natural gas projects it pursued.
But Hopkins said it wasn't the authority's decisions that stopped these projects, but market conditions.
Hopkins attempted to defend his background, as well as that of other board members. He said the board makes decisions drawing on the corporation management's knowledge.
"Right now, I'm not sure anyone on the board has built a pipeline, that I'm aware of," he said. "But we have the expertise, and that's what we delve into, the same as when I was an elected official. I didn't know everything about those actions that are coming forward, but you have a team that works on it."
Hopkins joined the board in November when Gov. Bill Walker completed an overhaul of the AGDC board. It coincided with former AGDC President Dan Fauske's ouster.
Sen. Bill Wielechowski, the committee's only Democrat, said Hopkins brings a good perspective to the board.
"We've had this debate now for several years," Wielechowski said. "Do you want a board stacked with oil company executives, who are making decisions possibly that are going to favor their old employers, or do you want a board who are making decisions who are going to favor Alaskans?"
Since Hopkins' appointment was made outside of the legislative session, the Legislature now has the opportunity to refuse the appointment.
The Resources Committee members decided to forward Hopkins' appointment to a joint session of the Legislature without making a recommendation.