Senators introduced four new bills Monday that would require local governments and schools to pay more for pensions, end two college scholarship programs, and cut the amount that municipalities receive in state funding.
Towns and schools are concerned about the effect on taxes and services.
The first measure, Senate Bill 207, would shift much of the costs of teacher pensions from the state onto local school districts.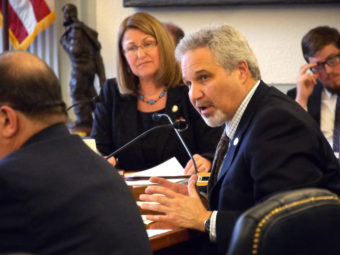 Fairbanks Republican Sen. Pete Kelly, who supports the change, said he wants to ease the impact on districts.
"Obviously, the state is in pretty difficult times," Kelly said. "There are some things we simply can't do anymore. And it's important, though, that as we recognize those things the state can't afford to do anymore, that we mitigate the impact on communities and provide as many shock absorbers as we can."
Association of Alaska Schools Boards Executive Director Norm Wooten said districts fear the effect of the higher costs.
"My members are very concerned," Wooten said. "There's some short-term and some long-term uncomfortableness about this. The short term is that districts have already issued teacher contracts. They're putting the final touches on their budgets and they still don't know not only what they're not going to get, but what they're going to lose."
In the long term, Wooten said districts could cut programs and lay off staff.
The increased costs would be offset in at least the first year by the second measure, Senate Bill 208. This would phase out two college funding programs: Alaska Performance Scholarships for students with high grades and test scores and Alaska Education Grants for students with financial need.
These programs would be wound down by 2022. A portion of the fund that paid for these programs would be used to lower school districts' pension contributions.
The third piece of legislation, Senate Bill 209, would also increase local pension contributions. Municipal and other government bodies that contribute to the Public Employees' Retirement System would have to pay more. They currently pay the equivalent of 22 percent of salaries, but would have to pay 4.5 percent more by 2018.
Anchorage Mayor Ethan Berkowitz, a former legislator, said the bill was poorly thought out and didn't include municipal perspectives.
"When they say that everything's been put on the table, that doesn't mean you're carving up the municipalities and treating them like cash cows, and that's what they're trying to do right now. That's not acceptable," Berkowitz said, adding: "This has not been a process that has included municipal governments. It's not been a process that's included taxpayers. It has been a group of legislators operating in a closed room, without adequate input, just trying to solve a math problem."
The fourth bill, Senate Bill 210, would cut the total amount the state pays to communities as revenue sharing in half. But it would increase the minimum payments to help protect rural communities.
Bethel Senator Lyman Hoffman, a Democrat who caucuses with the majority, said the state can't afford to continue the program in its present form.
"Assisting those communities – primarily smaller communities throughout the state of Alaska that rely heavily upon the program, that may have 80, 90, 95 percent of their revenues to continue to keep their doors open," is important, he said. "Whereas larger communities, they may only — this program may be less than 5 percent of their revenue and can … probably make better adjustments."
Alaska Municipal League Executive Director Kathie Wasserman said the cost of all these changes could be large.
"All I know is that it's going to be a huge impact," Wasserman said. "You can't hand a state bill over to the municipalities, lower the amount of money that they get, and then hand them an extra bill, and not have a huge impact."
Eagle River Republican Sen. Anna MacKinnon said the bills were a necessary step to help close a state deficit of more than $4 billion. The four bills could provide $100 million, although the fiscal analysis must be completed.
"This suite of bills is attempting to address … a huge hole in Alaska's budget, and it is a suite of bills that work together," she said. "There is criticism to be had for any of the bills individually. But our goal is taken as a whole, that these bills will provide an opportunity for communities to understand the magnitude of the problem that the state is facing."
MacKinnon and Kelly co-chair the Senate Finance Committee. The committee plans to announce opportunities for public testimony on the four bills.