As the state Legislature begins the final month of the session- one big question is looming: How are lawmakers going to pay for the budget?
Even with several hundred million dollars in cuts, the state has a more than $3 billion deficit to fill.
Members of the Republican-led Senate majority differ with Gov. Bill Walker on whether the state must permanently address all of its budget problems this year – and whether the state needs new taxes.
Much of the debate is focused on how far Permanent Fund earnings should be restructured to pay for government on an ongoing basis like Walker has proposed. Or, whether to just draw from the earnings reserve like the state has tapped the constitutional budget reserve in previous years.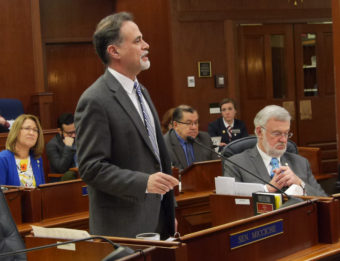 Soldotna Republican Sen. Peter Micciche said the government only has to close part of the budget gap this year. In part, that's because it can expect higher returns from oil prices in the future.
He sees similarities between Alaska's situation – having saved money in Permanent Fund earnings – and that of a family saving for college.
"Our child just graduated from high school and we're saying, actually we're not going to use that money that we've saved for the last 18 years for you," he said. "We're going to find some other way to pay for your college, but we're not sure what it is right now. When you look at where we are financially, our child just graduated from high school, and it's time to start thinking about how we're going to use our sovereign wealth most effectively."
Gov. Walker wants a long-term solution so that the revenue the state brings in this year will be stable in the future.
State Attorney General Craig Richards worked on the centerpiece of Walker's plan – to change Permanent Fund earnings into a stable source of revenue. He said the state's situation is more like a family facing retirement without its longtime source of revenue than a family paying for four years of college.
"Alaska lived for 30 years … off very generous petroleum revenues. Due to prices and production declines, we no longer can, so we've built up a huge savings account to essentially live off in the later years," Richards said. "We're at those later years, so to me, that's why it's all about you need to draw from your retirement assets in a sustainable manner because we need to live off of that money for a very long time."
Walker also supports introducing an income tax, and increasing other taxes, to build a sustainable budget. But Republican leaders are skeptical of the need for more taxes. They do want to draw from the Permanent Fund earnings reserve and other savings accounts – but with less extensive changes than those proposed by Walker.
And Senate Budget Committee Co-Chairman Sen. Pete Kelly, a Fairbanks Republican, also wants to cut spending more.
He said "nothing happened" to government services after the state sustained nearly $400 million in cuts in the current budget year.
"That tells me, it was that fat. It was, at least, fat by $400 million in the day-to-day operations," Kelly said, adding there will be a similar cut. "And you know what, it's possible, I don't think it's likely but it's possible that we'll go too far. In which case, guess what, we can come back here next year and fix it."
Anchorage Democratic Sen. Berta Gardner said she's concerned that more cuts could destroy programs that would take time to rebuild. And she questioned Kelly's statement that nothing happened after this year's cuts.
"I would propose if he thinks that, he should talk to fishermen, he should talk with seniors, our lowest-income seniors, he should talk with students, and with teachers, who all are experiencing great changes in their world because of the cuts that we've made," she said.
Gardner said an advantage of Walker's approach is that it would affect all state residents – and nonresidents who make money in the state, in the case of the income tax.
She noted that the state is facing credit downgrades if it doesn't address the budget shortfall, which will raise the cost for the state to borrow money.
Walker said he's willing to work with legislators, but he wants that work to lead to a sustainable budget.
"Alaska deserves a conclusion this year. They deserve a product that's finished this year," he said. "So, we can do it. All the tools are there. All of the motivations are there. If we don't, we know what the price is if we don't. The price for kicking the can down the road is way too expensive for Alaska."
Legislators expect to resolve how to pay for the budget toward the end of the legislative session.