The Senate voted 16-4 Monday on a state government budget that goes $63 million deeper in cuts than the House budget.
That's mainly because the Senate voted for $100 million in executive branch cuts that aren't allocated.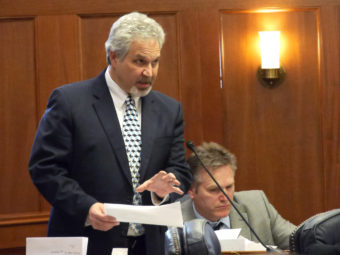 Fairbanks Republican Sen. Pete Kelly said the Legislature can work out the specifics before the end of the session.
"This $100 million was mostly recognition of those kinds of structural changes — Medicaid reform is a pretty good example," Kelly said. "Somewhere in the neighborhood of $31 million this year and … over $100 million each year after that."
Before the vote, minority caucus Democrats proposed an amendment to eliminate the unallocated cut.
They also proposed restoring money for several different programs, including Permanent Fund inflation proofing, senior benefits and prekindergarten. They wanted to pay for some of these programs by reducing spending through cuts to oil and gas tax credits, and reducing spending on several stalled infrastructure projects.
All of the amendments failed.
Anchorage Democratic Sen. Berta Gardner said the state can afford to fund the education measures she included in one amendment.
"This amendment chooses education and Alaska's children over projects that may once have been a great idea but that we simply can't afford anymore," Gardner. "The amendment restores pre-K education, Online With Libraries, the teacher mentor program, and the unallocated $10-million university cut."
The cost of Gardner's amendment would be offset by cuts to the Knik Arm Crossing, the Susitna-Watana hydroelectric dam, and the Ambler mining district road.
Eagle River Republican Sen. Anna MacKinnon said it would be wrong to use cuts in spending on construction projects to pay for budget items that will pop up every year.
"We have tough decisions to make, and I appreciate scrubbing the budget and looking at one-time funding to fulfill re-occurring costs, but it's just not the way to do business," MacKinnon said. "You do not take one-time money, and invest it in re-occurring costs. It just means we're going to face the same battle next year."
The two houses will resolve the differences between their versions of the budget through a conference committee. The Senate bill includes $25 million more for the University of Alaska. But it would cost less than the House in other areas, including $8 million less for Health and Social Services and $7 million less for transportation.
Before the conference committee is assigned, both Houses will consider major changes to oil and gas tax credits and the Permanent Fund, as well as the Medicaid and criminal justice overhauls.