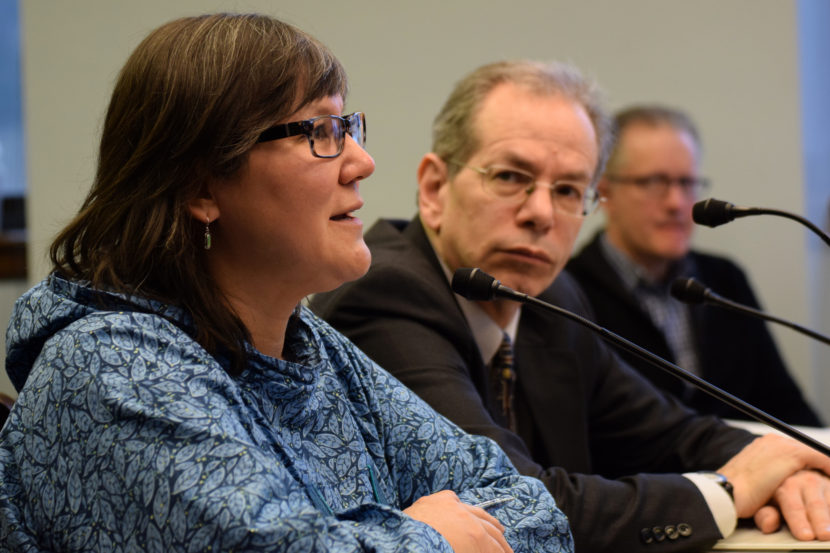 Medicaid is one of the biggest drivers of Alaska's state spending.
At the same time, Alaska has the nation's highest suicide rate and a growing problem with opioid addiction.
State leaders believe they can lower the long-term growth in Medicaid costs and make Alaskans healthier mentally and physically. They plan to do that by better coordinating  behavioral health care — the treatment of mental health and addiction.
At a recent Senate Medicaid Reform Subcommittee hearing, Health Commissioner Valerie Davidson said it will be a challenge.
"This is hard stuff. If it was easy, Alaska would have done it long ago," Davidson said. "And the great news is we have folks who have come together who are really interested in really changing the way that we deliver behavioral health services in our state, so that Alaskans can get the care that they need."
In practice, it means more Alaskans will be screened for behavioral health issues in primary care settings, and a wider range of licensed counselors and therapists would be able to treat Medicaid recipients in a wider range of settings, like in a doctor's office.
Davidson said current gaps in behavioral health care lead to other problems.
"We are seeing it in the number of children who experience child maltreatment," she said. "And unfortunately, when we're dealing with children, what we know is to the extent that that occurs, that can become a multigenerational issue. That if we don't provide resources to family members who are in crisis, where we have places where they can actually go to receive help, we are never going to get ahead of this problem."
A recent state-commissioned report recommended the state hire an organization that would increase the state's capacity to provide behavioral health care, and manage a coordinated system.
While that organization would cost more than $5 million per year starting in 2018, the state projects that it would save a larger amount in future years.
Despite the state's massive budget deficit, Anchorage Republican Sen. Cathy Giessel was on board.
"I appreciate the encouragement to invest in behavioral health and frankly I view it in the same way as investing in oil and gas credits for exploration. It pays off in the long run, though it costs a bit upfront," Giessel said.
This coordinated approach is already practiced in some areas.
For example, Southcentral Foundation serves Alaska Natives with psychologists and social workers who treat patients in the same health centers as primary care providers.
The Alaska Mental Health Trust Authority board supports better integration of behavioral health care into the rest of the health care system.
Chief Executive Jeff Jessee said state leaders and providers will have to work together like a baseball team.
"The trustees believe this is the single biggest thing that the trust will encounter in our 20 years of history, this is an opportunity to truly transform our behavioral health and health care system," Jessee said. "So, it's the bottom of the ninth, we're five runs down, we're not bunting, and we're not going to get one big swing either. We're going to have to chunk away at this."
While the groundwork for statewide behavioral health changes would happen over the next year under Gov. Bill Walker's proposed budget, the bulk of the changes wouldn't occur until 2018.