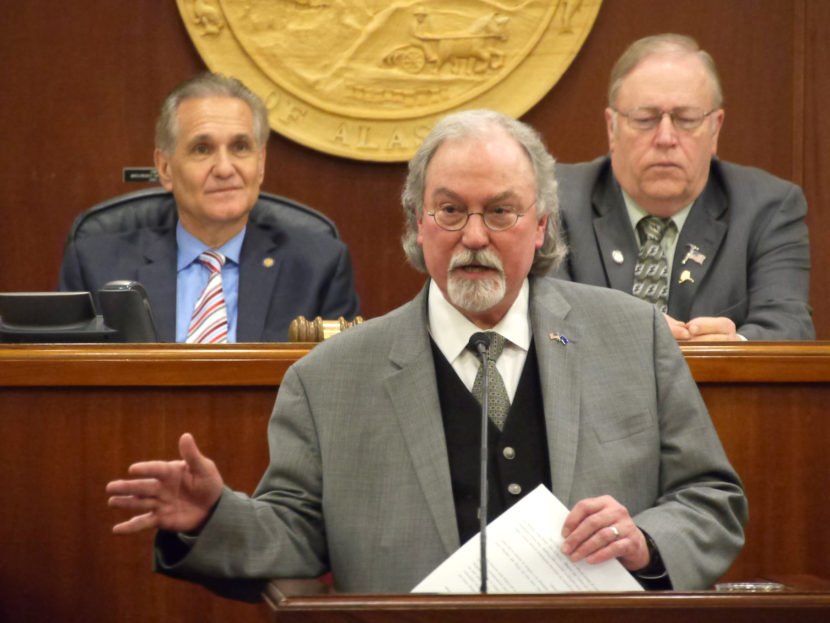 Alaska Supreme Court Chief Justice Craig Stowers said the court system has taken steps to cut costs.
In the annual State of the Judiciary Address to a joint session of the legislature Wednesday, he said the courts plan on more cuts.
But Stowers also gave legislators some advice as they shape the budget. He said if leaders act in the interest of Alaskans, their constituents will support them.
"My friends, do not be afraid: Fear is the mind-killer," he said, quoting a phrase from the Frank Herbert novel "Dune." "Be bold. Also, be selfless and look to the greater good. You are our elected leaders, and leaders sometimes have to make hard decisions their constituents don't immediately understand or agree with."
Stowers also urged legislators to ensure the state's budget problems don't fall too heavily on any one group.
The court system cut its budget by 3.5 percent this year, equal to $3.8 million.
The chief justice said all levels of court employees, from Supreme Court justices down to lower paid staff members, agreed to voluntary unpaid time off this year.
The Supreme Court has proposed another 3.5-percent budget cut for the fiscal year starting on July 1.
That plan includes not filling the jobs of those who retire or leave the courts.
"Additional loss of positions will have a direct, negative effect, on the public services we are able to provide," Stowers said.
The Supreme Court has decided to close courts statewide in the upcoming fiscal year each Friday afternoon, beginning at noon on July 1, Stowers said. All nonjudicial court staff will be furloughed every Friday afternoon.
"No court proceedings apart from emergency proceedings will be allowed," he said.
Stowers said if the legislature further cuts the courts' budget, some court locations may have to close.
He said this would hit rural Alaska — where the courts serve as the face of state government — the hardest.
"It would be a terrible travesty to have to reduce those efforts that you and we have made to reach out to rural Alaska and rural Alaskans … including our Native brothers and sisters out there," Stowers said.
Gov. Bill Walker proposed a total cut of $100 million to the state budget. Legislators have been seeking deeper cuts.