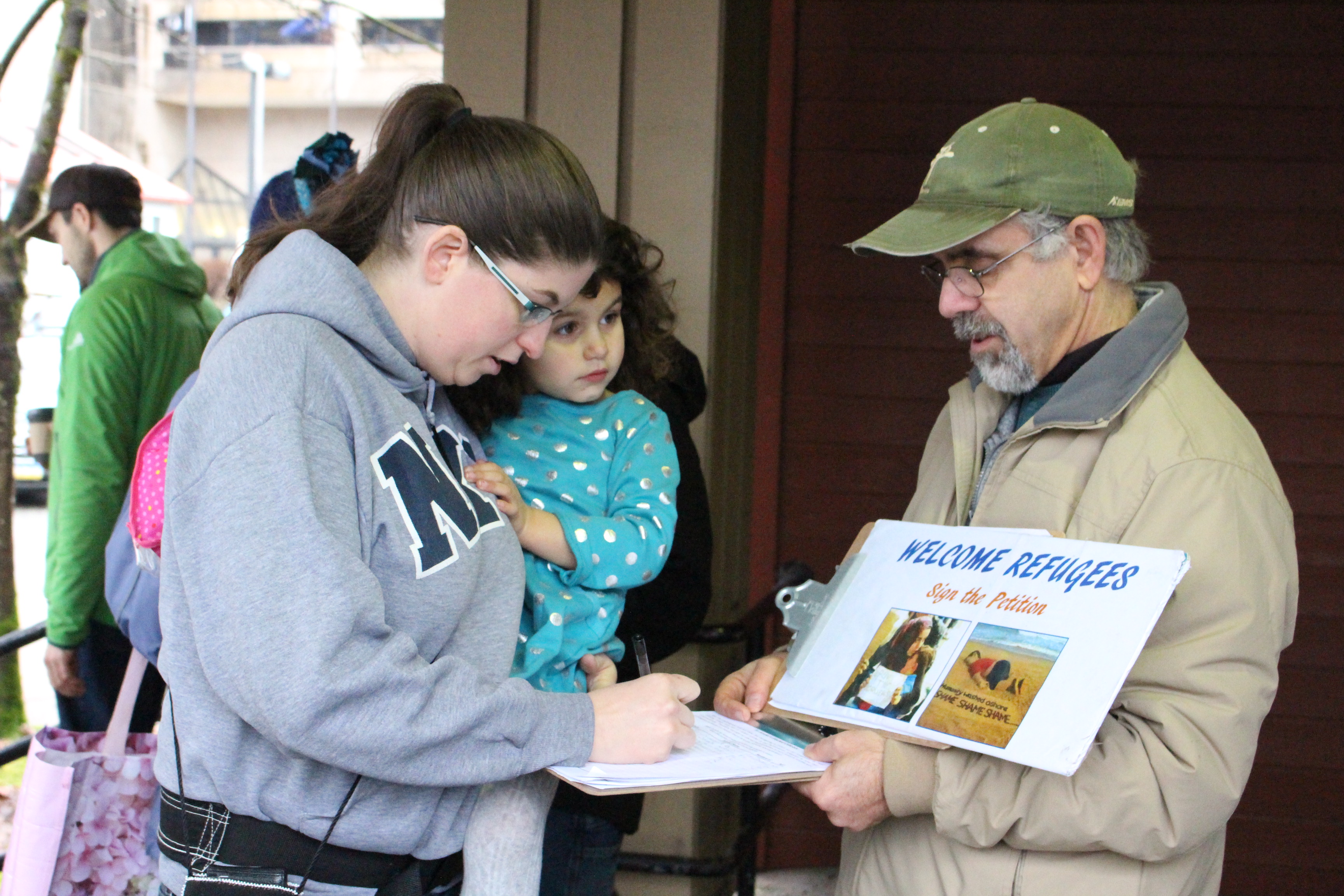 More than a thousand people in Juneau signed a petition this weekend to allow Syrian refugees in Alaska.
Volunteers with the groups Veterans for Peace and Juneau People for Peace and Justice stood outside Centennial Hall during the popular Juneau Public Market to gather signatures.
The petition is addressed, "To Alaska's Elected Officials" and will be sent to the state's congressional delegation in Washington, D.C. It reads:
"We, the undersigned, will not allow fear-mongering to drown out our compassion for those seeking refuge from war or violent conflict or our humanitarian obligation to ease their circumstances. Therefore, we urge our elected representatives to work toward resettlement of refugees to Alaska in a manner that is inclusive, humane, and expeditious."
Volunteer Sarah Niecko said gathering signatures means talking to people of all opinions on the issue.
"We've had a lot of support which is nice to see and, more importantly, getting the dialogue started for even those people that maybe don't support it. Just hearing their side, because we have to bring them all to the discussion table if we're ever going to come up with creative solutions," Niecko said.
About 120 refugees from around the world settle in Alaska every year. Catholic Social Services, which oversees the state's refugee resettlement program, says there are no current plans to receive Syrian refugees.
Following the attacks in Paris a few weeks ago, Alaska congressman Don Young and U.S. Senators Lisa Murkowski and Dan Sullivan joined many other political leaders in calling on the president to suspend his plan to admit 10,000 Syrian refugees. Gov. Bill Walker did not take that stance.
Volunteers in Juneau will continue to gather signatures this week. Veterans for Peace and Juneau People for Peace and Justice plan to place an ad in the Juneau Empire that lists as many names of people who signed the petition as can fit.