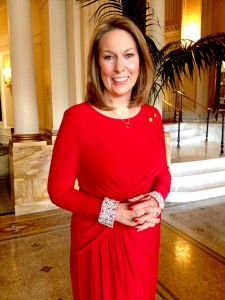 President Barack Obama this evening bestowed the Presidential Medal of Freedom on Alaskan Bonnie Carroll. She's a military widow who founded a service organization, the Tragedy Assistance Program for Survivors, to help family members of those who die in uniform. Many of the 16 others honored with her at the White House today are household names or Hollywood icons: Willie Mays, Yogi Berra, Barbra Streisand, James Taylor and Steven Spielberg. Carroll may not be as well-known, but her life was already cinematic.
As President Obama put it, when Bonnie Carroll's world was turned upside down, she healed by helping others.
"And each year TAPS holds seminars and workshops for military families across the country," Obama said at a ceremony in the White House East Room. "Through their Good Grief camps they bring together children of our fallen to learn how to cope with loss, to honor the legacy of their heroes and to try to have some fun as well. As one Gold Star child who lost her father in Iraq said: Because of TAPS I know someone is by my side."
The award is the nation's highest civilian honor. But Carroll's journey never lacked for superlatives. Consider her love story. In 1988, Carroll was a West Wing aide drawn into an unfolding drama in the Alaska Arctic. A family of gray whales was marooned in a rapidly freezing ocean. President Reagan asked Carroll to offer White House assistance. So Carroll called the commander of the Alaska National Guard, Tom Carroll. And he turned out to be the love of her life. Their story is a plotline in "Big Miracle," a Hollywood movie about the whale saga.
They married, and Carroll moved to Anchorage, where she worked in the district attorney's office. Then, in 1992, Gen. Carroll and seven other soldiers died when their plane crashed as they approached Juneau. Bonnie Carroll, speaking just before the White House ceremony, recalled how stunned she was.
"It does not sink in for a very long time that something of that magnitude is real. It's impossible to comprehend," she said. "You cannot possibly understand at that moment that you will never see that person again."
At the D.A.'s office and as a volunteer, Carroll had worked with crime victims. She had even helped family members cope with a prior military plane crash.
"I thought, with all this experience and training when the Army Guard crash happened I thought, 'Well, I'll be able to help everybody. I'm so … prepared,'" she said.  "And that fantasy lasted about 30 seconds."
When your heart finally allows your brain to grasp the enormity of it, Carroll says, the grief is debilitating.
"But the strongest support I found was with the other widows, who also lost their husbands on that day, in that crash," she said.
From that experience, she founded the Tragedy Assistance Program for Survivors, in 1994. The nonprofit, like so much else, transformed after 9/11. Carroll says TAPS and the Red Cross were the only two organizations within the Pentagon's family assistance program.
"So we were there, on the front line for those families. And today many of the Pentagon surviving families are now peer mentors, to our newly bereaved of today," she said. "So from that, we really transitioned very quickly to a whole new organization, to a new level of response and care."
With the wars in Iraq and Afghanistan, along with suicides, illness and accidents, Carroll says the family members helped by TAPS grew to more than 50,000.
She says she's not sure exactly how she came to be considered for the Presidential Medal of Freedom.
"We're very blessed to have the support of the commander in chief who personally recognizes service and sacrifice. I don't know who actually did the nominating but I take this as recognition of the sacrifices of this nation."
Among others honored with Carroll were Indian treaty rights activist Billy Frank, baseball great Yogi Berra, Broadway composer Stephen Sondheim,  Maryland Sen. Barbara Mikulski and violinist Itzhak Perlman.