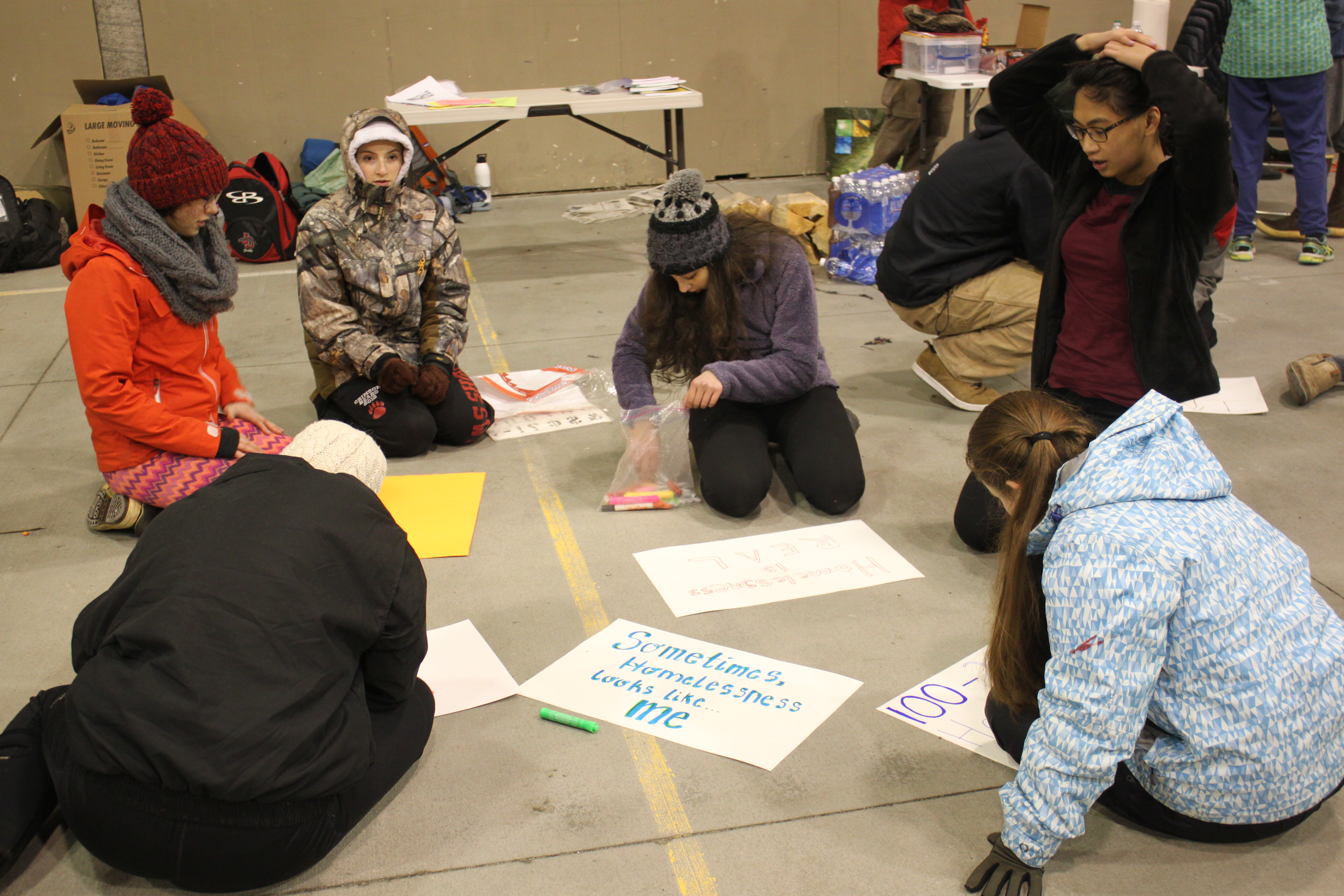 About 200 kids and teenagers in Juneau are homeless. There are students without adequate or regular housing in every school in the district.
This past weekend, high school students slept out in the cold to raise awareness of the mostly invisible issue.
Between Saturday night and Sunday morning, temperatures dropped to the low to mid-30s. Two dozen high school students participating in the sleep-out were prepared with sleeping bags, big winter coats, blankets and extra layers.
Reilly Walsh, 17, is a senior at Juneau-Douglas High School. She and other students built makeshift shelters out of cardboard boxes and duct tape under the outdoor covered area at Riverbend Elementary School. The goal was to bring attention to their friends and fellow students who are homeless.
"Because it's something that you can't really tell always if someone is struggling with homelessness, so we're just trying to spread the word that it does occur and you might not be aware of it."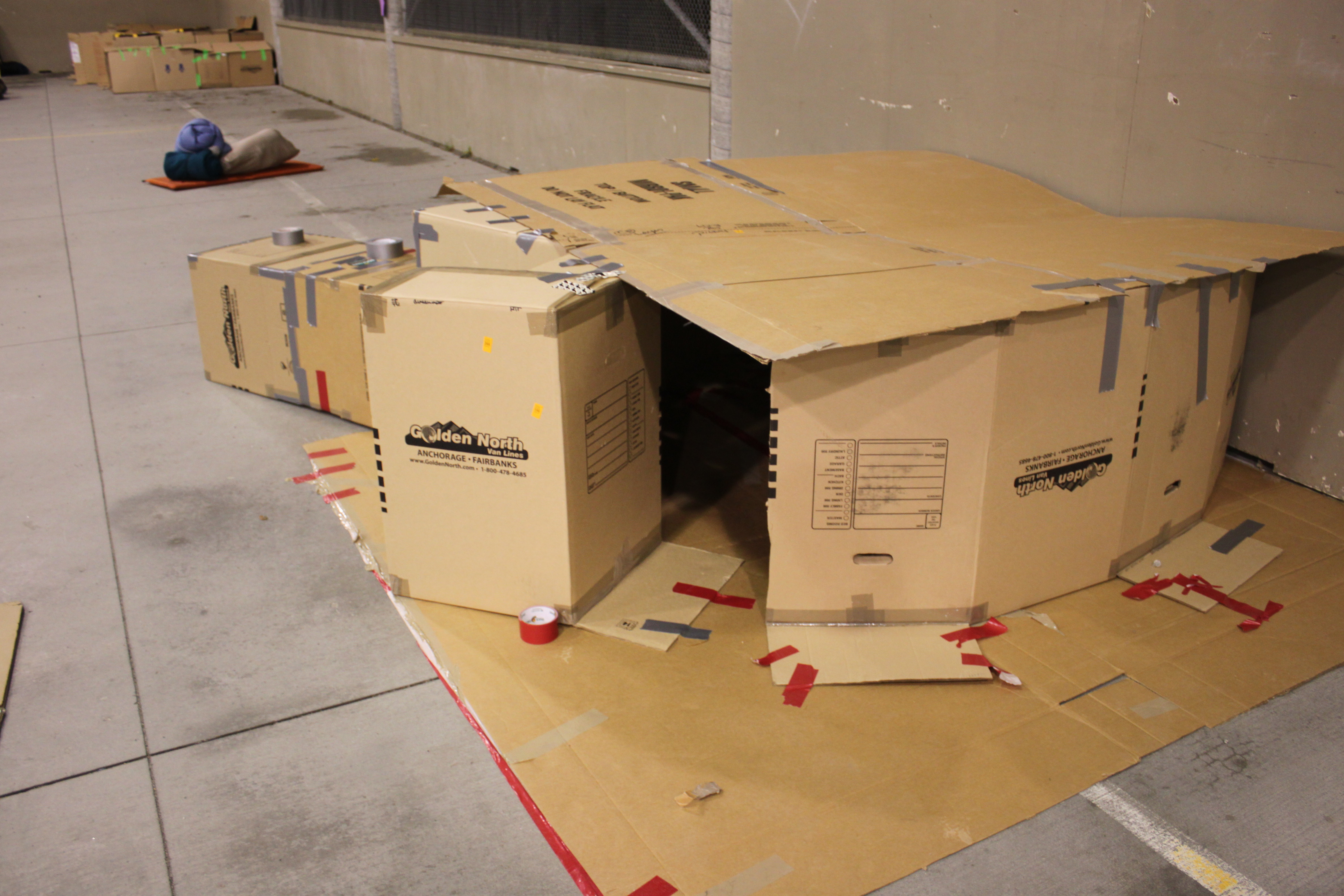 The cardboard structures are largely symbolic. Kids in Juneau who don't have permanent housing aren't typically sleeping outside. Gabi Kito, a 16-year-old junior, said they're more likely to be hopping from couch to couch.
"People – when they think of homeless(ness) – they think of them sleeping outside and in boxes rather than sleeping in a house and different houses each night."
Some homeless youth stay with families at shelters through St. Vincent de Paul or AWARE. Others turn to Juneau Youth Services, which offers a 10-bed emergency shelter at Cornerstone Residential Facility.
JYS offers counseling for mental health, substance abuse and family reunification.
The organization plans to reopen its transitional living program early next year, executive director Walter Majoros said. It'll house six individuals ages 16-21.
Majoros said some kids and teens are homeless due to family discord and instability.
"There may be family violence going on. There may be sexual abuse. There may be alcoholism or drug abuse in the family. There may be a single-parent family that creates some instability. Oftentimes there's a parent that is incarcerated."
Another resource is the Zach Gordon Youth Center in downtown Juneau. It's open every day except Sunday. Manager Jorden Nigro said homeless kids come regularly.
"We have showers here so they can take showers, and we help connect them to resources and we feed a lot of kids here," Nigro said. "We have kids that come and get their after-school snack here and lots of kids who stay for dinner."
Besides offering activities and services — such as basketball, tutoring and arts and crafts — Nigro said staff members work hard to build relationships.
"If kids have meaningful connections with adults, they do better in every aspect of their life and that impacts kids whether they're homeless, whether they're not homeless and also can help kids who are on the cusp," Nigro said.
At school, homeless students are offered help with transportation, free meals and snacks, clothing and shoes, toiletries and assistance with activities fees.
Dixie Weiss is the faculty adviser of the service club Interact at Juneau-Douglas High School. Interact has helped organize the annual sleep-out since 2004. Besides raising awareness, the sleep-out also raises money. Weiss has seen first-hand how the funds help.
"Time and time again these kids are giving you these big bear hugs because they never imagined they'd get that yearbook or that senior hoodie or the support," Weiss said.
The sleep-out also teaches an important lesson, "that sitting next to them in a class, day in and day out, there's this kid that is, against all odds, making it; that they have courageous peers and this is a way to support that courage," Weiss said.
So far, the students have raised about $3,000 and are accepting donations through the end of November. Half of the proceeds will go to the school district and the other half to the Zach Gordon Youth Center.
Youth experiencing homelessness can contact Juneau Youth Services at 789-7654, 24 hours a day, seven days a week.