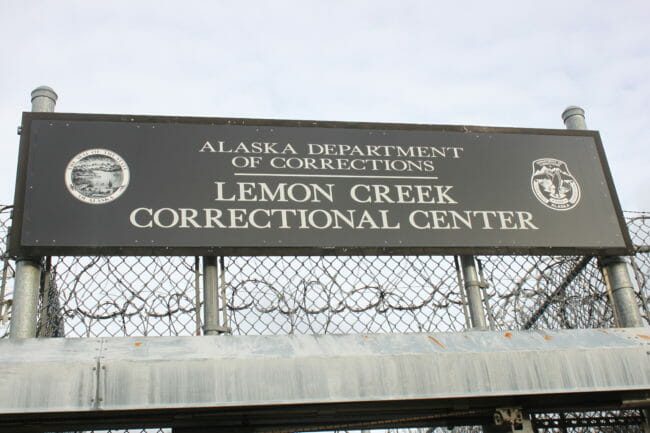 A just released state report on the state's prison system details disturbing events related to the death of Juneau resident Joseph Murphy.
In August, the 49-year old Iraq veteran died of an apparent heart attack in a holding cell at Lemon Creek Correctional Center. He was being held there on noncriminal charges. At the time, Department of Corrections released scant information about the death.
Dean Williams calls Joseph Murphy's death at the Juneau prison an "incident gone wrong." Williams is special assistant to Gov. Bill Walker. He spearheaded the three-month review of the Department of Corrections.
Murphy died at Lemon Creek Correctional Center the morning of Aug. 14. The night before, he was intoxicated and had been brought to the prison on a protective hold, not on criminal charges. Around 7 p.m. on Aug. 13, Murphy was put in a cell that had a video camera. Williams watched the footage.
"It's compelling video, very, very disturbing," Williams said.
Williams and the review team used the video, which had no audio, and interviews with prison employees to piece together what happened.
Murphy is seen awake at 5:20 the morning he died and doesn't appear to be intoxicated anymore, according to the report. About a half hour later, Murphy complains of chest pains to two different staff members. Both say they offered to call for medical help, but Murphy declined.
Ten minutes later, a third staff member responded to Murphy banging on his cell door and yelling for medical care. A fourth staff member overheard what Willams calls a "callous" exchange.
"Staff 4 hears the quote between Staff 3 and the inmate as essentially saying, 'I don't care if you live or die.' It's basically, 'I don't really care,'" Williams said. "Staff 4 is clear that's what he overheard. It's a credible report and it's not refuted either."
The staff member and Murphy also said "f— you" to each other.
Within 20 minutes of that exchange, the report indicates Murphy was sweating, paced the cell and banged on the cell door. At one point he's on his hands and knees. He stands and walks while patting his chest, then collapses and dies. He's not discovered in that condition for another 10 minutes.
"I wouldn't want anyone, I wouldn't want a relative of mine – my father, my brother – or anyone dying in prison who's complaining of chest pain and not having someone call for help, let alone an exchange that occurred between a staff person and Mr. Murphy the way it did," Williams said. "I don't know if he would've lived otherwise, but I can tell you that it's unacceptable what happened in terms of the interaction and the fact that help wasn't called."
Williams says that third staff member was sanctioned, though not to the level Williams deemed appropriate.
The report also finds fault with why Murphy was put prison in the first place. State law allows for an individual who is incapacitated by alcohol or drugs in a public place to be put in temporary protective custody.
Williams said it doesn't make sense to put medically unstable people in jail, "Just the whole practice of taking highly intoxicated individuals, some that are detoxing, and placing them in a prison where they are going to receive far less attention is not a good plan."
The report shows incidents where people with a blood alcohol concentration six times the legal limit for driving under the influence are being dropped off at prisons. Murphy's that night was .165, about double the limit.
Williams said the practice puts the prison system and the individuals at risk, and it's something that needs to change.
"Protective custody was originally designed to be a last stop place for individuals and somewhere along the line in the history of our state, it's become more of a middle of the road stop," Williams said.
It's also misinterpreted by corrections, he said. Instead of keeping an individual until they're no longer incapacitated or for a maximum of 12 hours, corrections treats the 12 hours as mandatory.
Williams said the state may release the video footage of Murphy's death and three others the review team examined. Williams will be in Juneau this week to meet with Murphy's ex-wife and walk her through the footage. Her reaction and other family members' will help inform the decision to release the videos.
There isn't anything, Williams said, he or the state can do to bring Murphy back, but he's dedicating himself to make sure what happened to Murphy doesn't happen to anyone else.