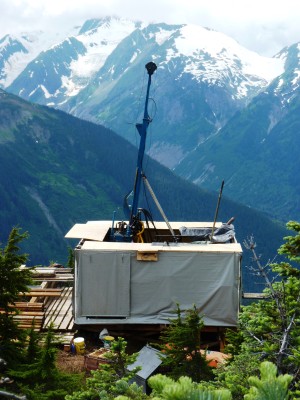 Developers of a controversial British Columbia mining project say they've found more gold.
The discovery could increase the value of the Kerr-Sulphurets-Mitchell deposit and help attract investors.
The KSM project is owned by Toronto-based Seabridge Gold. Spokesman Brent Murphy says summer drilling expanded the boundaries of a gold- and copper-rich deposit called Deep Kerr.
"We believe there's more potential there. And I think the results from Deep Kerr have proven our geological hypothesis and from that, we're quite excited," Murphy said.
The KSM is about 30 miles east of the Southeast Alaska border and around 80 miles east of Wrangell. It's controversial because it's within the watersheds of two salmon-rich rivers that flow into the ocean within 50 miles of Ketchikan.
The project was expected to use open-pit mining. Murphy says finding more valuable deposits at depths of more than half a mile could change that scenario.
"Potentially it means more underground mining and less open pit and less waste rock and less environmental disturbance," he said.
Mine critics in Alaska say waste rock stored behind dams is a significant threat to fish and people downriver.
Murphy says more drilling is needed to identify the deposit's full depth. Seabridge has not decided whether to continue exploration next summer.
The company has the main permits needed to build the mine. It's still seeking investment partners for the more than $5 billion project.