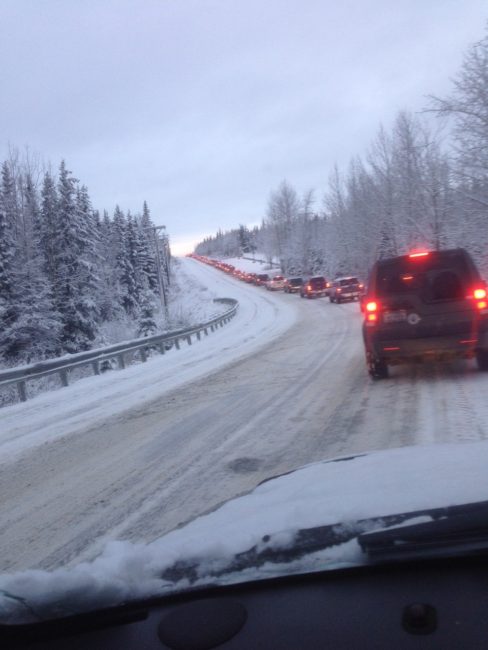 Slick ice and a dusting of new snow made commuting on the Glenn Highway treacherous Monday morning. Alaska State Troopers responded to 31 vehicle incidents on the Glenn in their Matanuska Valley jurisdiction Monday, according to spokesperson Megan Peters.
Anita Shell with the Anchorage Police Department said since midnight, Anchorage police responded to 87 collisions and more than 90 vehicles in distress throughout APD's jurisdiction. Only 10 involved non-life threatening injuries. APD patrols the Glenn Highway from the Knik River bridge to the city.
Alaska Public Media employee Ron Zastrow said his normal 50-minute drive time was stretched to 3 hours. He commutes to Anchorage from Wasilla.
"Everybody that I saw on the southbound lanes was driving very slow. I didn't see as many vehicles in the ditch as I thought I was going to see," Zastrow said.
Zastrow didn't see sand trucks heading south, either.
"There was no sand on the highway that I saw," he said.
The Glenn is a priority one traffic artery, according to Jill Reese, media liaison with the state Department of Transportation.
"Level one is of course the major highways, safety corridors, major urban and community routes," she said. "These can take up to 24 hours to clear after a winter storm. We try to get all the major traffic through, commuters and those sorts of things through first, then we go on to the lesser priorities."
She said DOT's sand trucks went to work at 5 a.m., although the trucks go where they are most needed and are not tied to any particular route.
"It's normal, Alaska winter ice. People sometimes forget how to drive on this ice when we first get hit. Every year it is the same," she said.
Reese said the weather conditions are worsened because warm tires melt the ice underneath them, and then it freezes again, so there is continuous cycle of ice and thaw. And even if the road is sanded, that doesn't solve all the traffic woes.
"It's not DOT's practice, even in year's past, to sand the entire length of a highway. We sand the approaches, the curves, intersections, those sorts of things," she said. "We rely on motorists to drive for the conditions of the road. And we will put sand on those areas as we can."
Reese said DOT's budget has been cut by 25 percent, along with other state agency budgets, due to the state fiscal shortfall.