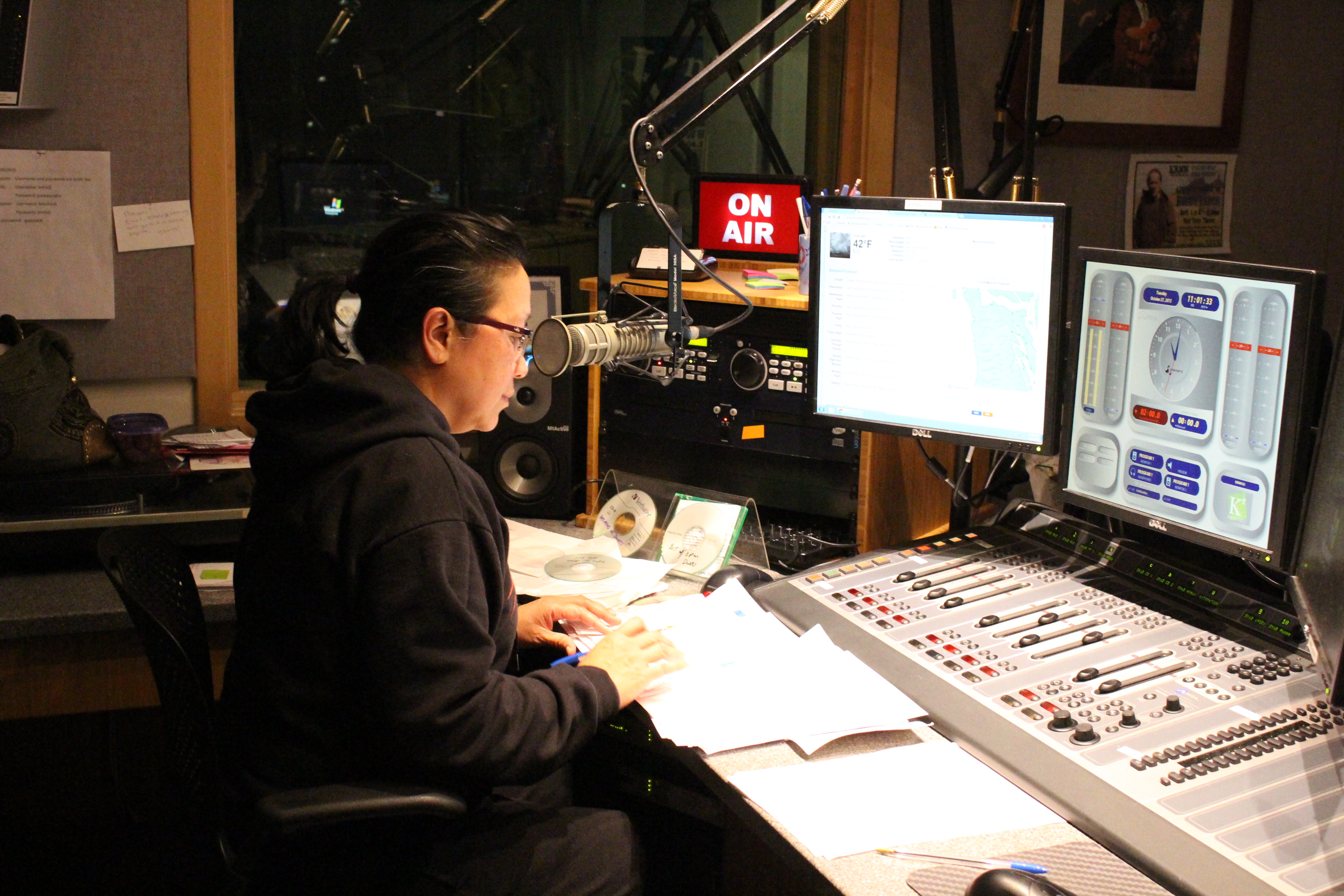 October is Filipino American History Month. In Alaska, that's more than 26,000 people. One Juneau DJ is finding ways to connect others with their culture on the airwaves.
In the two years that Genny Del Rosario has been hosting her show "Good Evening My Friends," she's only been absent once. And that was because her car wouldn't start.
In the summer, she closes her Filipino food shack early to make it here in time. The winter months, she said, are the hardest. It's dark, the roads are slick with ice and it's cold.
"But I have to be here, you know. It doesn't matter. It's like I have my alarm for this show, 9 o'clock. Even if I'm lying down. I say 30 minutes before, I come over now," she said. "Sometimes I'm rushing in the car, 'Ah, I gotta go!'"
During the breaks, she reads in Tagalog. The root language of the the Philippines has multiple dialects. Del Rosario can speak five.
"My father's dialect which is Ilocano. Then I can speak Cebuano from Cebu. And then I can speak Chavacano which is from my birth city Zamboanga," Del Rosario said.
She reads public service announcements, Filipino recipes, newsletters, even birthdays. In the summer, she fills the gaps with stories from cruise visitors. Usually, other Filipinos who work on the ships.
She started the show because she felt like her community wasn't being represented.
"It's a shame that we're the second largest minority and we don't have a show to showcase our tradition."
Some of the music Del Rosario plays is from her youth.
"Anthony Castelo is one singer when I was in college, we used to scream like the Beatles when he goes to a certain town where we are. … He's so handsome," she said. "It's like Justin Bieber or Joe Jonas. Anthony Costello was like that before."
https://www.youtube.com/watch?v=n8xkMqhxBe4
When she visits her family in the Philippines, she brings CDs back. In Juneau, she said it's impossible to find the music. iTunes and Spotify don't have a great selection.
And like the food, she said the songs from home can trigger memories. Good Evening My Friends is for people who immigrated to the states. But also for their kids who might not have grown up speaking Tagalog.
"I hope that they listen, the teenagers. Because it's good to know your mother's or father's language. I missed it out with my children. I just wished before that I could have taught them to speak Tagalog," she said. "They told me every time they go home to the Philippines, they say, 'Mom, why didn't you teach us to speak Tagalog? Even give us a dictionary?' I thought they weren't interested but they were."
Del Rosario came to the U.S. on a Rotary International scholarship. And traveled around the country as an ambassador for the Philippines in the 80s.
She went back, determined to return to the United States.
"It was like my eyes was open. And I was already 29 so I was ready to do adventure, adventure in the United States. My mom said, 'Aren't you scared?' 'No, ma. I'm 29 years old. What's going to go wrong?'"
She met her now-ex husband, settled in Vegas. She was able to stay in the country with a green card and thought she'd remain there forever. Then the marriage split up and she needed a fresh start.
"I came to Juneau with just two suitcases. It was difficult for me for the first six months," she said. "I was like a homeless person living from one friend's to another friend's house. I should have gone back to Vegas but I wouldn't want to. I said I'm here, I will start."
Eventually, she opened a daycare. That led to the funds to open Manila Bay Cafe with her sibling.
"We bought that store and it's been there for six years. I used the store's income to send my children to college."
Del Rosario is visiting the Philippines in December. And she said it's not easy to find a sub for the show. So far, her attempts to recruit someone who speaks Tagalog have failed. But that doesn't mean she's giving up.
When she does return home, she'll collect more music for Good Evening My Friends and mourn with family. Recently, a sister passed away.
"Even though when my sister died three weeks ago. I don't feel like coming but I said the show must go on. And you know, my sister would be proud. My family would be proud."
KRNN is KTOO's sister station. You can listen to Good Evening My Friends on Tuesday nights at 9.