A hurricane working its way toward Haida Gwaii could mean heavy rains for the panhandle's southernmost communities and nicer weather for Juneau.
Hurricane Ignacio originated north of Hawaii Friday morning. It's expected to pass south of Dixon Entrance. Another low pressure system coming across the gulf from the Bering Sea is headed toward the southern third of the panhandle; it's expected to pull some of the hurricane's moisture north.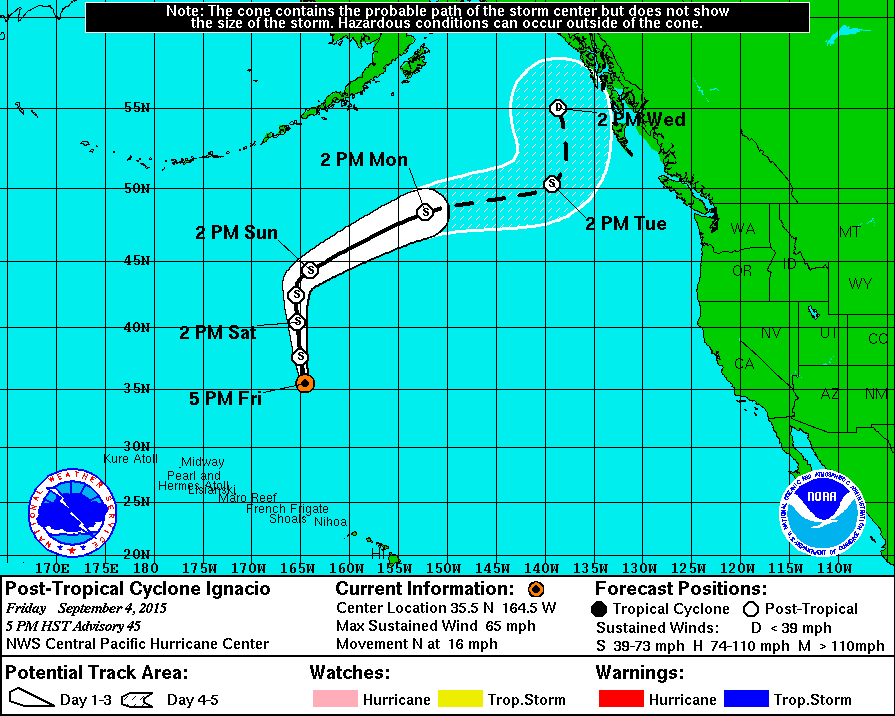 Heavy rains are expected Monday for Prince of Wales, Ketchikan and the southern tip of Baranof Island — but not Sitka. Nicole Ferrin, a National Weather Service meteorologist in Juneau, says the low pressure system will travel through the region over the next five days.
"If people down there notice the heavy rain, they might think that it's Ignacio but it's really not," she said. "The low will still be quite a way to the southwest from our area at that time."
Ferrin said residents of the affected communities should see typical fall weather, but don't expect tropical storm force winds.
"We get influence from tropical systems frequently. The unique thing about this is we can see it on the map and that's pretty unusual," she said.
The weather service may issue a special statement if the heavy rains warrant it.
Ferrin said Juneau would be "marginally affected" by the storm and may even experience nicer weather as a result. Typically when a low pressure system passes south of the capital city it results in drier weather.
Tropical storms are hard to predict once they leave they tropics, so this forecast could change over the weekend. You can find the latest forecast on the National Weather Service's website.