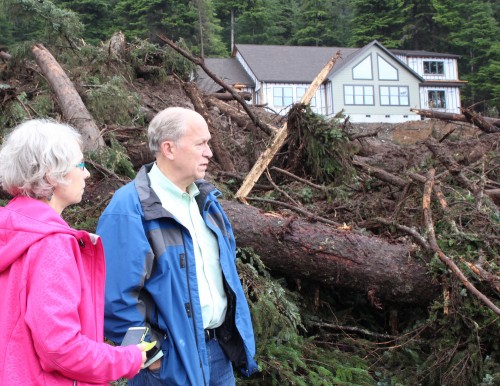 Update | 2:40 a.m. Aug. 20 – Robert Woolsey, KCAW
A second body has been found.
Update | 7:15 a.m. – Robert Woolsey, KCAW
The body of one of the three missing men has been found.
Original story
Gov. Bill Walker was in Sitka Wednesday to assess the damage from a series of landslides that hit the city after heavy rains Tuesday. He also met with the families of three people missing since that morning.
Meanwhile, the search for those three men was proceeding slowly, hampered by fears of further landslides.
Walker arrived in Sitka early Wednesday morning and flew over the affected areas in a Coast Guard helicopter.
He said it wasn't until he was standing at the edge of the Kramer Avenue landslide –where trees are stacked fifteen feet high and there's a blank space on the hillside where a house used to be — that the scale of destruction came home to him.
"I mean, the size of the logs …" Walker said. "They showed me a picture of the house before. I mean it was a substantial, significant sized house … the devastation is just amazing. I've never seen anything like it."
Three men are missing and presumed dead after a river of mud and debris wiped out a house and much of the road on Kramer Avenue, a new neighborhood about three miles from downtown Sitka. Walker said it reminded him of the scene in Valdez after the 1964 earthquake, and said he was "overwhelmed."
"I've prided myself, I've been governor about nine months now. I've prided myself by saying I've never had a bad day," Walker said. "Well, I can't say that anymore. This is a really tough day."
Walker also met with the families of the missing men. All three were involved in construction in the neighborhood. William Stortz, age 62, is Sitka's building official. He was inspecting the site on Tuesday morning. Brothers Ulises and Elmer Diaz, ages 25 and 26, were working on one of the houses.
Meeting with family and friends of the Diaz brothers at Sitka's Grace Harbor Church, Walker said he shares their frustration that search efforts aren't happening faster. The area around Kramer Avenue remains unstable, and search teams have been held up by concerns about more landslides.
During a news conference with the governor at Sitka's Fire Hall, City Administrator Mark Gorman choked up as he spoke about the three missing men — and about Sitka's response. Hundreds of Sitka residents have signed up to volunteer in the search or have dropped off food for the responders and for families evacuated from their homes.
"What I found in the last 24 hours is heart-wrenching and it's about community," Gorman said. "William is a friend of many years, family, and a colleague. The Diaz boys grew up with my sons and this is what this is about today; it's about hurt and caring in our community. I extend my sympathy to all the families and neighbors and friends. We are hurting collectively today."
Fire Chief Dave Miller echoed Gorman. Miller said he's worked with the Sitka Fire Department for about 28 years.
"I think yesterday was one of the hardest days of my life," Miller said, pausing to regain his composure. "When I had to talk to those family members and say, 'I am so sorry,' first for what happened, and then that we are not allowing those teams to go in and start looking for your family members. The thing that we have to worry about is the safety of all the others, too. The safety of the people who are going to go in there and do that, look for their [family] members."
Meanwhile, Sitka Mayor Mim McConnell said she's not yet ready to give up hope.
"The important thing that I think a lot of us need to keep in mind [is] that miracles do happen," McConnell said. "There are family members and friends that are hanging onto that, and I support that. You just never know."
Sitka has requested the governor to declare a state of emergency, which would open up access to state funds for the response. Walker said the request is his staff's top priority, and would be answered as soon as possible.