A neighborly dispute over property lines in the Willoughby District has escalated to chainsawing a tree, police calls and an unwelcome alteration of Twilight Cafe's award-winning storefront.
When Catherine Cristobal and her husband Ariel bought their business in 2008, they told the previous owner they would name the cafe in his honor.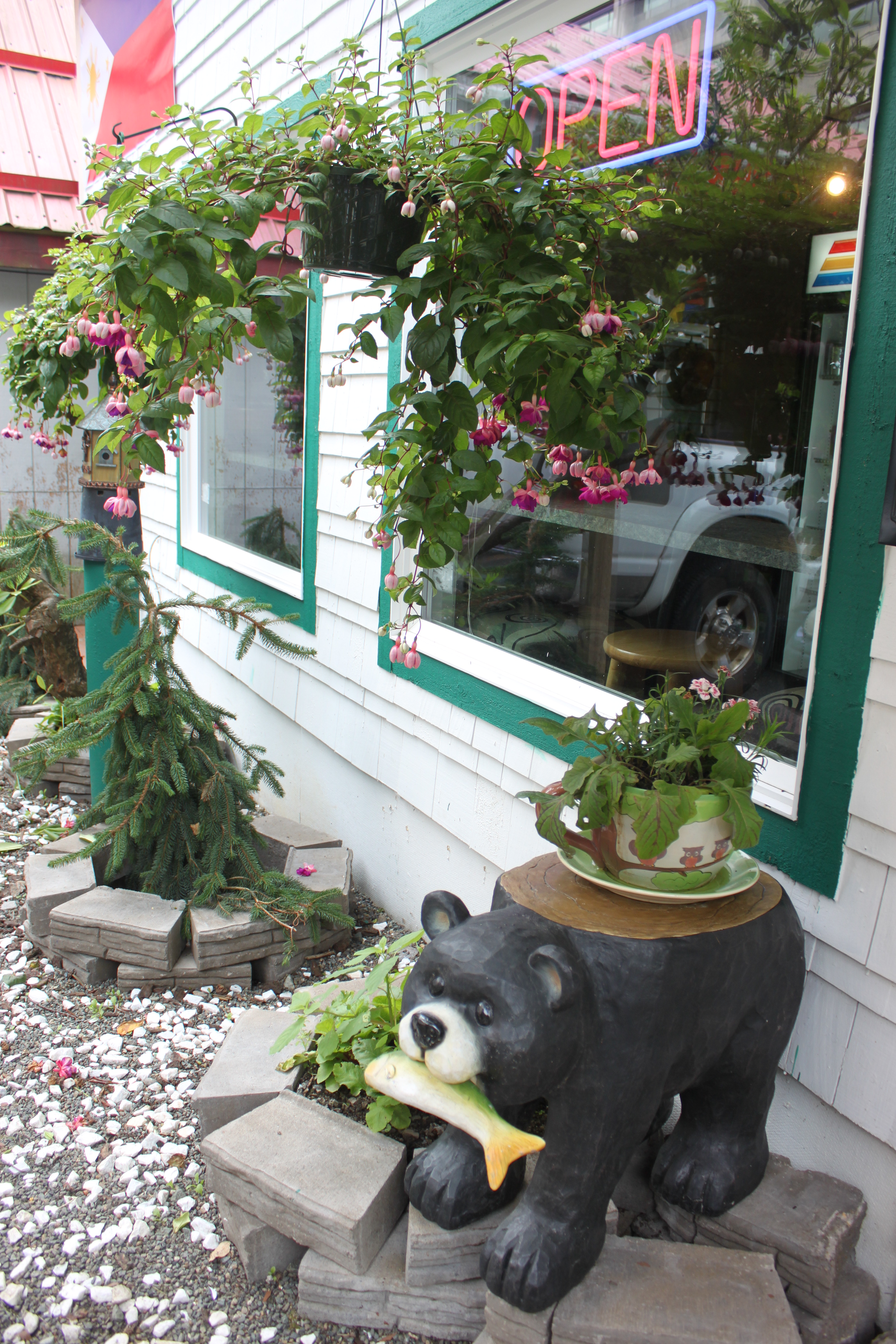 "I will name my cafe Sonneman's Cafe.  He said, 'Don't use my name. Just don't cut my tree,'" Catherine Cristobal says.
Joe Sonneman used the small house as a business and residence. He has since passed away but the rhododendron tree outside, according to Twilight's owners, was alive. Catherine says she had a sentimental attachment to it.
"When we were remodeling this, we're debating to cut it down or what. I said, 'No. I want that tree there in respect of Joe.'"
The cafe serves coffee, smoothies and adobo, a popular dish in the Philippines. As the new business grew, so did the tree, which their neighbor says was part of the problem.
The Willoughby District is a bit of a hodgepodge with zoning you wouldn't see today. The cafe is boxed in by city-owned parking and property belonging to Bullwinkle's Pizza.
"A warm, family place to be. People can bring their kids here and run amok and throw popcorn all over and play video games," says Mitch Falk.
He's owned the local chain for about seven years. The parking lot in front of Twilight Cafe is his, including a 500-gallon tank in the back.
"I poured a new concrete base for the propane tank back there. If you look back and look at it, their family handprints are in my concrete. I said go ahead and do that," Falk says.
Both owners say the relationship was civil, but this is where their stories start to differ.
Since Twilight Cafe is pretty much boxed in, a path cuts through Bullwinkle's property. This kind of arrangement is called an easement.
"They came to me and asked if they could move the access from this side to the other side," Falk said.
Catherine Cristobal disagrees.
"Mitch Falk is the one who asked my husband to switch the easement. Not us. Because he wanted the tank to stay."
A notarized document signed by both owners in 2014 shows that the easement was switched in exchange for the propane tank staying in its place. Who asked for it and why is up for debate.
Catherine Cristobal says Mitch Falk verbally assured her that the rhododendron tree wouldn't be cut, per their agreement. Its roots are on Twilight's property, the overhang on Bullwinkle's. She thought the tank was a safety hazard but she was willing to let it slide.
"He drafted the agreement. We sign it and for the very first time we shake hands. We're happy. I can't wait to say hi to him when I come to the store," says Cristobal.
That neighborly feeling was short-lived. About a month ago, Mitch Falk cut down Joe Sonneman's tree.
Greg Chaney, a lands and resource center manager at the city, says with historic properties like this, issues come up.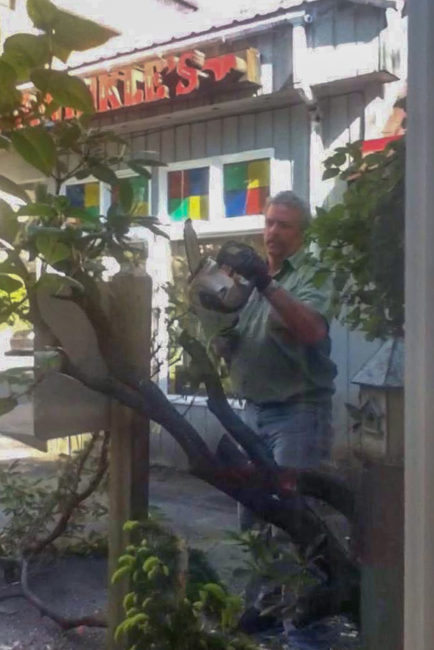 "I've seen what we call grandfathered situations or inherited situations from previous subdivisions that didn't comply with our code and when that happens, people don't get along," Chaney says. "And access issues generally causes strife. It's kind of designed to fail."
Chaney says zoning can create harmony or discord. The subdivision ordinance now requires direct, practical access and parking.
"Specifically because these types of situations cause neighbor disputes and sometimes the neighbor disputes can be extremely acrimonious."
When Mitch Falk cut down the tree, Ariel Cristobal watched from inside the cafe.
"I just (took) a picture … and I called the police because, you know, I'm scared. I don't know what he (was) going to do," he says.
There have been at least two calls to Juneau police regarding the dispute.
Falk says there was no verbal agreement and it was nothing personal. The rhododendron's overhang was damaging his car.
"Oh, yeah. I've got deep scratches in my truck. You can look at it right now. It's down there," Falk says.
He spent $3,000 to have custom snow barricades placed between the parking lot and Twilight Cafe. They also double as flower planters.
But to Catherine Cristobal, the outside is unrecognizable. It doesn't look like what won her the Storefront Stars award last year.
"I feel like I'm trapped. I cannot enjoy my back(yard) because of that big ugly tank. I cannot enjoy my front because of all these things," she says. "I don't know what to do anymore. It's coming from both ends."
She says she's thought of selling the business, but there's too much invested. Customers have been bringing her flowers to make up for the tree's loss.
Twilight Cafe's attorney recently issued a letter to Mitch Falk asking him to remove the concrete snow barricades. The letter says it's unsafe for customers and violates a previous verbal agreement.