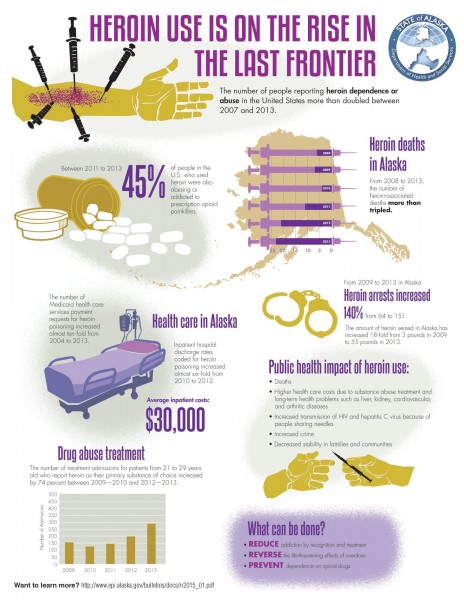 A new report from the state health department shows a dramatic rise in heroin use in Alaska. The number of hospitalizations for heroin related causes nearly doubled in the state from 2008 to 2012.
And in 2013, 23 people in Alaska died from heroin overdose, four times the number of overdose deaths in 2008.
"When we look at the magnitude of heroin deaths combined with the magnitude of deaths due to prescription opioids, we're looking at a similar number to what we see with motor vehicle accidents," says Dr. Jay Butler,  the state's chief medical officer. "That's a problem, but it's one of those things that don't tend to get in the news very often because it doesn't happen all at once."
According to the report, many addicts switch from prescription pain killers to heroin because it's cheaper and easier to find. Butler says he had a patient last year who told him he spent more on cigarettes than heroin.
Butler is working to improve access to the drug naloxone, which can prevent overdose deaths. He wants to make the state's prescription drug monitoring program more user friendly for prescribers and pharmacists.
"We also need to get the word out. I'll be honest; I'm a licensed physician with a DEA number. I didn't even realize we had a prescription drug monitoring program until I worked for the state," Butler says
The state's prescription drug monitoring program was established in 2008 to combat the misuse of controlled substances.