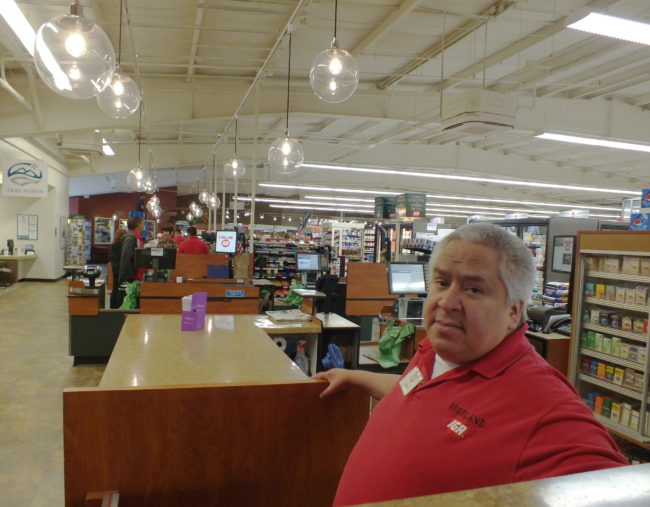 The new owners of the Foodland IGA will be celebrating completion of their remodeling and expansion Wednesday morning.
A ribbon cutting ceremony is planned for 10 a.m.
"It's just kind of a chance to mark the occasion because a lot of work went into it, and say thank you to some people," says Tyler Myers, president of the Washington-based Myers Group LLC.
The former Alaskan & Proud, located in the Foodland Shopping Center, briefly closed in September 2012 and reopened under new ownership two days later. Myers Group signed a 10-year lease for the space with the Rosenberger family of Juneau, owners of the shopping center.
The grocery store has been remodeled and expanded with new flooring, lighting, refrigerator and freezer cases. The deli and salad bar, meat and produce sections have all been expanded. Former True Value hardware store owner Craig Good has relocated to the front of the building as manager of the new Ace Hardware. True North Federal Credit Union and Heritage Coffee have also set up shop inside the store.
Myers says interior and exterior signage is still on their to-do list.
A new pharmacy may open in August.
"They're in a permitting stage with state and federal regulators on pharmacy licenses," Myers says.
It may be awhile, however, before a liquor store opens in an adjacent space.
"It's not been my biggest focus at this point because there's clearly liquor stores in town," Myers says. "Part of what I've been trying to do is come up with some areas that maybe make the store better and service the community better in a way than it is now."
Instead, that space may become a natural food or health food store with supplements.
Myers Group owns and operates seven grocery stores, three gas and convenience stores, four hardware stores, and a couple of lube shops in the Pacific Northwest. Myers says they have a total of about 700 employees at those businesses.
Myers says they also just completed the purchase of the Super Bear Supermarket in the Mendenhall Valley.