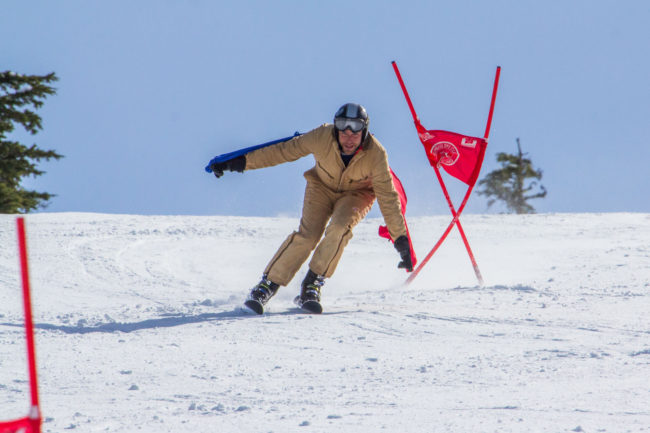 Eaglecrest Ski Area officials are discounting prices of season passes and offering other incentives for skiers and snowboarders still bummed by last winter's low snowfall and limited opportunities to hit the slopes.
"From a snow standpoint and an operating standpoint, it was our worst season ever at Eaglecrest," says ski area general manager Matt Lillard. "We're turning 40 years this year. But there's never been a season with such little snow and such inability to open the upper mountain.
The Eaglecrest Board of Directors approved the new 2015-2016 price schedule on Thursday.
Early bird season pass prices will be $399, down from last season's $469. Senior passes will be $369, teen passes will be $263, and youth passes will sell for $135. Lillard says those passes will be available as a Permanent Fund Dividend discount special until Oct. 11.
"That's the lowest it's been since 2009," Lillard says. "We're happy to be able to offer as big of a discount as we can. We're hoping it's a way to entice people to come and join us this coming winter which we're hoping and sure is going to be better than last winter."
Lack of snow forced Lillard to suspend operations on the lower mountain and only open portions of the upper mountain for a limited time last winter. The ski area eventually shut down in late March, about three weeks earlier than planned.
Among other incentives approved by the board, season pass holders will also be able to attend three snowsports clinics a month at no charge.
"We're also adding three bring-a-friend free ticket days," Lillard says. "If you purchase a pass, you'll be able to get three free tickets on New Year's Day, on Martin Luther King Day, and on Seward's Day in March. If you were a pass holder last year and you weren't just up to buying a pass this coming year, you would be able to ski for free on those three days as well.
Last season's unused multi-visit cards can also be used until next New Year's Eve.
The price of a locker rental will be $199 for an individual locker and $339 for a family locker. That's a drop of $30 from last season's prices. In addition, Lillard says they have nearly a hundred new lockers installed in the main lodge for those who have been on the waiting list.
Lillard says they decided to stick to their policy of no season pass refunds after a poor ski and snowboard season. When refunds were handed out after the poor winter of 2002-2003, Lillard says the ski area ended up $800,000 in the red.
This year, Lillard says they may only be drawing $10,000 out of their reserves.