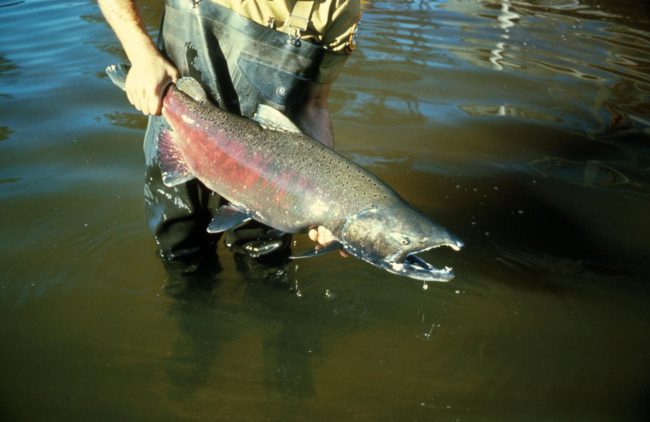 After fishermen pointed out what they thought was a change in the size of king salmon returning to the Copper River, researchers from Fish and Game looked at data from 10 Alaska rivers.
Fish and Game Regional Fisheries Management Coordinator Bert Lewis says they found that king salmon today are smaller than they were 30 years ago, which is as far back the size data they used went.
"Then we started to take a more detailed look at the data and found that the primary reason for this decline in size was a shift in the dominant age class of the fish returning to spawn."
It's not just a matter of younger fish swimming home. Lewis says the older fish also appear to be smaller now than they used to be.
The trend held true on all ten rivers studied — the Yukon, Kuskokwim, Kogrukluk, Kanektok, Goodnews, Deshka, Kenai, Copper, Unuk and the Nushagak.
The team doesn't know why the fish are getting smaller, but Lewis says the fact that they're all getting smaller helps narrow down the cause.
"It suggests that something is acting on them all in the same way. What are they all exposed to at the same time? The marine environment and we know that the marine environment has been changing."
Lewis says the loss of big females could mean fewer chinooks in the future.
"The size of a fish is important, especially when we think about large females that come back, because they have many more eggs and their eggs are bigger, so they get better survival rates and they also use habitat where they spawn and lay their eggs in larger gravel substrate that is not available to smaller fish and that also increases the survival."