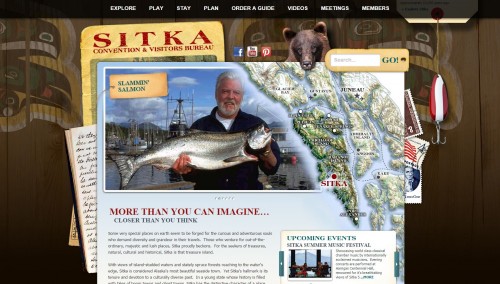 The Sitka Assembly on Tuesday night directed the city to explore how it might take on the functions of the Sitka Convention and Visitors Bureau.
The SCVB has been operating under a cloud of uncertainty since February. That's when the assembly voted to dissolve the bureau and issue a bid for an outside entity to do its work marketing Sitka and coordinating visitor services.
That request for proposals was issued, and there was only one bid — from the bureau itself, in the process of transforming itself into an independent nonprofit.
But city administrator Mark Gorman said the bid was "non-responsive." The budget was too high, and the bureau didn't have its nonprofit status in order.
So the assembly faces several options. It can seek other bids, continue on as-is or absorb the bureau's functions into city government.
Gorman said he reluctantly supports that last option.
"I think status quo is not good," he told the assembly. "The current situation is not functioning well. That's why I was directed several months ago to try to find a new option. And so to continue the current system, knowing that there is dysfunction, in terms of it being a quasi-government service, but I don't have oversight of what's happening there, is problematic."
Several local business owners spoke against dissolving the bureau, saying it provides a crucial service in advertising Sitka and connecting visitors with their businesses. Bureau director Tonia Rioux warned the assembly against putting the bureau's work at risk.
"Once you start outsourcing things like this, or if you split it up, you lose the momentum that's been happening through the visitors bureau," she said. "Destination marketing is something that you can't understand unless you work in it a lot."
But assembly members said they are uncomfortable dedicating city money — about $300,000 in bed taxes in the current fiscal year — to an organization over which they have little oversight or control.
"Now, almost finishing my third year on the assembly, I still don't really understand how the money gets spent at the SCVB," said member Matt Hunter. "I don't know how much people make, I've not seen a line-item budget … I don't understand how the city money is getting spent."
The assembly asked city staff to return at the July 14th meeting with a plan to absorb some of the visitor services into Harrigan Centennial Hall while contracting out most marketing. In the meantime, the bureau will be funded through September 30th.