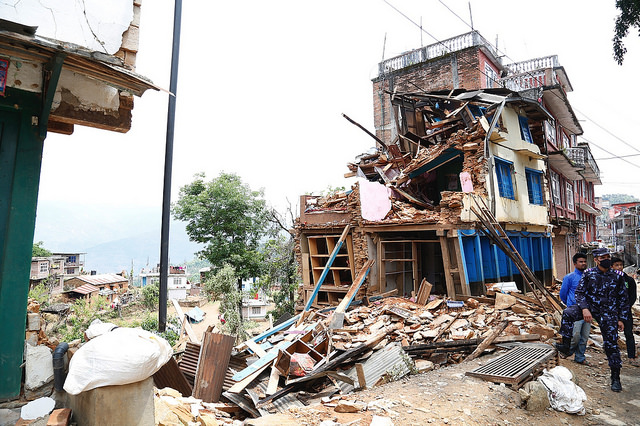 Last month, a magnitude 7.8 earthquake caused massive destruction and killed more than 8,000 people in Nepal. For one Upper Susitna Valley pastor, the timing meant that his planned mission trip turned into a relief effort.
Mike Sloan is the pastor at the Church on the Rock in Sunshine, Alaska.  On April 25th, Sloan and his group were on a plane from Bangkok to Kathmandu when the earthquake struck.
"We were just on our descent from Bangkok into the landing approach to Kathmandu Airport when they pulled up again and circled for an hour, and the pilot came on and said there had been an earthquake and the airport was closed," Sloan said.
Sloan and the other men were traveling to Nepal for an eight day trek to a remote village.  After their flight returned to Bangkok, they waited overnight before being able to complete the journey to Kathmandu.  Once there, the eight day trek was cut in half, and they turned their efforts to helping villagers who lost their homes to the devastating earthquake.
"We pooled as much money as we could among the team, and the biggest concern became shelters, tents, and food. And so, that's what we put our money into to get out to villages," he said.
Sloan says that a large international effort began quickly to help the people of Nepal, but that much of the focus was on Kathmandu, the country's largest city.  Sloan and his companions were able to pool together about $9,000, which they used to buy hundreds of tents and large bags of rice. He says that many of those who lost their homes in the villages also lost their stored food.
"Out in the villages, it's between crops, and what happens is they store all the food they harvested in their houses, which all collapsed.  So, that means they lost all their food," Sloan said.
On top of that, Mike Sloan says monsoon season is coming, which will mean constant rainfall for most of the time from June to September.  While houses in Nepalese villages tend to be simple structures built from mud and brick, Sloan says the subsistence lifestyle of many villagers means they don't have time right now to try to rebuild.
"Right now is their monsoon time, coming, which means they're planting, mostly corn right now. And that corn has to be planted and going before the rains hit, so they just don't have a lot of spare time," Sloan said.
Once the supplies were purchased, they had to be delivered.  Sloan says he and his companions partnered with local church leaders in two villages to get the supplies out.
"With those tents and rice, we were able to go to two different villages," Sloan said. "One you could drive to, near the Tibetan border, and another we had to hire 50 to 60 porters to pack out the rice."
The porters spent three days on the trail to reach the remote village. Sloan says the efforts of local church leaders helped greatly with making sure the food and tents got to those who needed them.
"When you work with the faith community, like the Nepali churches, a hundred percent goes in and a hundred percent goes out, just like us."
Sloan, who lived in Nepal as an aid worker in the past, says that working through the government's layers of bureaucracy can be frustrating.
"When you get all this money coming in, it ends up getting eaten up by this bureaucratic mess, and very [little] goes out.  That's just the way it is, and Haiti was that way, and that's the way this one—and these governments are very, basically, corrupt."
For that reason, Mike Sloan says he will continue to work through the faith community.  He says efforts are continuing to raise funds locally to send to villages in Nepal.  Currently, the fundraising efforts have yielded between $8,000 and $9,000.  Sloan says he will continue his annual trips to the country, and plans an additional visit later this year.