The Juneau Police Department will no longer issue press releases about threatening phone calls to schools. Lt. David Campbell made the announcement in an email Thursday.
He says the department continues to take threats seriously, but "heightened media coverage" may have a detrimental effect on the community and could encourage those making the calls.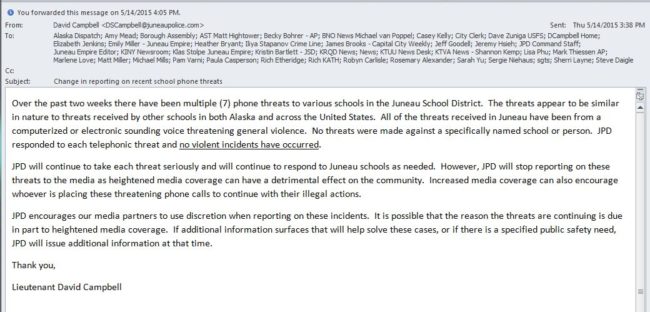 Of eight menacing phone calls received by Juneau schools in recent weeks, JPD has released information on about half of them. All have been from a computerized or electronic sounding voice that alluded to general violence, but no specific threats. In each case no danger has been found.
The calls have disrupted several Juneau schools, causing them to go into lockdown or stay-put mode.
Today Juneau Empire Publisher Rustan Burton said the paper will do one more story on the issue, but then plans to stop reporting on every threatening call for similar reasons.