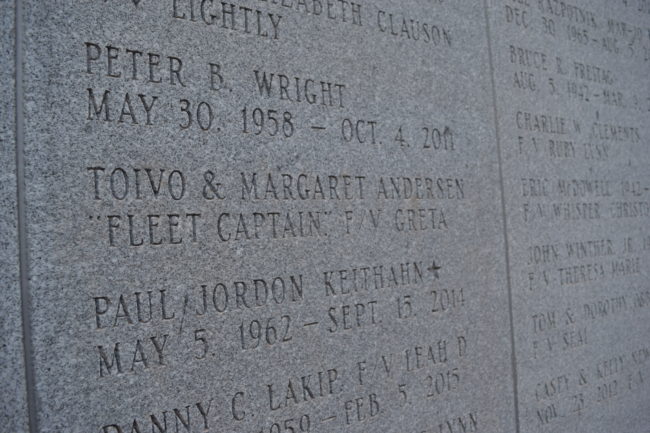 This weekend marks the 25th anniversary of Juneau's Blessing of the Fleet. The annual tradition honors those who participate in one of the state's largest industries.
It's held at the Alaska Commercial Fishermen's Memorial on the downtown waterfront. Five names have been added to the memorial's granite wall this year, bringing the count to 203 men and women.
25th Blessing of the Fleet Ceremony
What: Honoring Alaska's commercial fishermen
Where: Alaska Commercial Fishermen's Memorial
When: 10 a.m. Saturday, May 2
The Twisted Fish will serve free brunch after the ceremony.

Carl Brodersen stands in the half-moon shaped fishermen's memorial, pointing out members of his family whose names are etched on the wall. He starts with his grandparents, then his uncle, and finally, his parents:
"John and Elizabeth Clauson are right here, of F/V Lightly. John Eric Clauson is more towards the middle. I always have to try and pick him out. Yeah, there we go. So, yonder with the star, you can kind of see him just past the center point. And my parents are more toward the left here. Right here in the middle, the third panel. Mark and Christine."
As with all of the names on the wall, each of Brodersen's family members worked in the commercial fishing industry in some capacity.
He lost both his parents to illness at a young age. His grandparents lived into their 80s and 90s. Though, his grandfather died unexpectedly in a drowning accident. His uncle, whose name is marked with a star, died at sea.
Brodersen says the blessing ceremony every year serves as a reminder of his family's commercial fishing roots.
"It's affirming. It's nice to know that there's a place where their names can go to be remembered," Brodersen says. "But also sad of course as well that they're there in the first place. A lot of people on this wall shouldn't be. They were entirely too young."
Brodersen is a board member of the nonprofit that manages the memorial and organizes the annual Blessing of the Fleet.
Commercial fishing is a multibillion dollar industry in Alaska, employing thousands of people. But Brodersen says in some ways the fishing community in the state, like the population of Alaska itself, is rather small.
"You grow up within the fishing system, you know about people from far and wide," he says. "And so, you look along this wall and I could probably point out a quarter of the names as people that I've at least heard of or recognize in some fashion."
During the blessing ceremony each name on the wall is read out loud.
This year, the names of Toivo and Margaret Andersen – longtime friends of Brodersen's grandparents – will be read for the first time.
"They lived in Pelican a long time ago. You know, good proper Fins, very stoic Nordic types," says Brodersen. "It was often said of Toivo that he was such a good fisherman that he could catch a salmon simply by dragging a herring across a muskeg."
Besides paying respects to those who've died, the ceremony is meant to honor the men and women still fishing. A procession of boats will pass the memorial in Gastineau Channel to receive a blessing, performed this year by Pastor Phil Campbell of Northern Light United Church.
"Fishing is such a central part of the lifeblood of Juneau, and all of Southeast for that matter," Campbell says.
This'll be the second time Campbell has performed the blessing. He says it's kind of like life itself in that you can't always separate the happiness from the sadness.
"Here's this excitement and anticipation, and getting ready for the new season, and everybody's happy, and it's a party," he says. "And at the same time, there is somber reflection."
Campbell says he plans to spend a little time during this year's ceremony talking about the Spanish word for blessed.
"It's bienaventurados. So, literally translated in English it means 'May the adventure go well with,'" Campbell says.
He says he can't think of a better word to sum up what the Blessing of the Fleet is all about.