As If! or The Alaska State Improv Festival is back in Juneau this weekend for its third year. Some of the troops are local, from places like Sitka and Talkeetna. Other acts are from the lower 48. Mike Descoteaux and Deana Criess are here with Improv Boston.
Descoteaux is now the artistic director for the group. But earlier in his comedic career, he made a Youtube video of a mock protest, holding up the sign: God Hates Figs. It's a satirical spoof of the Westboro Baptist Church's anti-gay slogans.
"The idea being humor allows us to address topics we couldn't otherwise address. So topics that are so heavily loaded that we just have trouble having a rational dialogue with. We know satire can disarm the audience," he says.
Subversive humor is still something he uses in his act. Improv Boston's national touring director Deana Criess says she got her start at an early age.
"At three years old I told my family I wanted to be a stand-up comedian. I thought that meant you would stand on a coffee table and tell jokes. So that's what I would do at family parties," she says.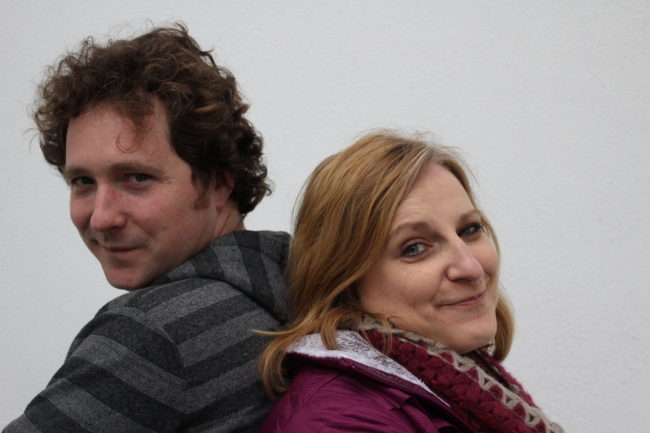 Descoteaux and Criess are visiting with six other members of their improv troop, which relies on gusto and spontaneity for performance.
"So unlike traditional theater we are literally making up everything on the spot. We are out there doing adult make-believe," she says.
Being script-less on stage with sweaty hands and mounting anxiety is how improv comedy gets made.
"It can be paralyzing for people so just knowing that fear is where you wanna be and leaning into that. It's transformative for people to think about running into the fear instead of away from it," she says.
Descoteaux says you walk on stage with an array of life experience.
"And all of this is going to lend itself to the performance," he says.
Both comedians say they were bullied growing up. It's part of what influences their comedy.
"I didn't know what to do. I was the kind of kid who was too paralyzed with fear to say anything. So I turned into a very quiet kid who stopped raising their hand in the classroom, who stopped wanting to do things socially with friends. And it wasn't until I was in high school that I realized, 'Oh everyone's got their own thing. We're all weird in our own way,'" Criess says.
The experience inspired her to create an improv comedy anti-bullying initiative, where they workshop different scenarios for middle school kids.
"The first thing we tell kids to do is tell them that hurt your feelings, which is really hard when you're a kid. Because you feel like they just hurt my feelings and I don't want them to know that. But the reality is, if they already said that to you, they want to hurt your feelings and they're not going to stop," she says.
Improv Boston is working on similar programs for people suffering from PTSD and drug recovery. They say comedy is good for a laugh but it's also good for healing.
At this weekend's performance in Juneau, Improv Boston says there's only one thing the audience can expect: the unexpected.