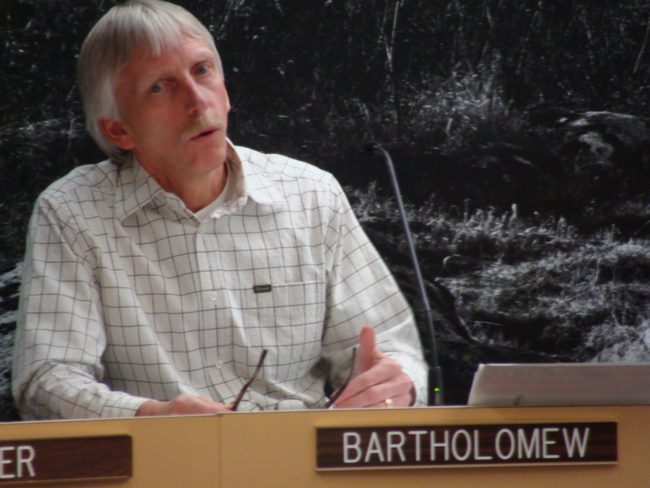 The Juneau Assembly and city administration are hoping better planning will lead to less uncertainty with future budgets.
Last year at this time, city officials were expecting the deficit for this coming fiscal year to be more than $9 million. Through spending cuts and new revenues, that's now closer to a $3 million shortfall, which the city plans to make up largely with cash on hand.
Finance Director Bob Bartholomew says the City and Borough of Juneau has a long history of being proactive when it comes to the budget. He says a two-year budget cycle allows the city to get ahead of issues and streamline the budget-writing process every other year.
"We're now in year two of that cycle, so the budget process this year generally won't be as detailed as year one," Bartholomew says. "We're looking at what has changed. What needs are there?"
Bartholomew says Juneau's budget is in better shape than it was last year, but is still not sustainable. In the coming year, he says the city probably will spend about $1 million more than it would like from fund balance. That's money not spent in previous budgets that gets carried over to the next fiscal year. In total, Bartholomew proposes spending about a fourth of what's projected to be in that account in the new fiscal year.
The Assembly asked Bartholomew to come up with a model to better project how different changes in the economy might affect the budget moving forward. He says the model – a very detailed Excel spreadsheet – will be ready for the start of the next two-year budget process, a year from now.
"First step is to load five years of history, just so we can have trend line information," he says. "But then, the projections for going forward really fall back to the staff, to the Assembly, to input we can get from others in this community, whether it's JEDC … or the chamber of commerce."
The city does projections for how much sales and property tax revenue it expects each year. But Bartholomew says the model will be able to project how factors like inflation, loss of state revenue and more might affect the city.
"I think it will give people more comfort in identifying, you know, what could potential changes do to the budget," Bartholomew says.
Karen Crane chairs the Assembly Finance Committee. She thinks Assembly members and Bartholomew will rely on the model a lot in coming years.
"It allows us to say, 'Alright, if we lose revenue sharing money, exactly what does that mean?'" Crane says. "If property tax is going to stay stable and we lose this and we lose that, the program will run projections for you pretty easily."
The Assembly received an update Wednesday on potential changes to the coming fiscal year budget. The city still doesn't know how the loss of state revenue will affect its bottom line. The two big issues there are revenue sharing and education funding. Crane says the city is in wait-and-see mode with federal revenue sharing every year now as well.
"So we're going to have to continue to really examine the budget closely, and look for every efficiency or change that we can find," Crane says.
The Assembly Finance Committee will meet weekly for at least the next five weeks to go through proposed budget updates. Crane hopes to wrap up that process in early May, but says the committee could take extra time if needed. Any final changes to the city's budget need to be made by mid-June.
And when the next budget cycle starts a year from now, the city will have a new tool in the form of the model to help it plan for the future.