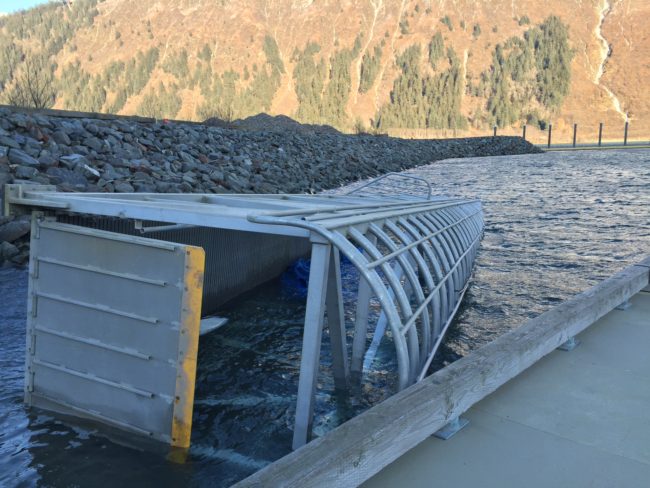 High winds rolled an 80-foot gangway over a rock embankment into Douglas Harbor Sunday afternoon.
The aluminum gangway weighs about 15,000 pounds and had been sitting unsecured in the harbor's parking lot for the last three years.
Harbormaster Dave Borg says the gangway had survived many windstorms and he will now consider securing it. His office is looking for a company with a crane to lift the gangway out of the water and back to its original position.
The Juneau Office of the National Weather Service says high wind events like the one over the weekend usually happen in the spring. Weather forecaster Geri Swanson says high pressure moving up from Canada shifted cold air sitting on Juneau's mountaintops.
"Basically it takes that wind and it pushes that cold air off the mountain and we get the higher winds," Swanson says.
Swanson adds that Taku wind events occur a few times a year and range anywhere from 40 to 70 mph. She says high winds mixed with heavy rain have previously resulted in avalanches.
"This one we didn't have the wet, wet ground so we didn't have as much of an avalanche threat," Swanson says, "but avalanche(s) can be a factor if the conditions are right."
The harbormaster reports seven vehicles parked near Douglas Harbor had broken windows due to rocks and branches picked up by the winds. Borg encourages owners of vessels at Douglas Harbor to check for damages.
The Juneau Forecast Office projects another instance of high winds for this Thursday and Friday.