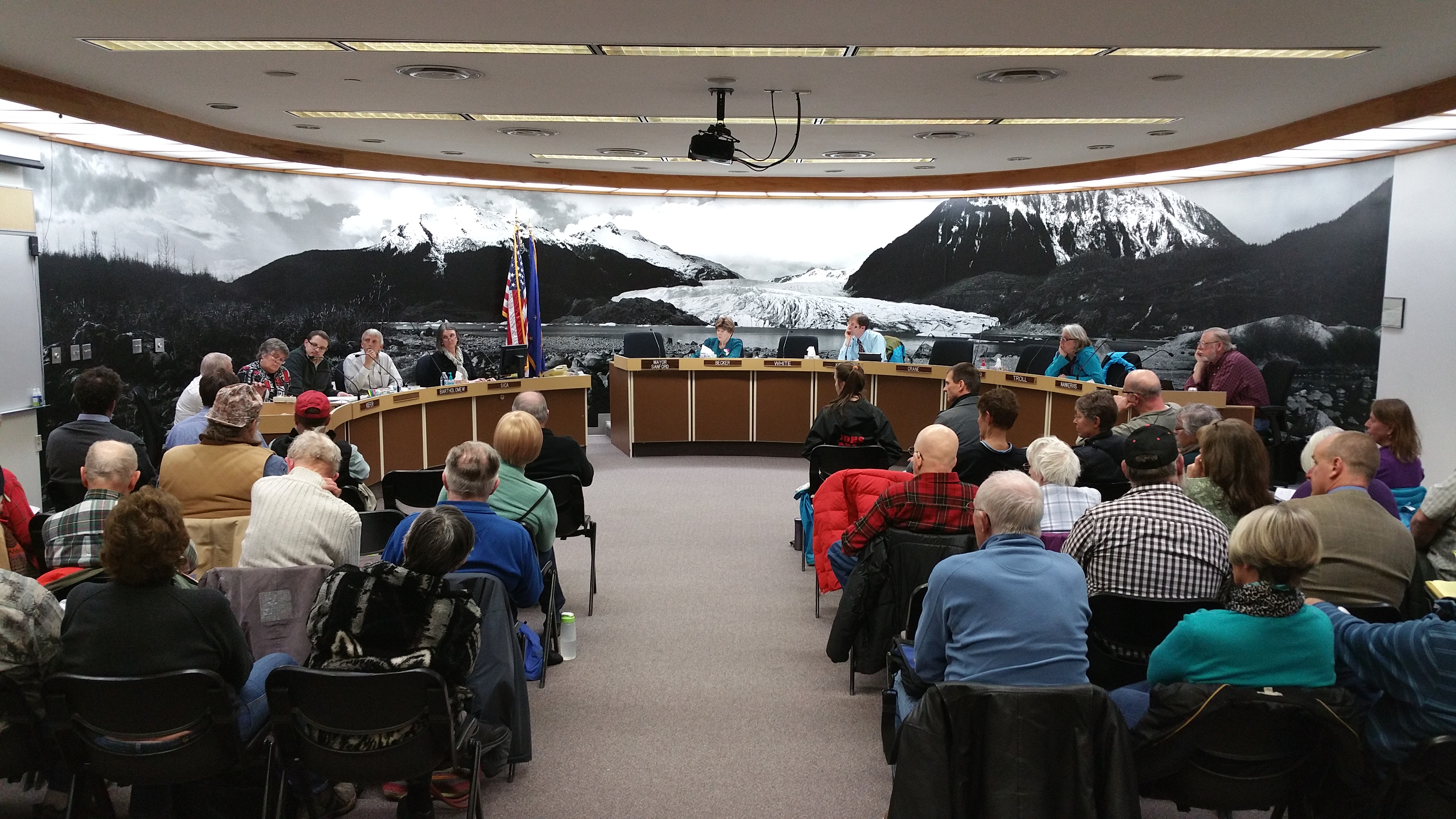 More than a dozen locals told the Juneau Assembly last night to not do away with the senior sales tax exemption.
Many of those same residents also questioned the city's spending and called on them to look for other ways to cut costs. Only a few spoke in favor of nixing the exemption. Many said they understood the difficult financial situation the city was in and wished the Assembly luck in finding a solution.
Much of the testimony came from seniors frustrated with city spending. The CBJ budget will be about $317 million next year. The city estimates that it loses about $2.8 million in sales tax revenue because of the senior exemption.
Raydene Garrison told the Assembly she was disappointed the last time the sales tax was increased because the Assembly didn't cut any projects and instead relied on bonding to make up the difference. She asked them to take a closer look at their budget before changing any tax rules.
"I felt like the Assembly fell down on the job," Garrison said. "I think that we really, as a city, need to look at our spending and see where our priorities are. We have bonded ourselves to death. We have extended our debt considerably and there's no reason why we should be in that situation."
Craig Orsborn questioned why the CBJ spends what he says is more than $2 million in unnecessary wage increases for non-union employees.
"These 542 employees do not pay or contribute union dues and do not participate at the union bargaining table, but regardless they receive the same benefits," Orsborn says. "It would be interesting to know how many CBJ upper-management employees received the same benefits without contributing union dues or participating at the bargaining table. In order to maintain a balanced budget you need to know all the numbers, not just the ones you want the public to see."
While opposing changes to their tax exemption, some seniors said essential items like food, fuel and electricity should be tax exempt for all residents. Others asked if Assembly members had considered the cost of enforcing the proposed senior tax exemption income limits.
Gail Smith said she was motivated to testify at the meeting because she thought the city had a problem with "aggressive spending," recalling in 2012 when the city reconsidered building an off-road vehicle park. She said at a Parks and Recreation meeting earlier this week, there was discussion again about the project.
"I don't see really good extended financial planning happening at the borough and that's what I really would hope to see," Smith said. "Just at the (Parks and Recreation) meeting a couple of nights ago people were having the expectation that again we would have some sort of motocross park. We can't afford that. Where's the money going to come from for that?"
Several seniors said the city should take a closer look at spending on recreational facilities like the popular Eaglecrest Ski Area. Scott Tiernan disagreed.
"I listen to people say, 'Well, we have all these recreational facilities, we don't use them so let's eliminate them.' I don't use some of them now; I used to use them a lot," Tiernan said. "They're really important to the younger people here. If we don't have those we don't have the middle class either."
Many seniors warned the Assembly that axing their tax exemption might make them leave Juneau. One of the younger residents at the meeting, 50-year-old Arnold Liebelt, said he was more worried about the "exodus of the middle class."
"We know what the price of oil is. Things aren't looking good for the state; things are not going to be looking good for the municipalities," Liebelt said. "If the middle class can't get a job, they're going to leave town and they're going to take their kids that are in the school district with them and that really worries me."
Wayne Nicolls told the Assembly that while he does not like buying things on the internet or through catalogs, he would if the senior sales tax exemption went away. Even if it does, he would never consider leaving Juneau.
"I'm not moving no matter how rough it gets," Nicolls said. "I'm gonna stick it out, (even) if I have to sell pencils on the corner of Seward and Front Street."
The Assembly also heard brief public testimony on a proposal to increase the maximum taxable value of big ticket items from $7,500 to $14,000. The increase would mean up to an additional $325 dollars in tax revenue on purchases. One business owner told the Assembly he'd lose local customers to Seattle where things are cheaper and no matter what the shipping cost is the same.