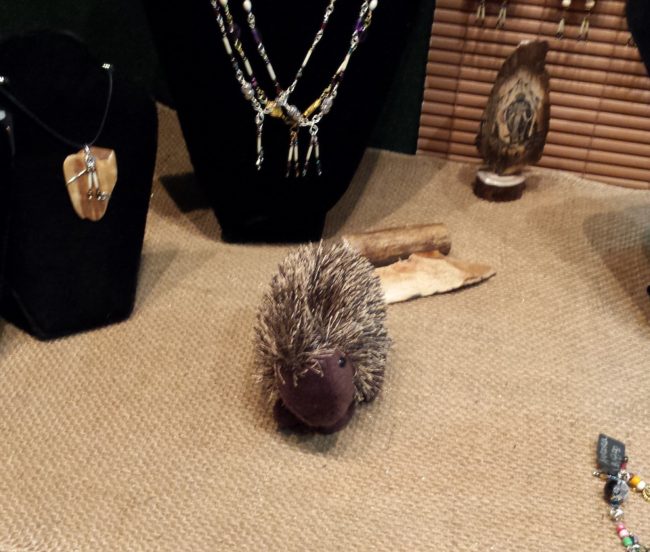 On The Public Market floor, a customer is chatting with Mary Anne Wick – about porcupine carcasses.
"We are officially roadkill recyclers and the highways and byways of Alaska provide us with an abundance of inventory," Wick says.
Wick and her husband work together turning the quills into jewelry in Talkeetna.
They're the artists behind one of 155 booths at last weekend's Public Market, which drew vendors from all over Alaska and some from the Lower 48. It's part Christmas craft fair and part gallery.
"My husband does all the dirty work," Wick says. "He plucks quills and he dyes them, and they're washed several times, and then I sort them based on their size and use them in the different jewelry designs."
Wick says she accepts adult porcupines in exchange for merchandise.
Another craftsman who uses animals for art is is Siberian Yup'ik carver and hunter John Wigiyi of Savoonga. The figurines on his table are of seals, walrus and other animals. They're made from various animal parts including walrus ivory and whalebone. Carving can be a slow process, like winter seal hunting.
"We have to be very patient. Some days we'll come home with nothing," says Wigiyi. "We live to expect those situations."
And respect is necessary.
"We rely on history, we have to rely on our spirituality. We have to know the mannerisms of the animal. The animal, the resource that gives itself up, it's a gift from the creator," says Wigiyi.
Steve Brown is from Washington and also carves in the Alaska Native tradition. Although not Native himself, Brown has formed close ties with the community over the years.
"I've had the privilege of being adopted by the Kiks.ádi clan in Wrangell and been given the name of a significant carver from that village from long ago," Brown says.
He says the clan commissioned him along with some Tlingit craftsmen in 1984 and 1985.
"We duplicated the Chief Shakes house posts which date from the late 1700s," Brown says.
He says that the company of artists is part of the learning process.
"I've had the privilege of working with a number of well-known Native carvers over the years," Brown says. "And you know, even if you're just standing around mutually working on things, you pick up ideas and techniques."
Brown also does Native design with a twist. He carves the backs of pocket watches and credits the internet for that.
"I'd looked for years in junk shops and stuff to find an engraveable silver pocket watch," says Brown. "And despite spending many hours in junks shops, I never ran into one until the advent of eBay."
Mary Anne Wick uses the internet for her porcupine crafts, too. Her store, Stuckonu Quillworks, is on Facebook.