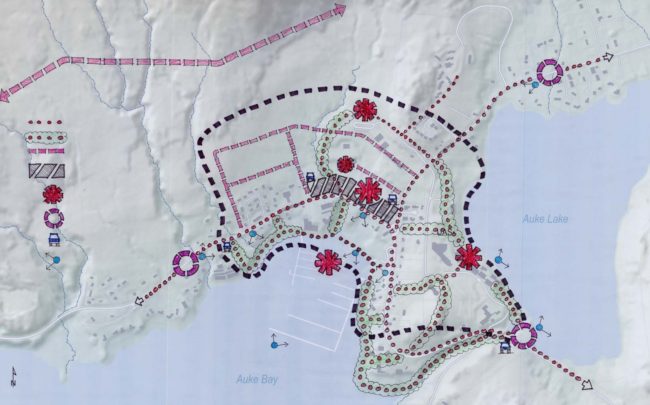 Community members with a vision to turn Auke Bay into a destination for shopping, dining and sightseeing present their plan tonight.
The Auke Bay Plan Steering Committee has been meeting for the last year. Gerald Gotschall is an architect and the committee's chairman. He says that the area is already a place for locals to stroll and snack, but could grow more.
"They would love to have some place to meet," says Gotschall.
"And there's all sorts of potential for there being a slightly nicer, more well developed, more well thought out hub. Not just a bump in the road that happens to sell waffles."
The committee is trying to satisfy all of the area's stakeholders. That includes the City & Borough of Juneau, the state Department of Transportation and the university, as well as other landowners and businesses.
Hal Hart is the head of the city's Community Development Department and says the committee needs to answer a wide range of questions.
"How much housing do we expect in the future? What are the needs for a vibrant, small community center that's associated with the university? How do we take advantage and not harm the bay? Because for Auke Bay, it's about the bay, it's about quality of life," Hart says.
Lawrence Lee Oldaker is a member of the committee and longtime Auke Bay resident. He says that he and other members of the community attended the meetings to voice their opinions. Oldaker was particularly concerned with road development.
"We are very mindful of the long range DOT vision to build a bypass route," Oldaker says. "We were trying to protect the environment, historical structures and the viewing of the waterscape and marine environment."
The committee meets at City Hall at 7 p.m.