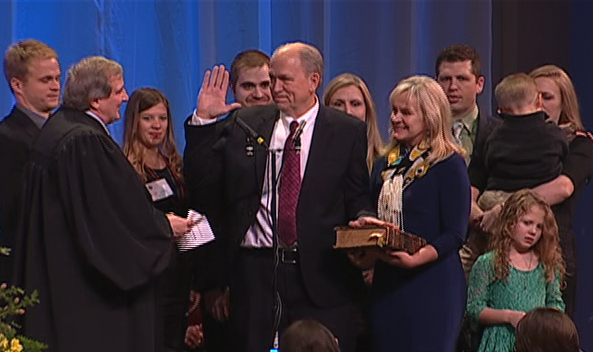 A multicultural celebration that included Alaska Native and Filipino dance groups marked the inauguration of new Alaska Gov. Bill Walker today. About 900 people packed Juneau's Centennial Hall for the event, where Walker spoke of the need for Alaskans to come together.
In his first speech as governor, Walker recounted his upbringing in Delta Junction and Valdez and how his family survived the 1964 earthquake. He said a good-paying job related to Alaska's pipeline boom changed his life.
Only about a third of his 14-minute speech focused on policy matters. A key challenge for the new administration will be the budget. The state relies almost entirely on oil and gas for revenue. As prices for those commodities have fallen, so has state income.
"Today, oil was hovering in the $70 range," Walker said. "We're heading into some lean times. There is no reason we cannot turn that around. We live in one of the most resource rich states in nation in one of the richest countries in the world."
Perhaps the biggest applause line came after Walker's statement about an issue on which he and outgoing Gov. Sean Parnell disagreed.
"I told you that accepting expanded Medicaid was a high priority for me. And we will begin the wheels in motion today to begin accepting expanded Medicaid," Walker said.
Walker also made this clear promise: "I vow to you that we will have an open and transparent government."
He cited the recent transition committee process that brought hundreds of diverse Alaskans together as an example. He said it was risky, but "awesome."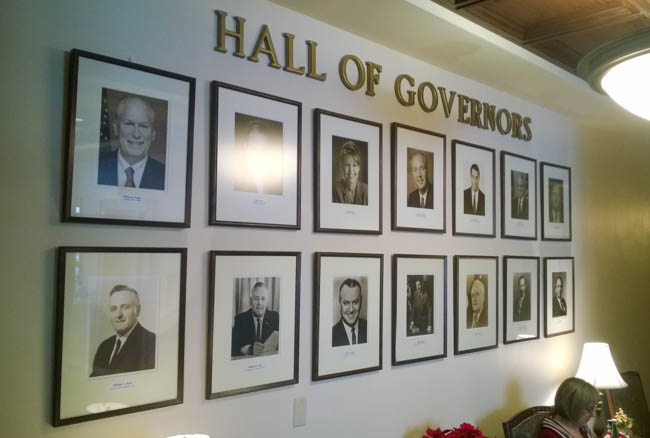 Shortly after Walker was sworn in, the trappings of the governor's office in the Capitol building had also transitioned. Walker's photo was added to the Capitol building's Hall of Governors, and the receptionist answered the phone, "Good afternoon, Gov. Walker's office."
Walker is currently the nation's only nonpartisan state governor.