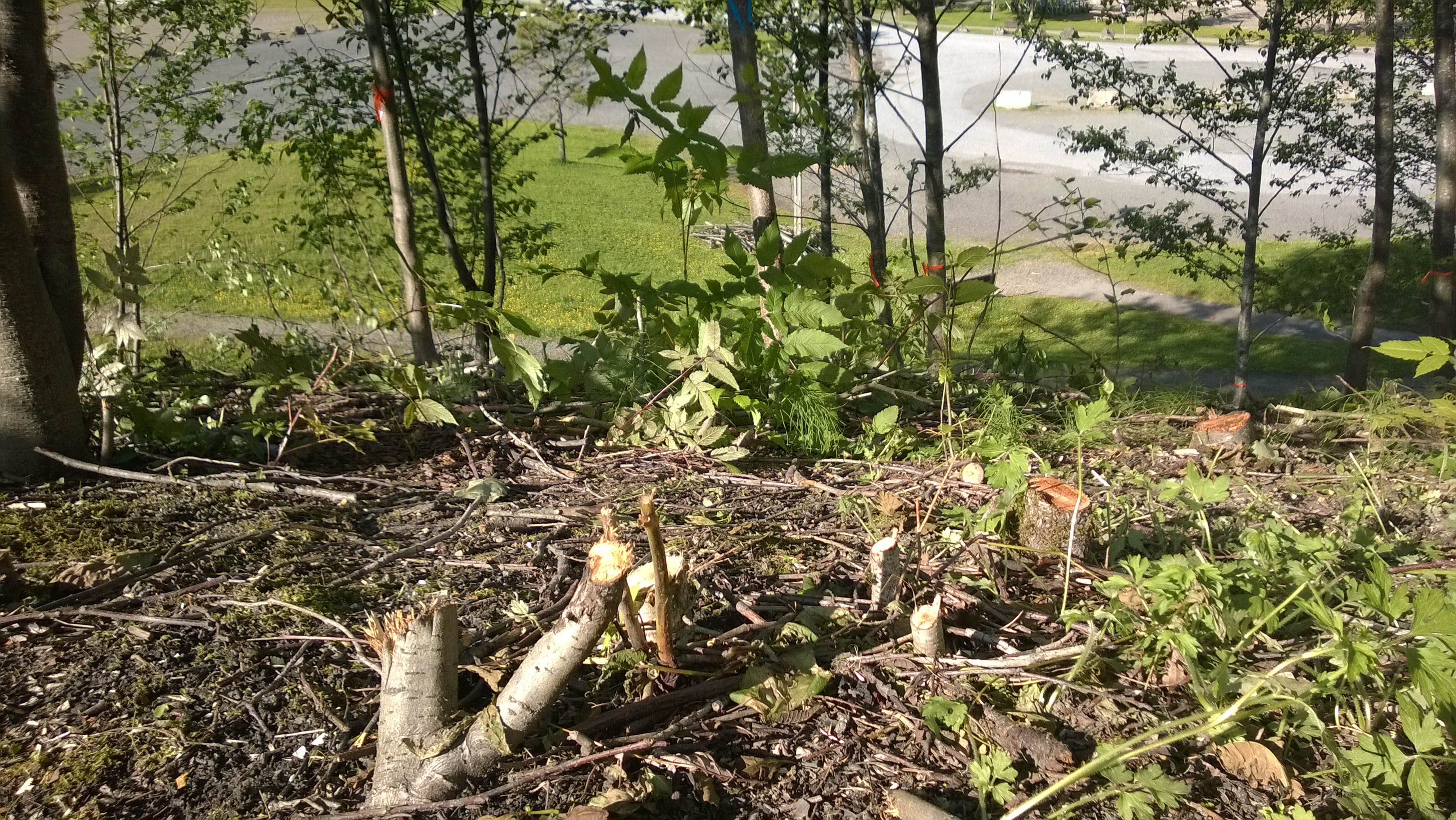 Eight months after city landscapers rejected some Douglas homeowners' requests to clear cut alder trees to improve their view, city crews cut most of them down.
The city's near reversal sparked a minor neighborhood drama that's renewed an effort to revise the borough's tree cutting policy.
This isn't a story about a scandal, but about how a few vocal and connected residents became the proverbial squeaky wheel.
In September, longtime Douglas residents Susanne and Sandy Williams asked Juneau's Parks & Recreation Department to cut down some alder trees on a hillside between Treadwell Arena and Saint Ann's Avenue. Over the years, the trees had grown tall enough to block the Williams' Fifth Street view of Savikko Park and Gastineau Channel.
Parks & Landscape Superintendent George Schaaf inspected the site and rejected the request, citing a city policy that specifically bars cutting trees for enhancing the view of private property owners.
Months later, Schaaf's landscapers cut down most of the trees, leaving the biggest alders.
"Which seems very bizarre," said Mark Calvert, a Saint Ann's Avenue resident unhappy about the tree cutting.
"Their reason is for letting trees go higher, when that identical vegetation and the identical trees exist for hundreds of feet along Sandy Beach. And then all of a sudden, just in this tiny swath, you know, trees are significantly thinned out."
Coincidentally, that  improves the view for a few houses, Calvert said.
From a distance, the hillside looks much as it did in Google Street View going back to 2007.
After Schaaf's initial rejection, the Williams wrote directly to Mayor Merrill Sanford and the Juneau Assembly complaining about the trees. Sanford got involved.
Sandy Williams happens to be a donor to Sanford's successful 2012 mayoral campaign. He gave $100, a tiny portion of the $33,000 Sanford collected for the race, according to campaign finance records.
Sanford acknowledged he's been longtime friends with the Williams and many of the residents who complained, and of course, he said his involvement was unrelated to campaign donations.
"Had nothing to do with $100 donation, or a $10 donation," Sanford said.
He said he was sympathetic because views affect property values and falling trees can be hazardous.
"And I've been asked by them why our policy is the way it is, and so I looked into it and have been trying to get that changed for a couple of years now, in fact," Sanford said.
In May, a landscape expert, Sanford, and Parks & Recreation Director Brent Fischer – who is Schaaf's boss – met with the Williams and several like-minded neighbors.
The city's experts said they couldn't clear cut the hillside, but decided they could thin the tree stand, which would accelerate a natural progression; the biggest alders keep growing, the smaller ones die and the understory fills in with other native species, like salmonberry bushes and goatsbeard.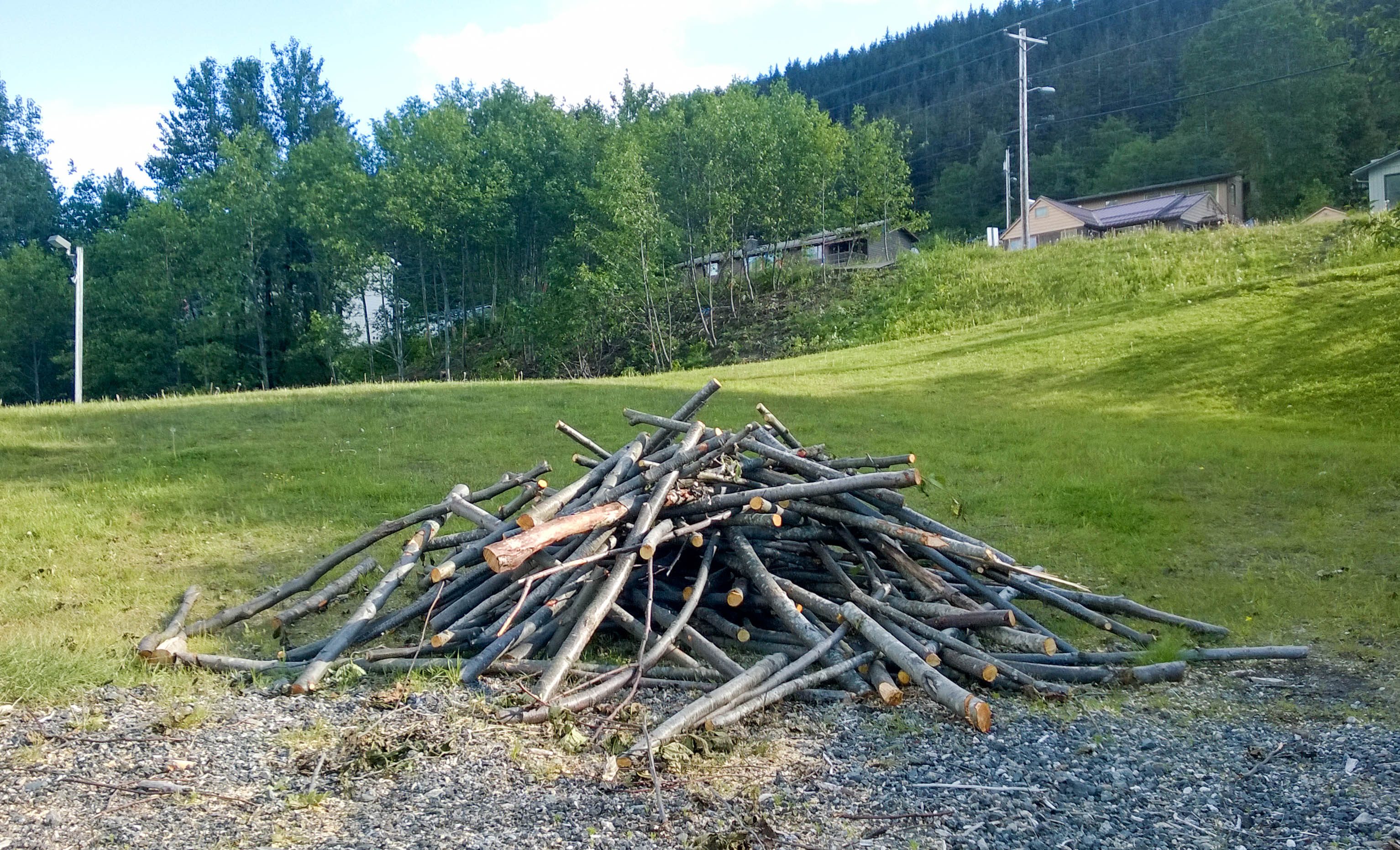 Parks and Rec manages a few tree stands this way, for example, near the Juneau Montessori School and on the Treadwell Mine Historic Trail. But director Fischer said it's not something the department can afford to do everywhere.
"We don't have the resources to actively do this in all areas. Nor do I want to. We just can't. We don't have enough resources," Fischer said.
"We laid off a landscape person this year….We laid off a building maintenance person this year, laid off a rec coordinator position this year because of the budget."
So why go to the extra effort here? Fischer said that's just the way it works sometimes in the city. Things get brought to attention, and you get refocused.