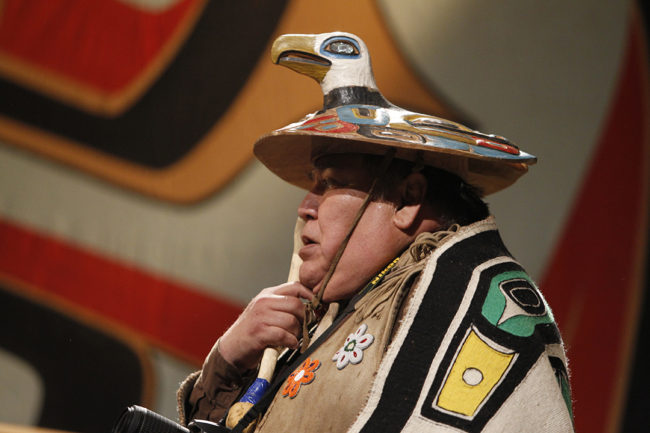 Three Alaska groups have received more than $142,000 from the Institute of Museum and Library Services. The money will go toward a Tlingit clan hat exhibit in Juneau, the Whale House exhibit in Haines and a training workshop for small museums.
The grant supports Native American and Native Hawaiian museum projects.
Sealaska Heritage Institute President Rosita Worl says their grant will go toward the costs of an exhibit on the history and significance of Tlingit clan hats.
"A clan hat is not just something you put on for protection from the weather or something like that. In Tlingit culture, clan hats have very significant and complex meanings. And so that is our goal is to teach the public about the meaning and place of clan hats in our culture."
The $49,000 grant will be used to design the exhibit.
Jan Yaeger is the museum curator for the Seldovia Heritage Institute. She says that finding instructional materials for museum workers is almost impossible.
"You know I always hear that everything in the world is on YouTube. But from my experience this is something that's not on YouTube, in terms of how to actually create exhibits and mounts and so on. There's very little information out there, freely available."
Yaeger says as far as museums go, Seldovia's is probably one of the smallest and like most small museums in Alaska, it's hard to get training. The institute is using its $38,000 grant to develop a training workshop.
"Rather than take the expense to send one person outside, we could spend the same amount of money, put on our own workshop and educate staff from multiple museums. So we're going to hire a consultant who has a great deal of experience and put together a workshop and invite up to 10 staff from a variety of Alaska museums to take part in that workshop and that way we'd be able to spread some of the knowledge and the skills."
A third grant of nearly $48,000 was awarded to the Chilkat Indian Village in Haines for the installation of the Whale House exhibit and instruction from the Alaska State Museum in best practices for curating exhibits.
Lani Hotch is the executive director of the Jilkaat Kwaan Cultural Heritage Center and the project manager for the construction of the exhibit.
"We've even harvested trees from our land to create that exhibit. It's going to really reflect who we are in this community, who we are as a people, our cultural traditions and the land we all stem from."
Alaska State Museum employees also will teach staff at the heritage center to develop best practices for conservation, exhibit design and curation.