Update: 12:30 p.m., July 10, 2014
Water levels on Mendenhall Lake are still below flood stage, but the National Weather Service is warning the lake could rise quickly.
Meteorologist Robert Tschantz says so much water has drained from Suicide Basin that the sensor is no longer working.
"The response already started is now to watch the lake," he says.
About 11:30 a.m., Mendenhall Lake was at 6.7 feet; minor flood stage is 9 feet. But Tschantz says he expects the lake and Mendenhall River to peak nearly two days earlier than originally forecast when Suicide Basin started to drain.
Actually the peak has been sped up to Friday night around 10 o'clock. And then we think it's going to drop back off fairly quickly during Saturday and by late Saturday evening, it should be out of flood. At least that's the current thinking," Tschantz says.
Once flooding starts, expect water over Mendenhall Lake trails, the U.S. Forest Service campground on the lake, West Glacier Spur Road around Skater's Cabin, and View Drive.
At flood stage, Tschantz says it's very important that people stay away from the banks of the Mendenhall River, because they could easily give way.
Original story: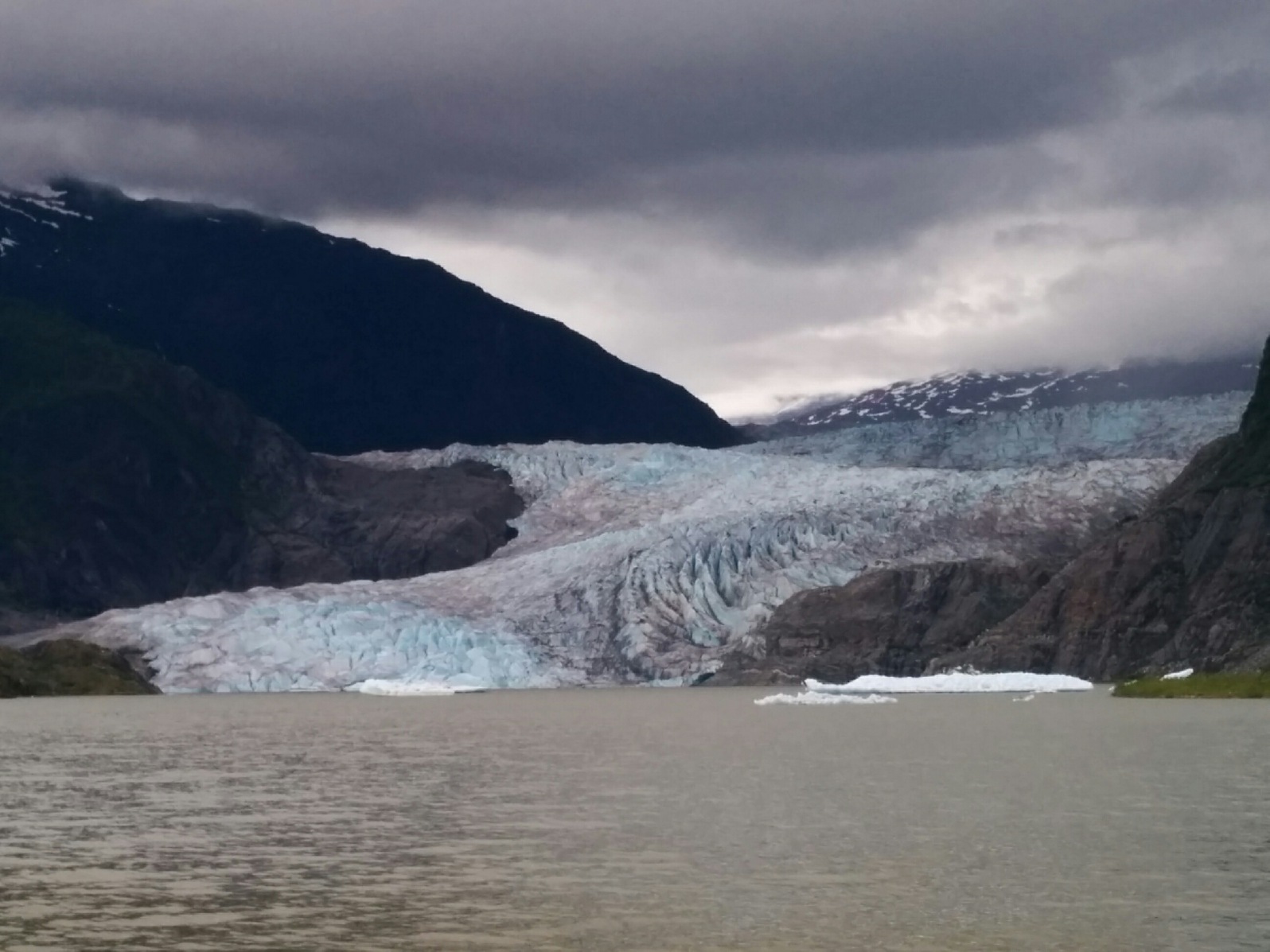 The sensor in Suicide Basin is reporting water levels draining and the National Weather Service has issued a flood watch in effect through Monday morning for the Mendenhall Lake and Mendenhall River areas.
"This glacial lake that we call Suicide Lake is showing signs of starting to drain. And our sensors are confirming that," says meteorologist Wes Adkins.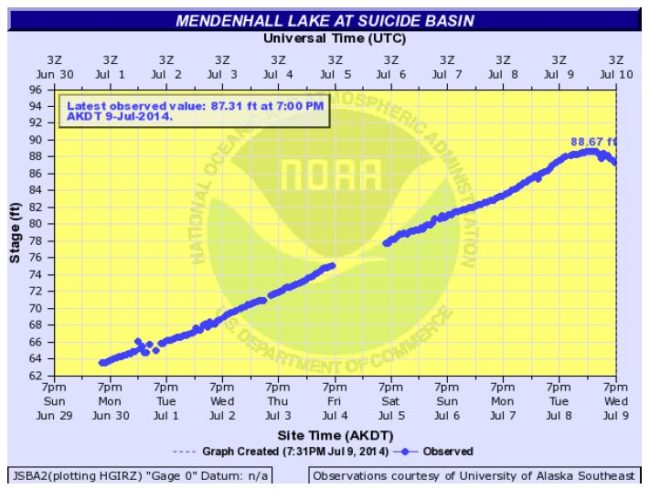 He says the rate at which water is draining from the basin — and rising in the Mendenhall Lake and River — has yet to be determined.
"There are a lot of unknowns with this. And the two biggest unknowns are how much water is underneath the glacier at this point in the basin, and how quickly that will release into the lake," Adkins says.
Adkins says the service is predicting water levels will gradually rise and peak on Sunday. He says there's a 60 percent chance of flooding.
On Wednesday evening, much of the beach in front of the Mendenhall Lake pavilion was underwater. Waves lapped the shore.
Adkins advises visitors and residents in the flood watch area to monitor reports and be prepared.
The flood watch comes as NBC's TODAY Show prepares for a live, early morning broadcast from the Mendenhall Visitor Center on the lake.
Heather Bryant contributed to this report.