Municipal water and sewer fees in Juneau are set to increase with the new year.
Beginning Jan. 1, water utility fees will increase by 6.5 percent and wastewater fees by 8 percent under the ordinance the Juneau Assembly adopted Monday. New rate hikes will continue every July through 2018.
It isn't the three years of 9.5 percent hikes originally proposed, but the net effect will be about the same.
Scott Willis headed up the advisory board that recommended the increases.
"We know no one likes a rate increase, but we also know that sometimes they are necessary," he said.
Right now, typical residents pay about $90 a month in combined water and sewer fees. By the fifth rate increase in 2018, they'll pay about $130.
The hikes partially commit the city to a 10-year Public Works plan to turn around utilities deficits and to pay for sewer and water capital projects. Cruise ship passenger fees and municipal sales taxes will also contribute to the capital projects.
At the Assembly meeting, Juneau Chamber of Commerce representative Lorene Palmer and Alaskan Brewing Co. founder Geoff Larson acknowledged the need for sewer and water infrastructure. But they also urged the Assembly to consider the hardships that the short notice imposes on local businesses' budgets.
"Many of the small businesses … that are part of the Chamber and part of our community have already budgeted for 2014. And now, on Sept. 1 … this proposal adds a new expense to them that they were not anticipating." Palmer said.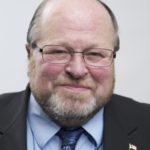 After their testimony, the Assembly amended the ordinance so the first fee hike takes effect in January instead of September. It also amended the ordinance so five smaller fee hikes were spread over four years, instead of three years of sharper hikes.
The Assembly passed the amended ordinance in a 6-3 vote.
Mayor Merrill Sanford said he would prefer smaller 3 percent hikes.
"I just can't walk down this path of creating a big account in wastewater and sewer when we don't need that right now," Sanford said.
The mayor, Mary Becker and Randy Wanamaker voted against the fee hikes.