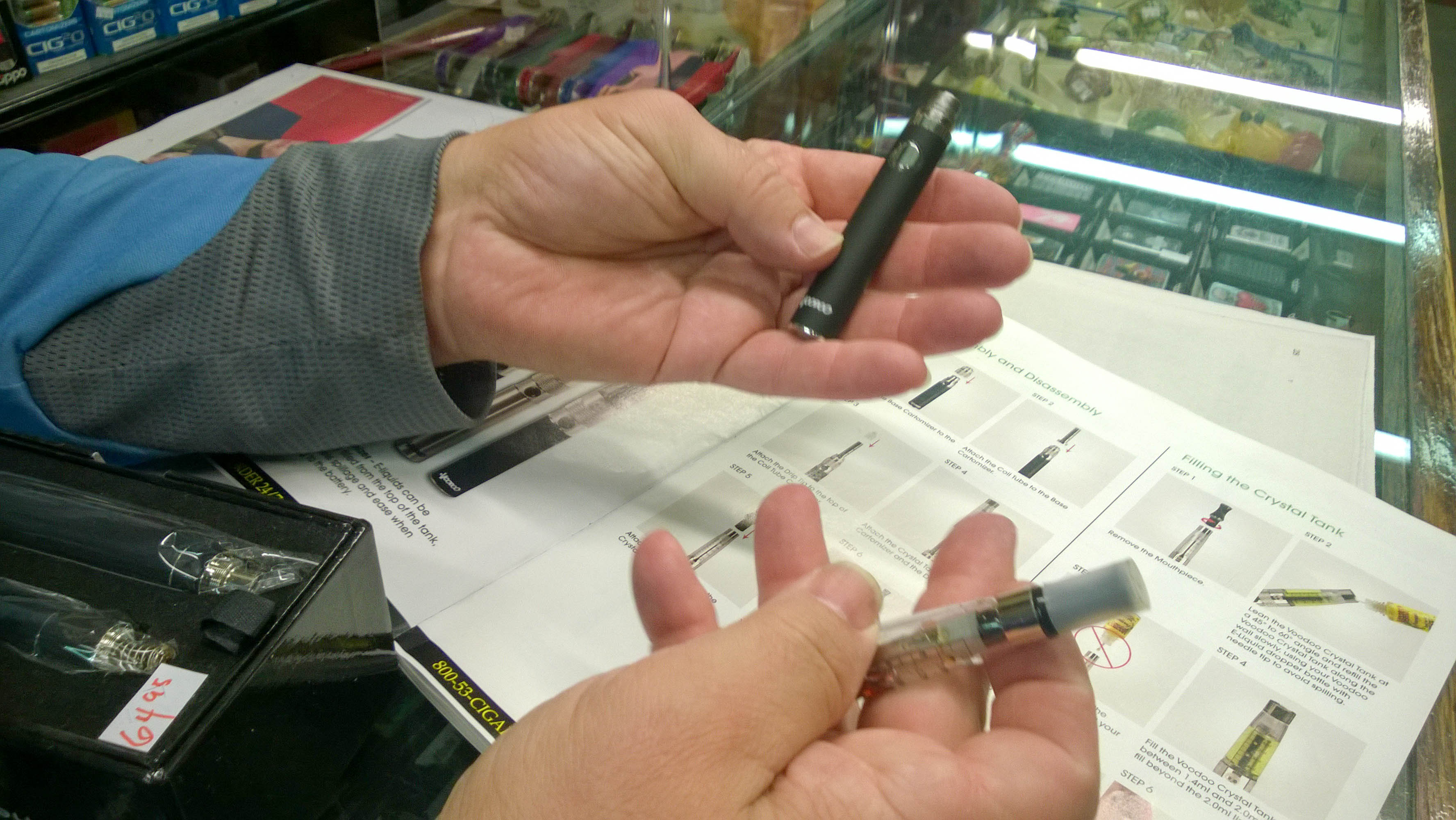 The Juneau Assembly is considering a ban on e-cigarette vapors in nearly all indoor public spaces.
The local chapter of the National Council on Alcoholism and Drug Dependence led the push at an Assembly Committee meeting Monday. Kristin Cox, a naturopathic doctor and the council's tobacco prevention program coordinator, argued that the new tobacco alternative is being marketed to youths and misrepresented as harmless.
"So e-cigarettes: They're new, they're blue, but will they still kill you?" Cox asked.
She didn't exactly say yes – the research world is playing catch-up with the products as more parties enter the marketplace and innovate – but Cox did warn that the widespread claims that e-cigarette vapors are harmless and an effective way to help someone quit smoking are both scientifically unproven, and may be entirely wrong.
Researchers at the University of California, San Francisco, recently published a review of 84 e-cigarette studies in a peer-reviewed journal of the American Heart Association. They found a chaotic marketplace filled with a range of unsubstantiated claims and quality control issues with the products themselves.
Results of trials comparing the toxicity of various e-cigarette vapors to traditional tobacco smoke varied wildly. For example, one study of a particular brand discovered toxic metals at levels higher than in regular cigarette smoke, likely coming from the e-cigarette's metal heating elements. Other studies bore out claims that e-cigarette vapors were less harmful than tobacco smoke, but not harmless.
"You know, middle school kids think they're harmless. They're using these devices, they think they're really harmless. There's harmless water vapor is what their inhaling. And that's not the case."
Cox says big tobacco companies have been pumping a lot of money into buying e-cigarette companies and beefing up their advertising campaigns with youths in mind. E-cigarette juice, vaping liquid or e-liquid, is being made in candy and fruit flavors.
Cox says it's an initiation tool to introduce youths to nicotine addiction and tobacco use.
"This is a really, really serious issue. It's re-normalizing cigarette smoking in public. Little kids can't distinguish between what's a traditional cigarette and what's an e-cigarette," she said.
Under the ordinance the Assembly is considering, the vapors would be treated the same as tobacco smoke, which Juneau banned from virtually all indoor public spaces in 2008.
If the Assembly adopts the ordinance, Cox said, "It's going to signal to people that these are dangerous, they're not harmless."
A few blocks away from City Hall, Robert Rodman has sold e-cigarette products for about a year in his store, Percy's Liquor.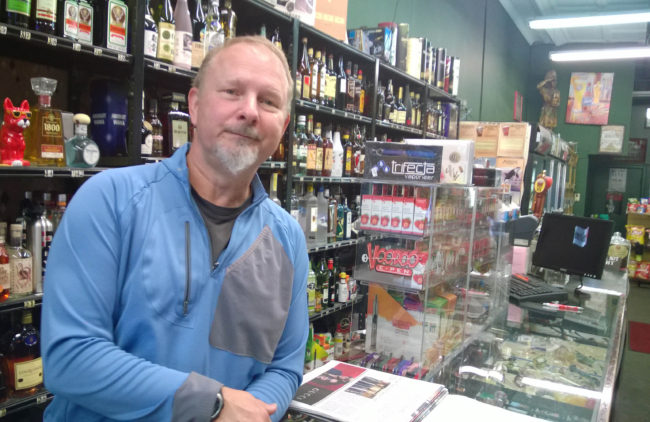 He's more or less indifferent about the possible ban.
"I don't think it's a huge issue one way or the other," he said.
Rodman keeps an e-cigarette for himself in the shop to demonstrate how it's used. His looks like a fat pen. One end houses a battery and heating element. The other end has a vial with the e-liquid in it. The liquid he uses has no nicotine.
"Yeah, I'm not a smoker. I have no interest in nicotine," Rodman said.
Then, Rodman used one of the lines Cox was worried about.
"It's just flavored water, basically," Rodman said. "You know, in that case, you know, there's no harm."
In fact, the base in most e-liquids is a common food additive the Food and Drug Administration says is safe to eat, though researchers warn drawing it into your lungs as an aerosol isn't the same and can cause respiratory problems.
Rodman pushed a button and breathed in. A moment later, he puffed out wisps of a white, scented vapor that hung in the air a few moments before dissipating.
"You're not really inhaling it. So, I dunno, it's just a pleasurable sensation," Rodman said. "You know, you get a little bit of mouth feel with it, you know, in your throat. And with the flavors, you know, you get some taste. I mean, this is coffee. You know, it's kind of a cool thing."
The Assembly will hold a public hearing on the e-cigarette vapor ordinance at its next meeting, June 30.