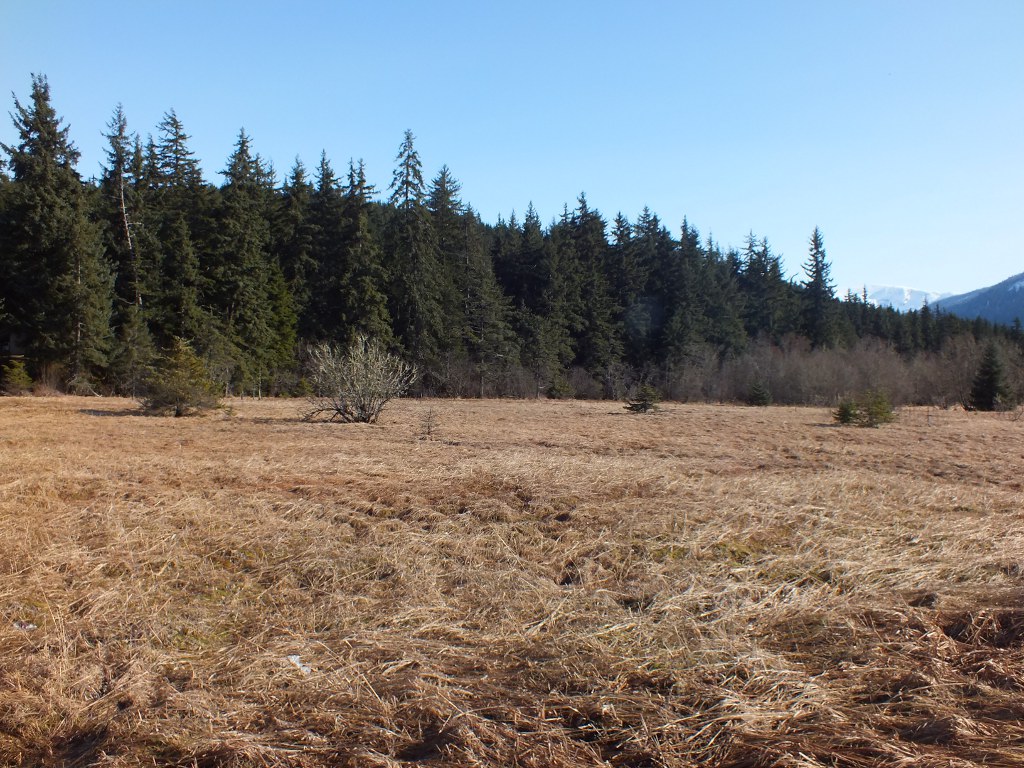 City officials are hoping to address Juneau's longstanding housing shortage by opening more public land to development.
The Juneau Planning Commission recently recommended about 150 acres of city-owned land on Pederson Hill be rezoned to allow a residential neighborhood to be built. The idea is to copy the early 20th century style subdivisions of downtown Juneau and Douglas.

I'm following Greg Chaney through the woods at the base of Pederson Hill. As we climb over downed trees, stumps and piles of deer poop, it's hard to imagine this as the site of a residential neighborhood. But that's exactly what Chaney envisions here.
"It's very reminiscent of downtown," says Chaney, Lands and Resources Manager for the City and Borough of Juneau. "If you go from the waterfront up to the Capitol building, there's kind of a gentle hill, and that's the kind of terrain we have here."
When the city decides to buy or sell some property, Chaney's the guy responsible for making it happen. In the past decade, Juneau has sold about 30 lots in the Lena Point area to private builders, many of which have been developed into high-end single family homes. The city recently put two more Lena lots on the market.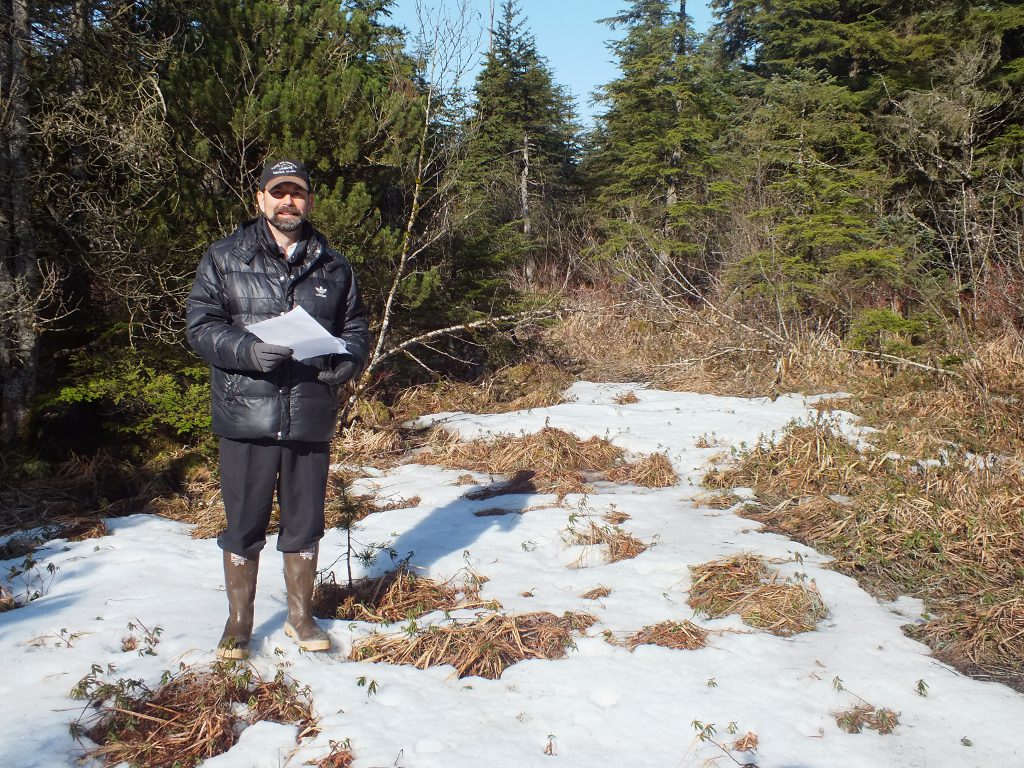 Chaney says Pederson Hill could be the location of the city's next land sale.
We really have a strong mandate from the community to try to do something to provide entry level housing or workforce housing," Chaney says. "So that's where we're going to try to come in and facilitate something."
The need for more housing
The Lena Point subdivision includes lot sizes up to 66,000 square feet. Chaney says the Pederson Hill proposal is for lots a tenth that size or smaller, more like Starr Hill or the Flats neighborhoods downtown.
"When you're developing a subdivision, the more houses you can put in that subdivision the less it costs per unit for roads, water, sewer, street lights, all the improvements," he says. "So there's a real advantage to doing that a little bit higher density. It also makes for a more walkable neighborhood."
Pederson Hill is located between the Mendenhall River and Auke Lake, near Glacier Highway. Right now there's no road access to the city's property, something that would have to be figured out before any development takes place. Optimistically, Chaney says land could be ready for sale to private builders in the next two years, but realistically he says it will take a lot longer than that.
"There's so many public hearings that are required and permitting," says Chaney. "We have to go through the Army Corps of Engineers. We have to have DOT agree. We have to work out with adjacent land owners to get access. It's amazing how much work it is to put something on the ground, especially if you're on the government side, because you have a lot of oversight."
When all is said and done, Chaney thinks a few hundred lots could be part of the Pederson Hill development. According to the Juneau Economic Development Council, the city could add more than 500 new single family homes and about 200 new rental units across the borough without significantly impacting the housing market.
At a recent Juneau Assembly meeting Exit Realty's Mike Ban said the biggest need is for single-family starter homes priced between $250,000 and $300,000. Ban is part of a group of local stakeholders formed by the assembly to provide input on housing issues.
"It's getting harder and harder and harder to find those homes," Ban said. "And as it gets more and more difficult, people, young families typically are going to move on."
A "very large wildlife corridor"
But not everyone is thrilled about the idea of developing Pederson Hill. Jim Sidney owns Swampy Acres, a farm and feed store that butts up against the city's property.
I built on the very back of my property. And if you look out my window here in the dining room you can see the trees right there, and that's right at the beginning of these little lots that they want to put in," Sidney says. "That's it right there, because the ditch is about my property line."
Sidney's wife's family homesteaded the area around the same time as the Pederson family for which the hill is named. He says a high-density neighborhood nearby would change the character of the area. Remnants of the old Pederson Dairy Farm are still standing in a field near the hill.
"There's something left of the milk parlor, which is where my father-in-law met my mother-in-law," Sidney says with a chuckle.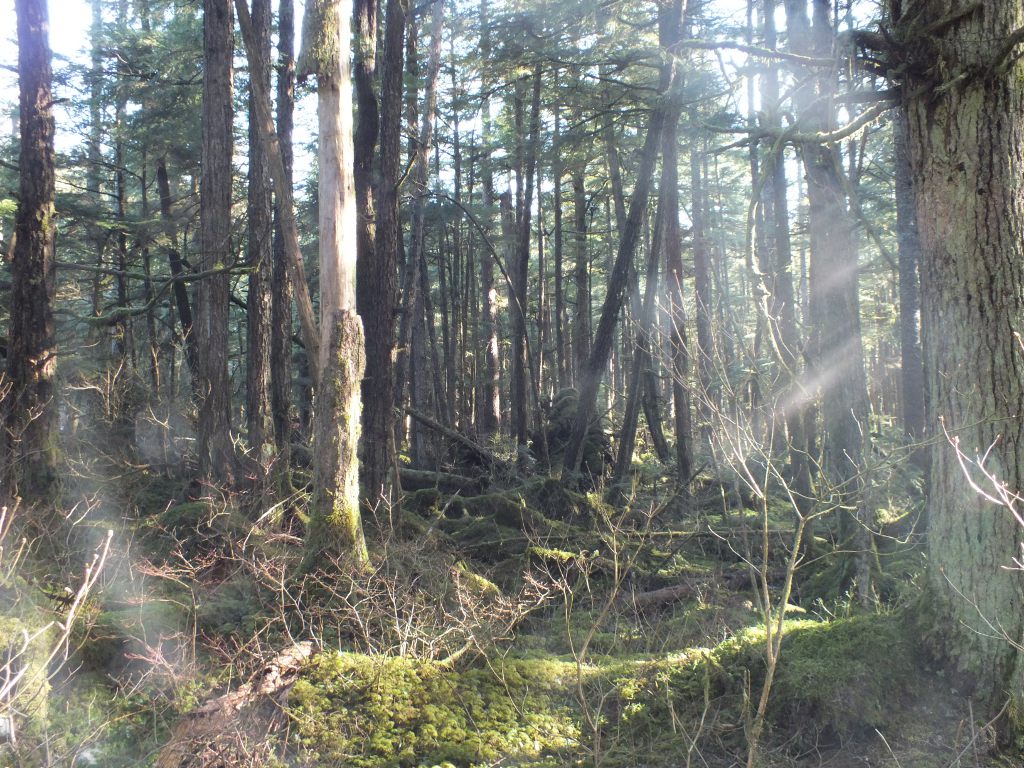 Sidney has worked in construction over the years and says he's not opposed to more housing. But he worries about people disturbing his farm and says he'll ask the city to put up a fence whenever development gets underway. He says he's not worried about his livestock, but says Pederson Hill is habitat for a variety of wildlife.
"Very large wildlife corridor," he says. "They come down here, go across to Douglas [Island] and go over to Admiralty [Island]. I've seen wolves back here, coyotes, foxes, deer, moose − only one moose."
Chaney says the city will work to alleviate some of those habitat issues.
"We'll try to leave as much forest as we can in doing the development when we get around to the development," he says. "Right now we're just talking about a rezone. So it's just the broad template of what we're going to do."
Right now Pederson Hill is zoned for low-density development. The proposed rezone must be approved by the assembly, which could vote on the issue sometime in the next two months.