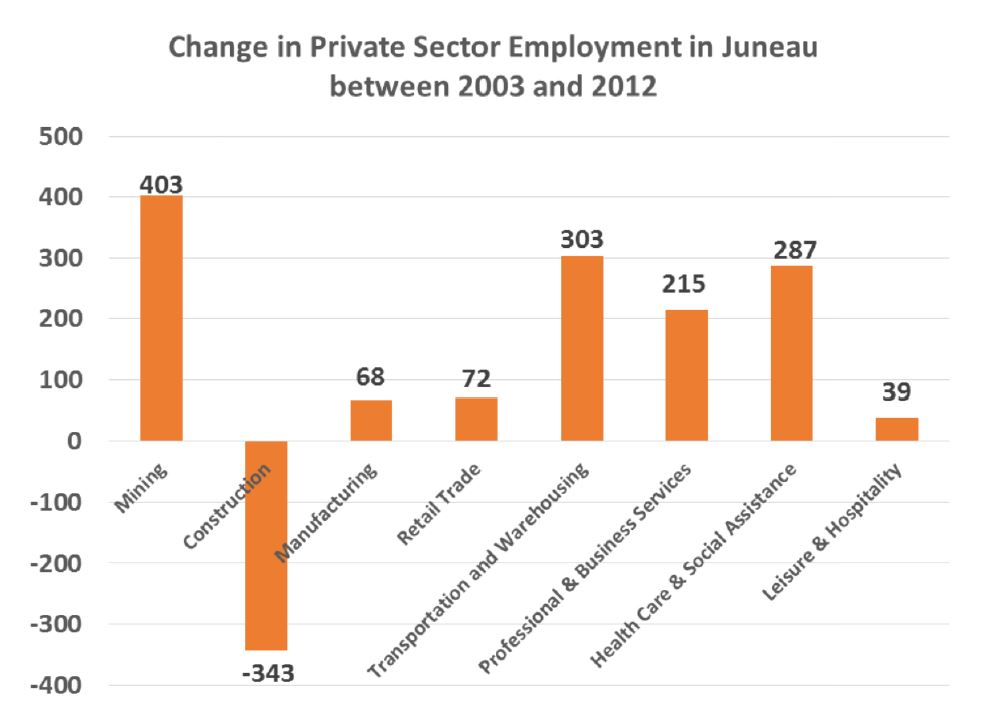 Where should Juneau be in 10 years? That's the big question prompting the development of the Juneau Economic Plan, which will lay out the capital city's economic future. Jim Calvin of the McDowell Group explained during last week's Chamber of Commerce Roundtable Lunch how he and his team will figure out the answer.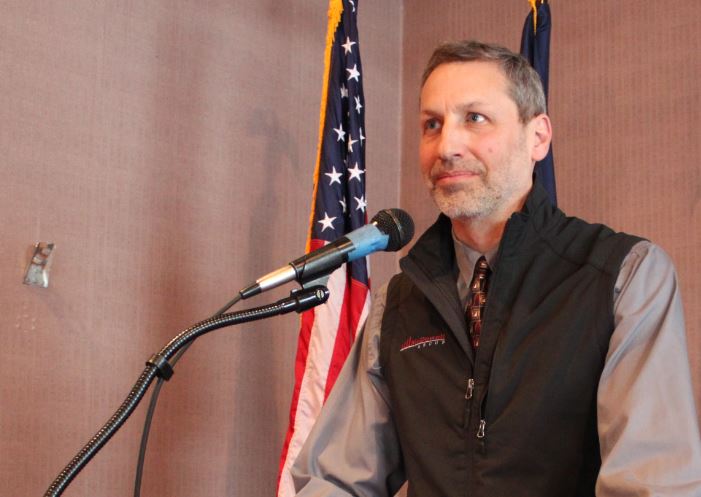 Economic analyst Jim Calvin says in order to plan for the future, you need to know where you are today.
"You need to understand what forces are at work, what trends are shaping things as we go forward. We need to understand that left to its own devices, where are we headed? If we don't try and be proactive, if we don't try and control to a degree what we can control in our economy, where are we likely to end up?"
Based on preliminary analysis, Calvin says employment has grown less than one percent each year in the last decade. Between 2003 and 2012, Juneau gained 1,300 new private sector jobs, but lost 400 government jobs.
Of those new jobs, a third of them are in mining.
"The lion's share of growth in the private sector in Juneau over the last decade has been in the mining sector. These are $90,000, $100,000 a year jobs. That's good news," Calvin says. 
Juneau also gained 300 new jobs in health care, but lost 300 construction jobs. Calvin says there will likely be an uptick in that sector with construction of the State Library, Archives & Museum project and the Walter Soboleff Center.
The local workforce has seen a decline of participation from Juneau residents and a growth of nonresident participation. Numbers show that in the past decade wages to those living outside of Juneau have gone up $70 million.
"Obviously nonresident labor is going to be an important part of our labor force no matter what because we have a fairly significant seasonality in our economy and local residents want to work year-round so they're less inclined to take seasonal jobs. But still, $70 million of money leaking out of the economy is something we have to look at as we think about long-term economic development planning. What can we do to get more residents to earn some of that income?" Calvin says. 
Working with Sheinberg Associates, McDowell Group plans to engage with the community as much as possible when developing the plan.
"We really need to understand what's important to us as a community. What are we trying to accomplish with this effort? What metrics are we going to use to measure progress. It is important that we start thinking about where we want to be in 10 years," Calvin says.
Since Juneau has more older people compared to the rest of the state, Calvin says we need to consider the aging population. Ten percent of Juneau residents are age 65 and older. That percentage will double in ten years.
"What can we do as our population ages? What do we need to do in terms of senior services to keep more of that retirement income in the community instead of having it leak out as people go to Arizona or wherever else people decide to retire?" Calvin asks. 
And despite having fewer younger people, Calvin says they will reach out through social media for input from the youth as well.
"We're actually going to be in the high schools doing some student surveys to get a perspective of young people. After all, this really is a lot about the kind of community that we want our kids to grow up in, so we need to hear from young people," he says. 
The Juneau Assembly set aside $100,000 for the economic plan, which is scheduled for completion in December. Assemblyman Loren Jones says it's critical for the assembly to have an economic road map.
"And then we as a city have to look at what can we do to enhance that, what do we need to be careful about in terms of either our taxing policies or our regulatory policies, and what the community wants us to do. But it also points to what the private sector needs to do in the way of helping us and helping the economy of Juneau," Jones explains.
For Jones, he wants to see a Juneau where families don't have to struggle to live, recreate and thrive.
What about you? Where do you want to see Juneau in 10 years?
(Editor's note: This story has been updated to correct the increase in the amount of wages going to nonresidents. The amount is $70 million, not $7 million.)