The program Pick. Click. Give. announced today that 10 donors' names will be drawn for a dividend doubling sweepstakes.
The Alaska Community Foundation is sponsoring the sweepstakes. The foundation is one of the four nonprofits that run the Pick. Click. Give. program. Foundation president and CEO Candace Winkler says the contest was partially motivated by lower participation rates in January.
"Which is our heaviest period for people to file for their Permanent Fund (dividend)," Winkler says. "We were hearing from several people that they were actually kicked off the website before they could pick, click, give."
The Permanent Fund Dividend Division's website had some technical problems that month.  The problems were fixed, but Winkler says it's a challenge to get people to revisit the dividend website.
"We wanted to do something to incentivize them to go back in," Winkler says. "We know that it's much easier for people to use it while they're filing. To actually motivate people to go back in and add a gift if they weren't able to is a little bit harder. And so, you know, the sweepstakes is certainly a way to do that."
The Pick. Click. Give. program has grown since it began in 2009. Last year, about one in 20 dividend recipients donated nearly $2.5 million.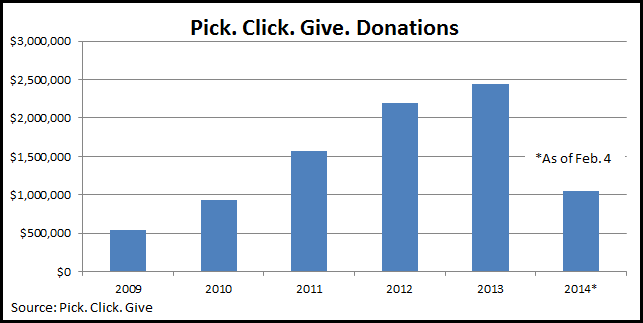 Last week, the Permanent Fund hit a record high value of more than $50 billion. Winkler estimates dividends will be worth between $1,400 and $1,800 this year. The foundation is covering the prize payout through a grant from the Rasmuson Foundation. Winkler says it's unclear at this point if the sweepstakes will be a recurring or one-off promotion. The foundation will track a variety of data points to gauge the sweepstakes' success.
"We will certainly be looking at whether we see an increase in the percentage of people who, both go back in and add a gift, and also to see if, you know, in the last month of filling, if we see a significant increase in the percentage of filers who are making gifts,"  Winkler says.
The dividend application and donation period closes March 31. To be entered, donations cannot be made anonymously.
(Full disclosure: KTOO is an eligible Pick. Click. Give. charity.)