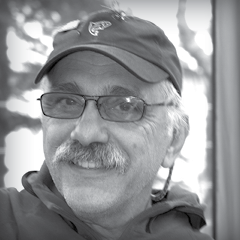 Join us for Writers' Showcase on Thursday, March 6th, here at the new @360 studio at KTOO and 360 North. Doors open at 6:30, cameras roll at 7 p.m., and admission is pay-as-you-can. Our spring-inspired theme is "awakening" and we are proud to present work from four Alaskan writers: Rich Chiappone, Sherry Simpson, Greg Capito, and Tim Lash. Pieces will be read by Brandon Demery, Christina Apathy, Roblin Gray Davis, and Corin Hughes-Skandijs. Among the short stories and essays is a piece by award-winning writer Rich Chiappone. From his book "Opening Days," Chiappone writes about Alaska's long, sometimes cold, springs:

"My wife finds it astonishing that I persist in responding so poorly to our long winters. She argues that a person who has lived in Alaska and seen the river turn to ice each October for 24 years in a row, shoveling snow in 24 consecutive Aprils and even a few Mays, shouldn't be surprised that the first day of our theoretical spring always resembles a scene from a PBS special about Antarctica."
Be part of the live studio audience that laughs and cries at the words of these thoughtful writers. Statewide broadcast of the show will be on Saturday, March 8th at 9 p.m., and Sunday, March 9th at 7 p.m. on 360 North, and 360North.org.