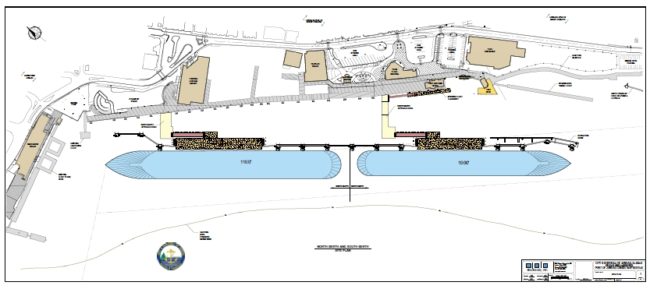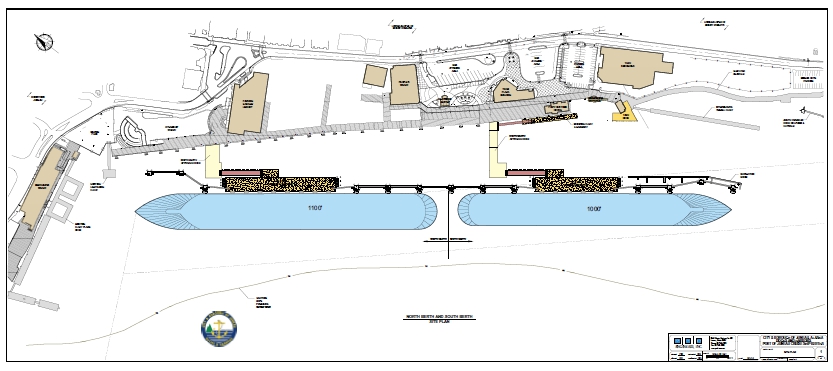 The Alaska Commercial Fishermen's Memorial in Juneau is asking a judge to stop the city from moving forward with plans to develop two floating cruise ship berths on the downtown waterfront.
It's the latest attempt by the nonprofit memorial to alter or block the $54 million project.
Attorney and memorial president Bruce Weyhrauch last week filed a motion for a temporary restraining order and preliminary injunction in Juneau Superior Court. The motion seeks to keep Juneau from entering into an agreement or paying any money to build the docks until the State of Alaska completes the transfer of submerged tidelands in Gastineau Channel to the city.
Last month, the state Department of Natural Resources issued a final decision approving the land conveyance. But the fishermen's memorial appealed and the decision has been temporarily stayed.
The memorial has consistently opposed the design of the docks over concerns about how they will impact the annual Blessing of the Fleet. Weyhrauch says the memorial board would prefer to work with city officials rather than go to court.
"That invitation has always been open to the city to resolve this matter," Weyhrauch said.
The Juneau Assembly last week voted 6-3 to award a contract to build the docks to Seattle-based Manson Construction.
City Attorney Amy Mead told the Assembly that the hold placed on the state's land transfer is a formality until DNR Commissioner Joe Balash can rule on the memorial's appeal.
"This is an automatic stay that went into place once the fishermen's memorial gave notice that they were appealing the decision," said Mead. "So the stay will stay in effect until the final decision from the commissioner is made."
Mead on Friday said the city is waiting hear from the court about the schedule for responding to Weyhrauch's motion. The case has been assigned to Judge Louis Menendez.
Juneau Port Director Carl Uchytil says the Docks and Harbors Department feels it's in the best interests of the community to move forward with the project.
"Docks and Harbors, the board, and presumably the Assembly feels that the risk of not acting outweighs the remote chance that Mr. Weyhrauch would be successful in any appeal process," Uchytil said.
Construction on the docks is not expected to start until September 2015, with completion not expected until May 2017. Juneau gets nearly a million cruise ship visitors a year. The $54 million project is being funded entirely with Juneau's share of the state's cruise ship passenger fees.