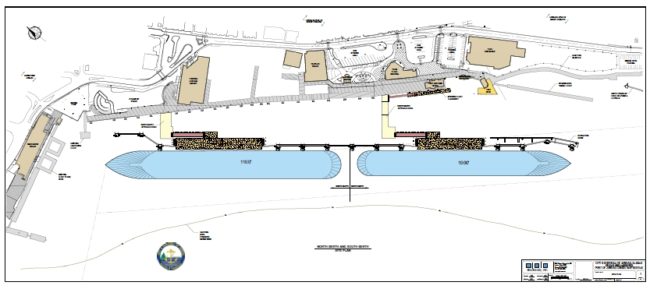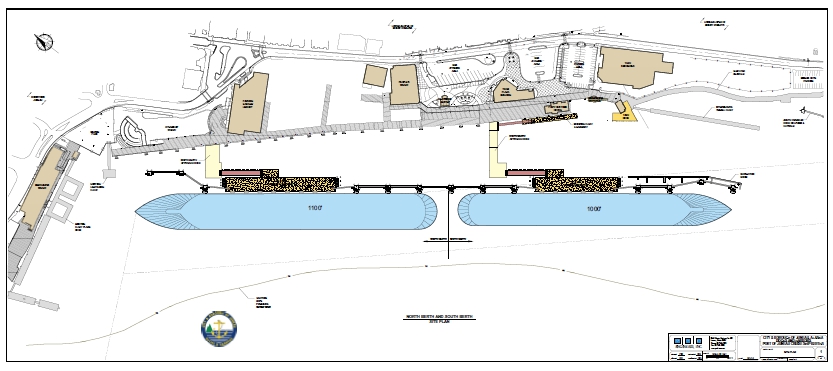 Juneau's Docks and Harbors Department can proceed with a project to build two new floating cruise ship berths on the downtown waterfront after the State of Alaska last week approved a transfer of submerged tidelands to the city.
Port Director Carl Uchytil says the Department of Natural Resources' final decision on the land conveyance is good news, but not totally unexpected.
"If one reads the Alaska statute, DNR is required in statute to transfer the property when certain conditions are met, and clearly CBJ met all those requirements for conveyance," Uchytil said. "And we're pleased with the decision and we're ready to move on."
The Department of Natural Resources received one comment on the land conveyance. Alaska Commercial Fisherman's Memorial President Bruce Weyhrauch submitted a letter and documents opposing the transfer. The nonprofit memorial opposes the floating cruise ship berths because of how they will impact the annual Blessing of the Fleet.
In November, Uchytil and Port Engineer Gary Gillette came under fire from Juneau Assembly members for moving forward with the $54 million project without ownership of the nearly 18 acres of submerged land in Gastineau Channel, where the new docks will be built.
The department was forced to delay opening bids for the project until the land transfer gained final approval. Uchytil raised concerns about increased costs resulting from the delay, but says the companies that bid on the project agreed to maintain their bids.
"We're in the process of reviewing the qualification packages," said Uchytil. "Once that is done we will have a bid opening in the next two to three weeks and make a determination of who the apparent low bidder is. That will go to the Docks and Harbors Board for approval and then to the Assembly, hopefully as soon as the 27th of January for award."
The city received bids from four companies: Pacific Pile & Marine, Manson Construction, Kiewit, and Orion Marine Contractors, all from Washington state.
Uchytil says Kiewit and Orion Marine failed to meet the minimum qualifications for the project. Orion is currently protesting that determination by the city.
Related:
Juneau moves forward with new cruise docks despite not owning submerged land
Port officials grilled over cruise ship dock project
Juneau dock bid opening delayed until ownership of submerged tidelands is resolved
Juneau Assembly declines request to reconsider cruise ship dock permit